Co-authored by Toccarra Nicole Thomas
This spring, SGA partnered with the Urban Land Institute (ULI) on a new report, Reshaping the City, which examines how zoning reform can advance racial equity, support housing attainability, create healthy communities, and decarbonize buildings to mitigate climate change. On March 24th, we cohosted a webinar to dive into the findings of the report. The overwhelming response to the webinar and report indicates that there is continued interest in the topic of zoning reform and that a once dry and wonky topic has now emerged as part of the national conversation.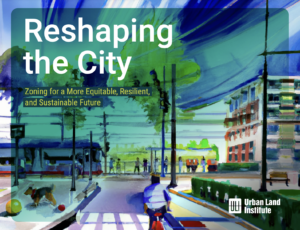 Reshaping the City: Zoning for a More Equitable, Resilient, and Sustainable Future
shares promising insights and examples of zoning innovations from across the United States that promote healthy mobility, support increased housing affordability, build more resilient places, and accelerate climate action—among a host of other goals.
A major takeaway from the report is that thoughtful and intentional zoning reform can advance the following goals:
Increase production of a variety of housing types, leading to increases in affordable and attainable housing;
Lower the cost of housing development by reducing or eliminating policy barriers;
Increase permeable surfaces to reduce flooding and add shade and reflective surfaces to address the urban heat island effect, thereby enhancing climate resilience; and
Encourage mode shift away from driving and car ownership, toward transit, biking, and walking by supporting the development of compact, mixed-use communities.
Why zoning, and why now?
While seemingly invisible, zoning shapes many aspects of our lives, from where we live, to how we navigate the built environment, to where we work—and it has largely remained the same since the 1926 Supreme Court decision of Village of Euclid v. Ambler Realty Co. And in recent years, people are beginning to realize just how much zoning and land use decisions dictate our day-to-day lives. Zoning regulates which areas in a community can be used for certain types of development. For example, only commercial uses are allowed in the commercial zone, while only residential uses are allowed in the residential zone. Village of Euclid v. Ambler Realty Co. validated the use of municipal power to separate land uses for "public welfare;" eventually leading to the widespread adoption of Euclidean zoning in America.
Euclidean zoning—also known as exclusionary zoning—is inflexible by nature, and has actively supported and advanced segregation, leading to sprawling low-density communities that necessitate personal car usage (which have resulted in a host of inequities and disparate health outcomes). This is all by design.
Toccarra Nicole Thomas, SGA Director of Land Use and Development and Executive Director of the Form-Based Codes Institute joined a webinar to discuss zoning and the Reshaping the City report. During the webinar, she joined a panel of experts to share thoughts on the inflexibility of Euclidean zoning, how today's zoning practices have stymied creative and vibrant communities, and discussed ways to advance racial equity through zoning reform and Form-based codes. Below are a few themes that emerged during the discussion.
Form-based codes (FBCs) are more flexible than conventional zoning
FBCs primarily regulate the form of buildings. The robust and intentional community visioning process that is integral to creating a strong FBC focuses on predictable built results. Uses are secondary, and FBCs enable a variety of uses, including residential, retail, office, recreation, and entertainment. Because they focus on the form of the built environment, not the uses, theoretically any use can inhabit a building; this allows for natural redevelopment and adaptive reuse.
In a community that has adopted a FBC, discretionary review can be relaxed or eliminated altogether due to a FBC's predictable nature. This stands in contrast to conventional zoning, which demands a special discretionary review process for any use not expressly enumerated in the zoning ordinance, leading to inflexibility and development constraints.
FBCs can remove barriers to affordable housing
Euclidean zoning has directly contributed to the affordable housing crisis by limiting and prohibiting multifamily residential units in communities across the country by decreeing them as special uses, limiting the location and quantity that can be sited in a community, and in some cases, outright prohibiting multifamily development in a community. FBCs remove this barrier.
FBCs allow any parcel in a community to be used for housing development at a variety of scales, allowing for infill development, small-scale development, a variety of housing types, and streamlined development of housing throughout a community. This makes it possible to quickly increase housing development at scale.
FBCs aren't just an urban solution
FBCs are also effective for communities of all sizes and in all stages of the development cycle from smaller communities experiencing a development boom, to communities who want to maintain their current size yet accommodate growth using smart growth approaches like missing middle housing and density. A good FBC is written in plain language, has clear graphics, and delivers predictable physical outcomes; these features make FBCs applicable for communities of a range of sizes and development patterns. FBCs are especially appealing for smaller communities that might have staffing capacity constraints, as FBCs are quicker, faster, and more efficient to adopt, administer, and update.
Smart growth tools, including form-based codes, support a community to maintain its culture while ensuring equitable, and sustainable outcomes, and allowing for growth. On the other hand, conventional zoning includes controls that dictate low-density sprawl, resulting in bland cookie-cutter built environments that do not reflect the values of the community and are often at odds with the existing neighborhood character such as maintaining a thriving main street corridor.
Here is a short list of award-winning FBCs designed for Small Communities (less than 20,000 residents):
Remaining challenges for form-based codes
The process to develop a form-based code is potentially lengthy, and the costs associated can cause sticker shock due to the robust community engagement process necessary to develop a FBC that is founded in the community's vision. However, developing, updating,  and adopting a comprehensive zoning ordinance can be the same length of time or longer and would require more discretionary review (i.e. time and money).
A conventional zoning code is also often developed in a vacuum—apart from any meaningful community engagement—and the future of the community may be decided without representation of what community members actually want and need. Conversely, a FBC is customized to the community's character and vision, allowing for little to no "standardization" of development. This can lead to less "Big Box" type development because the community, by way of the FBC, is demanding that development matches the community's vision and character, not the other way around.
While FBCs are not a silver bullet to solve every planning problem, more and more Form-Based Codes are being used as the regulatory framework to create more walkable, sustainable, equitable, and beautiful communities.
---
Learn about more zoning innovations from across the United States in the report Reshaping the City: Zoning for a More Equitable, Resilient, and Sustainable Future.