There's a lot happening at SGA this week and next. Don't miss these six chances to learn more, participate in some vital discussions, and hopefully help fuel your own local advocacy for building sustainable, equitable communities. It starts tomorrow, Tuesday, October 20: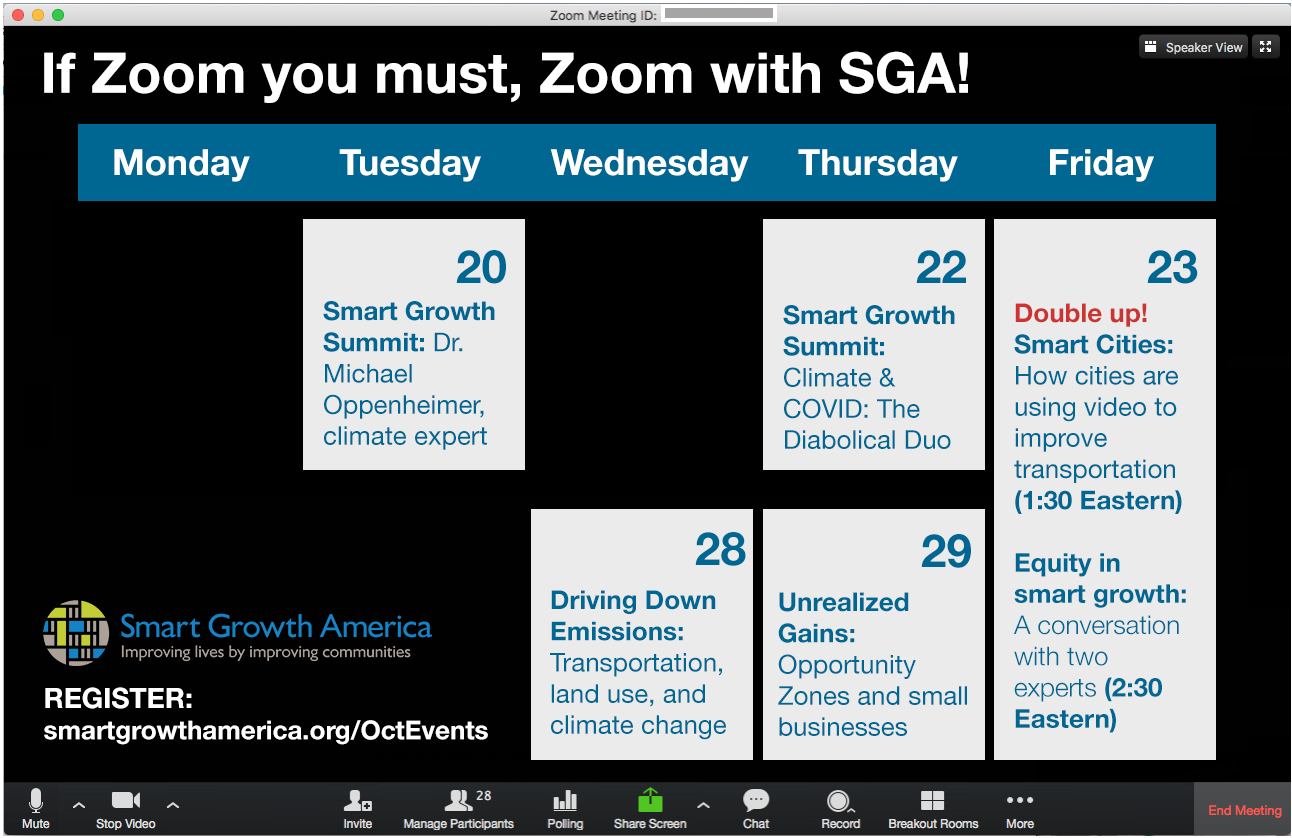 This week
TUESDAY AND THURSDAY: It's Climate Week at the Smart Growth Summit
The Center for Planning Excellence's Smart Growth Summit has long been one of the best events in the country focused on smart growth, but perhaps a bit of a secret for those outside of Louisiana. CPEX has chosen to make this year's summit wholly virtual this year, and unlike most years, participation is completely free! Smart Growth America is proud to sponsor this year's summit, and SGA President and CEO Calvin Gladney will also be speaking on a panel on November 5.
This week, Dr. Michael Oppenheimer, one of the world's foremost climate scientists, will be connecting the dots between public health, climate change, and the shifting economics of energy on Tuesday October 20 at 12 p.m Eastern. And in a second session on Thursday October 22 at 12 p.m., architect and planner Peter Calthorpe, well known within the smart growth world, will be discussing the implications of COVID within the context of climate change, along with other very notable guests.
Register now
---
FRIDAY #1:
How cities can use video to better evaluate transportation decisions
Smart cities are those that harness technology to achieve their goals of building more equitable cities with better transportation options for everyone. Our Transportation for America program is excited to open up this session to the public from their Smart Cities Collaborative and share how two cities are using video analytics to evaluate and measure the benefits of things like expanded bicycling and walking facilities, or assess transportation safety in a more holistic way. Join Transportation for America and guests from the City of Bellevue and the City of Edmonton on Friday, October 23 at 1:30 p.m. Eastern.
Register now
---
FRIDAY #2: 
What does equity in Smart Growth actually mean?
To close out this week, join the Smart Growth Network on Friday, October 23 at 2:30 p.m., to hear SGA President Calvin Gladney and Andre Perry of the Brookings Institution and author of Know Your Price: Valuing Black Lives and Property in America's Black Cities, discuss smart growth's past, present and future. These two experts will discuss the policies that have historically affected the lives of people of color and look to the future to explore the potential for positive change when it comes to choices about the built environment. It's going to be a tremendous discussion and participants are also eligible for AICP credits.
Register now
Planning With Purpose: A Smart Growth Network Webinar Series on Community Revitalization, is hosted by the Maryland Department of Planning in coordination with the Smart Growth Network.  Participants of this live webinar are eligible for 1.5 AICP CM credits.
---
Next week – learn about new SGA reports & research
WEDNESDAY:
Go deep on our new report, Driving Down Emissions
Driving Down Emissions, released last week, explores how our land-use and transportation decisions are inextricably connected, and unpacks five strategies that can make a significant dent in the growth of emissions while building a more just and equitable society. It's available for download now—get your copy here—but Transportation for America's Beth Osborne and Sam Rockwell from Move Minnesota will be unpacking the findings and explaining how states and cities can come up with a better, more holistic strategy for reducing emissions from transportation. Join us on Wednesday October 28 at 2:00 p.m. Eastern.
Register now
---
THURSDAY:
Have Opportunity Zones boosted the prospects of small businesses?
Next week, on Thursday October 29th, we'll be releasing Unrealized Gains, which will take a close look at the impact of Opportunity Zones on small businesses—specifically the minority-owned and legacy businesses that form the social fabric of many neighborhoods in these areas.  The Opportunity Zone tax incentive was conceived as a tool to promote economic development, job creation, poverty reduction, and support for new businesses in areas of concentrated poverty. After a couple of years of sizable investments flowing into these newly designated zones, we wanted to know: Are these investments supporting small business stability and growth, achieving the stated goal of place-based economic development and job creation in distressed communities? Join us on Thursday, October 29 at 3 p.m. Eastern to examine these findings with the report authors.
Register now