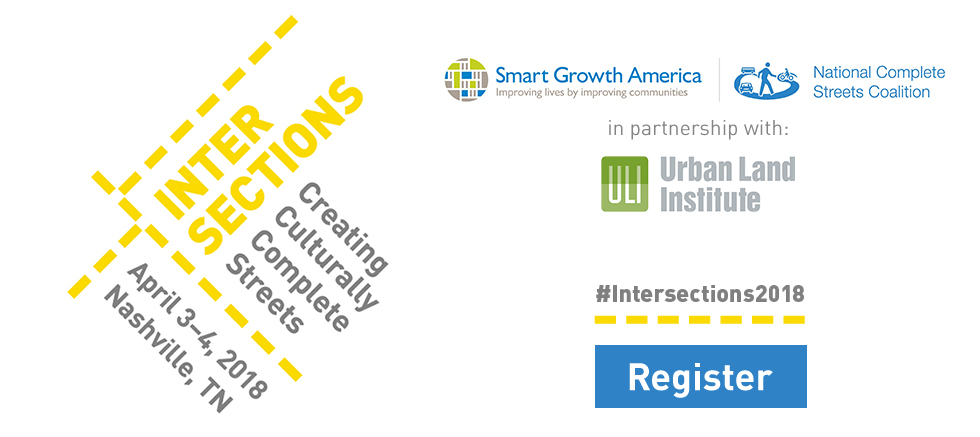 The wait is almost over! Smart Growth America's National Complete Streets Coalition, in partnership with the Urban Land Institute, invite you to our second national conference. Join us for Intersections: Creating Culturally Complete Streets.
On April 3 and 4, in Nashville, TN, Intersections will bring together planners, artists, engineers, public health advocates, and many others to collaborate and find practical ways to integrate arts and culture to create streets that are not only safe for everyone, but also better reflect the unique character of their communities. If you're interested in taking implementation and equity to the next level and want to know how the intersection of transportation with arts and culture can help, you won't want to miss this premier event.
Our brand new conference website makes it easy to access everything you need to know about Intersections, with new speakers being added regularly. Registration is open, and you can purchase a ticket at the discounted rate of $195 (regularly $250) from now until 11:59 p.m. EST on January 31st, so don't wait.
The arts and culture connection
This year, Smart Growth America's arts & culture team has partnered with the National Complete Streets Coalition to produce Intersections.
At SGA, we believe that everyone in America—no matter their age, ability, income, or race—deserves the option to live somewhere affordable, convenient, beautiful, and safe. SGA's arts & culture team funds pilot projects, supports local and regional partners, and conducts research that shows that art and culture play a crucial role in supporting this vision by providing an organizing force for residents, business owners, and other stakeholders to work towards strengthening neighborhoods, by revealing the authentic character of communities, and by connecting citizens with decision makers to collectively pursue smart, equitable policies and projects.
In partnership with the Urban Land Institute

To bring this conference to the next level, we are partnering with the Urban Land Institute to expand conference offerings and explore how to transform vehicle-dominated commercial corridors to better serve those who live, work and travel along them.  ULI will bring expertise gained through their Healthy Corridors project to understand the common issues facing commercial corridors that impact the social determinants of health, and how these corridors can be transformed to become safe, healthy, vibrant, mixed-use places.
Full agenda coming soon
The conference will start at 7:30 a.m. on Tuesday, April 3rd with registration and breakfast and end at 6:00 p.m. on Wednesday, April 4th. Both days will be held at the Music City Center in Nashville, TN.
Speakers and panel sessions are being added regularly to the website. Click here to learn more about experts, advocates and practitioners from around the country who will be at the conference. The agenda will be packed with two full days of interactive panels, and breakout discussions about cutting-edge Complete Streets, healthy corridors, and creative placemaking research, ideas and practices.
See you in Nashville!
Thank you to our sponsors