Pittsburg, KS is turning to its rich history as a mining and manufacturing hub to forge a plan for sustainable growth.
For over 100 years, the population of this southeastern Kansas town hasn't changed. Today, roughly 20,000 people still call Pittsburg home. The city is small in stature but looms large in the history of America's turn-of-the-century labor movement. After decades of stasis, it's growing fast — it's expected to add 1,200 new residents each year through 2018. Unchecked, that growth can be a mixed blessing, but Pittsburg's leaders are looking to their past to develop a strategy to harness it for sustainable prosperity.
"Mining built Pittsburg. Smelting made it a city," said Pittsburg development director Becky Gray at a Smart Growth 101 workshop held in October, quoting an apocryphal saying about the city. The workshop was a part of Smart Growth America's work to Pittsburg help the city navigate the complications of its newfound growth through technical assistance funded by the Environmental Protection Agency.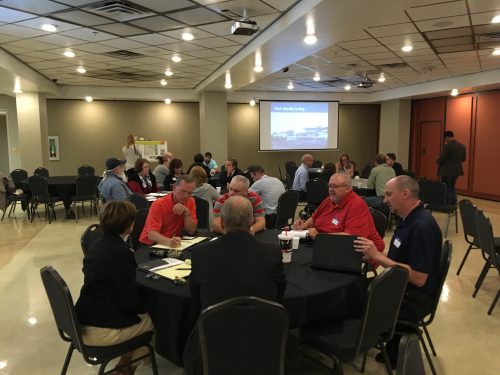 Her sentiment resonated with the two dozen civic leaders, elected officials and citizens that gathered for the workshop. Pittsburg wants to use its university and its historic assets — an abandoned clay plant and a downtown stocked with gorgeous historic buildings —  to forge a new identity out of its past.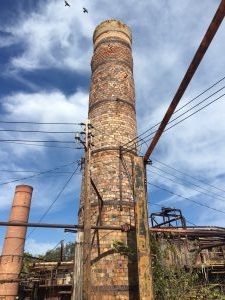 At a vacated clay plant near downtown, some of the brick chimneys look like they could topple over at any moment. Towering over the squat, grass-eaten kilns that once baked utility pipes out of clay, they cast an otherworldly skyline against a wide-open southeastern Kansas sky.
Clay plants like this have been in operation since the late 19th century and are found throughout clay-rich regions of the United States. Industrial brownfields in general are not an unfamiliar sight in America's heartland. Many communities have turned industrial sites into gathering spaces or public art installations — like SteelStacks in Bethlehem, PA and the Sloss Furnaces outside of Birmingham. Those brick chimneys are an opportunity to create a new city icon.
Pittsburg will rehabilitate its urban core through comprehensive planning efforts currently underway. At city hall, a placard shows off the city's ideas for the clay plant. Many more ideas were floated at the workshop. One day that plant could be a coal mining museum, a recreational park, a vibrant shopping district set among a canopy of rehabbed brick chimneys, or all of the above. Pittsburg's growing network of bike lanes will connect that site, downtown and Pittsburg State University's nearby campus of 8,000 students.
Broadway Street, downtown's main thoroughfare, is lined with Art Deco hotels, masonic stonework, and two- and three-story storefronts that date in some cases to the city's founding in the late 19th century.
Downtown property owners have ripped out dropped ceilings, revealing ornate tiling and the 15- to 20-foot original ceilings that are coveted by designers and developers. Their work is more a reveal of lost beauty than it is a renovation. 
"We're trying to take what's here and repurpose it," says John Long, an auto mechanic and downtown property owner who attended the workshop.
Long has renovated a few buildings in Pittsburg, taking advantage of some facade grants and the city's impressive stock of functional, beautiful structures. His first project turned a "burned out meth lab," as he puts it, into an auto shop and apartment. He lived there for five years and worked there for 11.
SGA's workshop engaged a community in transition. Preservation efforts, work by private developers, and partnerships with Pittsburg State University that will bring student housing into downtown are all part of the city's ongoing efforts to plan a smarter future.
Main street communities have become desirable places to move to for many Americans. Among millennials in particular, a defined sense of place and walkable, bikeable infrastructure are valuable commodities. Around 40 percent of millennials say they would prefer to live in a rural location so long as they have web access, things to do, and a city that's walkable and easy to use. What they want most is a sense of place.
With downtown street grids already in place, main street-oriented communities can easily recast themselves in an contemporary, urban mold. Industrial sites like Pittsburg's clay plant can be transformed into iconic spaces for community gathering, for public art, and for new commerce.
"We want to grow. We also recognize that we're going to grow no matter what," Gray adds. "And we can either go where the waters take us or be intentional and manage the growth."
Growth is a valuable thing, especially in regions of the country that are starved for it, but it does not necessarily equate to long-term prosperity. Pittsburg's efforts show a recognition that harnessing growth with strategic planning can build sustainable prosperity for generations to come.
Workshop Materials:
Workshop outcomes: