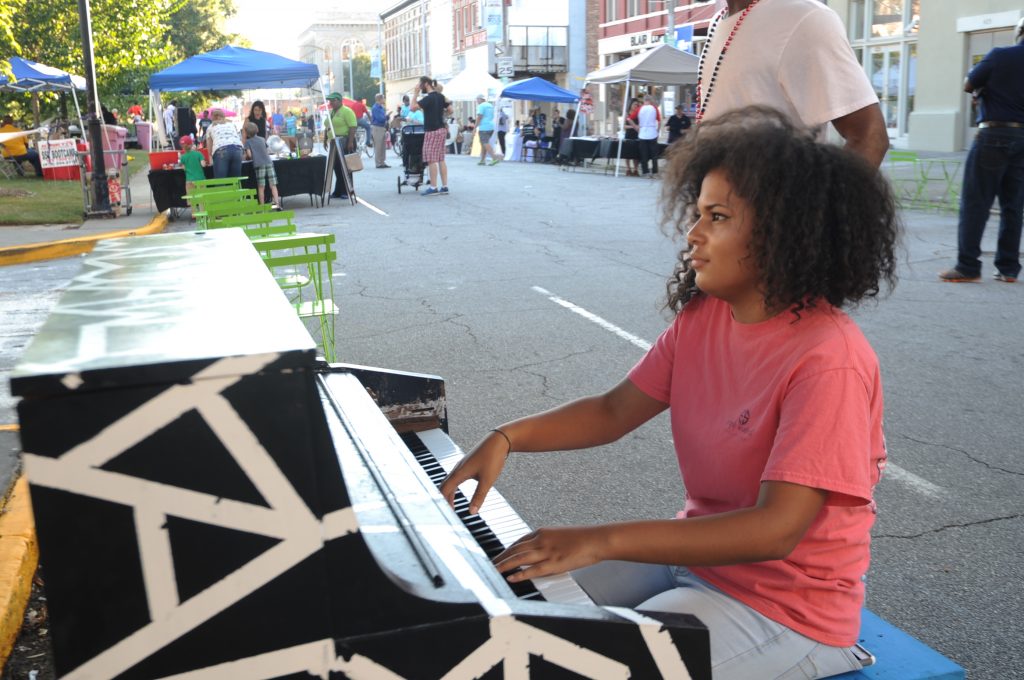 Vibrant, walkable neighborhoods can help attract new residents and jobs, support existing businesses, and benefit everyone's quality of life. Smart Growth America's 2016 report Amazing Place examined six cities — including Denver —that are using this approach. This week, leadership teams from five other cities are gathered in Denver to see how these strategies have been implemented and consider how they can do the same back home.
The Amazing Place Ideas Forum, presented by Smart Growth America with support from the John S. and James L. Knight Foundation, is getting underway tonight (Monday) and we wanted to corral all of the related resources here in one place for those interested in following along and learning more.
Follow along on Twitter
Be sure to follow along online today through Thursday (8/31). See what the participants are seeing: Don't miss the Knight Foundation's Instagram for a regular stream of photos, and follow along on Twitter at #AmazingPlaceForum and with @SmartGrowthUSA and the @KnightFDN.
And we'll have continuing coverage here on the Smart Growth America blog.
Read about the five participating cities
In the run-up to the Forum, we've been taking a short look at each of the five participating cities to show how they're already embracing these new strategies, and how they hope to be inspired next week. Read their stories:
MACON, GA — From native American history to the birthplace of great American music, Macon, Georgia, has a rich heritage. City leaders have witnessed the positive returns of a place-based approach to economic development, and are excited to learn more about bringing those same strategies in-house. Read more.
COLUMBIA, SC — Civic and elected leaders in the South Carolina capital want to create a more competitive Columbia for tomorrow, and they're eager to find out how a new approach to economic development can get them there. Read more.
AKRON, OH — "Akron is rediscovering itself — we're changing, growing, and evolving. We have a vision for where our city can go, and we're excited to learn from cities that have employed placemaking strategies with success." Read more.
CHARLOTTE, NC — As the city tries to bring investment to new neighborhoods, Charlotte's leaders understand how important it is to focus on a unique sense of place. "Charlotte residents don't just want to live in great places – they expect to. They came to this city to find places in every neighborhood to visit again and again." Read more.
WICHITA, KS — Within the last decade, Wichita has brought major revitalization to its urban core. Two overarching priorities included the creation of a vibrant downtown and attracting and retaining talented workers, and their commitment has already delivered results. Read more.
Read the Amazing Place report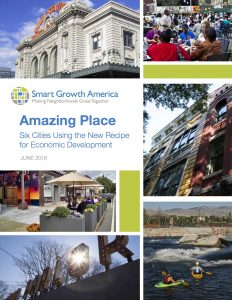 For decades, if a community wanted to increase jobs, the go-to approach was to offer companies tax breaks and subsidies to relocate there. This approach has lots of downsides. But perhaps the biggest problem for economic development officials now is that too often, this strategy simply doesn't work.
A new trend in local economic development is emerging. Companies today are less interested in tax breaks and more interested in vibrant neighborhoods with affordable housing options, restaurants, nightlife, and other amenities in walking distance, and a range of transportation options for their employees. Talented workers—and the companies who want to employ them—are increasingly moving to these sorts of places.
Amazing Place: Six Cities Using the New Recipe for Economic Development takes a closer look at six cities putting this approach into action — Boise, ID; Denver, CO; Greenville, SC; Minneapolis, MN; Nashville, TN; and Pittsburgh, PA.
The recording of the launch webinar includes a discussion of how these cities are using this approach, featuring local experts from the six cities.
—
Questions about the Forum? Contact director of communications Steve Davis at [email protected]