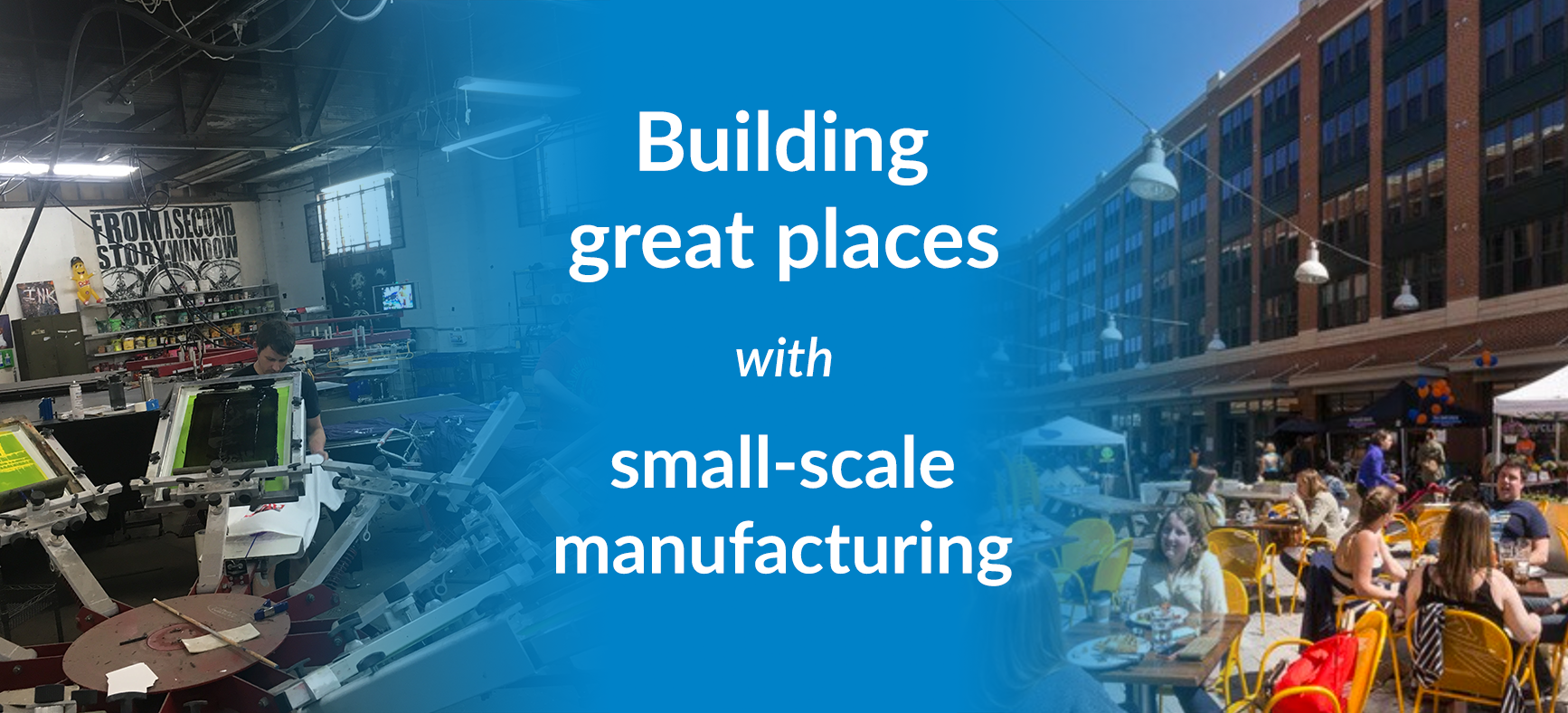 Thanks to support from the Economic Development Administration, Smart Growth America and Recast City are providing a second round of small-scale manufacturing technical assistance to six new communities. What are the four communities we worked with last year up to, and how have they used what they learned to continue building great places?
Homegrown maker economies are emerging in all corners of the nation and show no signs of slowing. Cities are supporting various businesses that fall under the umbrella of small-scale manufacturing—metalworking, woodworking, screen printing, and brewing to name a few—by crafting supportive policies, reworking their zoning, and initiating workforce training programs.
The resulting maker economy is thriving and provides residents the chance to live and work for competitive wages nearby, while helping build distinct places worth visiting, loving and celebrating. There are numerous examples of this type of work unfolding across the country and Smart Growth America's technical assistance program is adding to the movement.
SGA launched the first round of the program in 2016 when we selected four communities to receive assistance. We teamed up with Recast City and partnered with each community over four months. Over this period, we carefully reviewed existing policies and programs for local business development and ultimately engaged with each community during a three-day workshop. The project team conducted fieldwork in the local subject area, held in-depth interviews with small-scale manufacturers, and led discussions to coordinate efforts with local stakeholder groups.
Each community received a detailed plan-of-action following the workshop with recommendations for effective implementation. Here's a look at what they have accomplished since the assistance wrapped up earlier this year:
Knoxville, TN
Within three months of the workshop, the Knoxville Entrepreneur Center (KEC) invested more time and staff in its partnership with the Knoxville Urban League and brought more maker business owners from communities of color into the second Maker Summit (held in September). The Mayor's Council, an advisory group of maker business owners, also added new members to the Council from the city's African-American population to better represent the diversity of economic leadership in Knoxville. KEC is developing plans to bring its maker startup program to surrounding rural towns in an effort to replicate their work in Knoxville through the broader region. The city staff involved in the workshop now use SGA's recommendations as an internal tool across departments. For instance, the staff is holding a series of discussions on the role of city-owned property to support this business sector and may consider requiring maker uses on the ground floor of some properties purchased from the city.
Lowell, MA
The team from Lowell quickly decided to use the report recommendations as a blueprint for future growth in neighborhoods near the one studied for the workshop. The city staff implemented a number of short-term actions, including changing resident outreach to better reach immigrant populations and business owners who live in the studied neighborhood to connect them with existing small-scale manufacturing businesses for job opportunities. Additionally, the city council created a diversity subcommittee to ensure that diverse representatives have their voices heard by the elected officials. The city is using the report to apply for the state's Transformative Development Initiative program, and will work with the Federal Reserve Bank of Boston to invest in local business growth.
Twin Falls, ID
The city is implementing SGA's recommendations to assess downtown opportunity sites for small-scale manufacturing to move into central locations and compliment their investment in downtown. The group is looking at state resources for gap financing to support this type of development and rehabilitation of nearby properties. Additionally, the city convened a downtown housing plan committee after the workshop report identified housing as a barrier to downtown business growth. One of the other key players, the College for Southern Idaho, is now exploring old City Hall as a central urban hub for economic development activities that will help bring workforce training, businesses and more jobs into the center of town.
Youngstown, OH
The network of regional economic development organizations that came together for this workshop are formalizing their partnership. This network is expanding business development services for business owners and exploring new funding streams through the Mahoning Valley Economic Development Organization to help small-scale manufacturing businesses scale. The regional staff and university partners are also now coordinating efforts to conduct a property inventory in the target areas to attract more small production businesses into the city. Additionally, the local Small Business Development Center is incorporating new recommended topics into its 2018 workshops to better support small production business owners.
Be sure to check out our final report, Made in Place: Small-Scale Manufacturing and Neighborhood Revitalization, for a more detailed insight on our technical assistance engagements with these communities. Our work has undoubtedly helped grow small-scale manufacturing in these four communities and developed as a model for other American cities to emulate.
The 2018-2019 program promises to expand our knowledge and understanding of small-scale manufacturing as a tool for place-based economic development. We are thrilled to work with a diverse set of communities on unique strategies to support maker and artisan businesses as we seek to revitalize and enhance the resiliency of local economies together. The communities include: Baltimore, MD; High Point, NC; Lafayette, LA; South Bend, IN; Columbia, MO; and Cusick, WA.