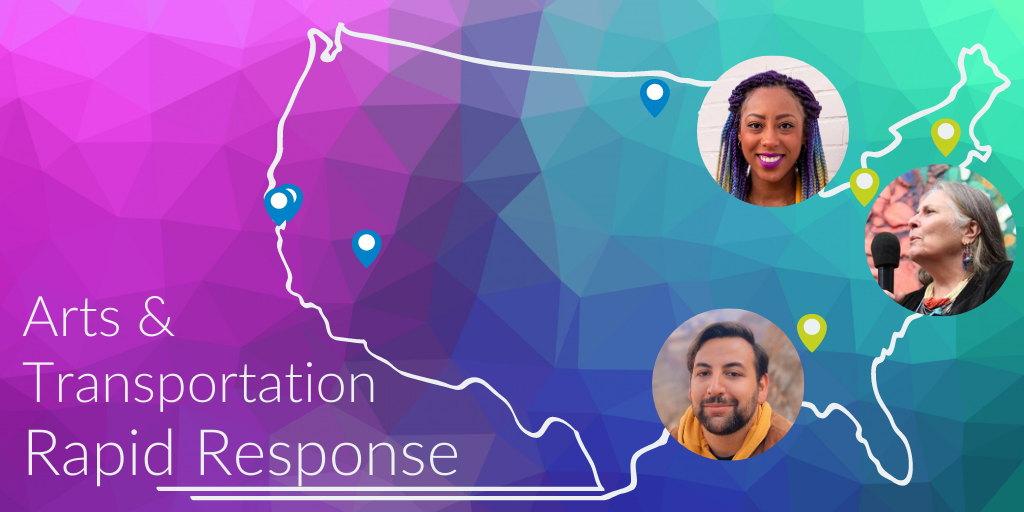 Smart Growth America is excited to announce the selection of three artists for the second round of our Arts & Transportation Rapid Response initiative. These three artists will work in tandem with transit agencies to design and implement projects that address pandemic-related transit challenges and systemic inequities.
Each of the three proposed projects seeks to address COVID-related transportation challenges and systemic inequities and do so in unique, creative ways—with the support of one of these three artists. Selected by Smart Growth America, in partnership with Forecast Public Art and the three participating transit agencies, the artists are (pictured above from left to right) as follows:
Franco Bejarano will work with Metropolitan Atlanta Rapid Transit Authority (MARTA) and HOPE Atlanta to develop a project that thoughtfully addresses MARTA's unsheltered ridership during the pandemic.
Janel Young will work with the Port Authority of Allegheny County in Pittsburgh, PA to develop innovative ways to better use space at some of its crowded bus stops and rail stations.
Rochelle Shicoff will work with Quaboag Valley Community Development Corporation in Ware, MA to help promote a new fixed-route service to the community and communicate relevant safety messages to keep riders and drivers safe.
Read the full project descriptions here.
Meet the artists
Franco Bejarano is an artist and social worker in Atlanta, GA. He received his MSW from UGA in 2016 and currently works in the field of homeless services. Franco uses his artwork as interventions tackling societal issues and mental health through the mediums of portraiture, children's books, and art therapy. His work is rooted in the belief that the therapeutic and impactful powers art has on individuals and communities lies in not just the finished product, but the process, the engagement, and the message it can transmit. Since 2017, Franco has been creating life-size portraits of people experiencing homelessness with whom he has formed strong personal relationships throughout their journey in housing them. In 2021 he was awarded a proclamation by Atlanta City Council for his housing work.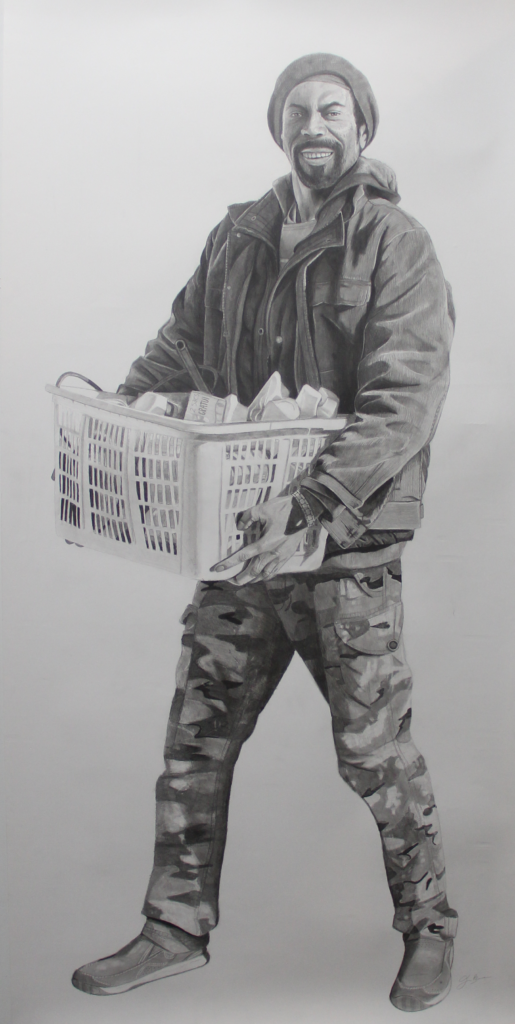 Janel Young is a Pittsburgh-raised artist who further developed her work in New York City over the course of five years, focusing on murals, abstract, and landscape works. Her style contains blending, bright colors, and geometric inspiration. She found a love for painting after being selected as part of a mural painting team in seventh grade and later completed an International Baccalaureate art program in 2009. She moved to New York in 2013 after graduating from Penn State University (B.S. Marketing and International Studies) and held onto art for self-therapy, expression, and activism. She returned to her hometown in 2019 to complete Pittsburgh's first art basketball court: The Home Court Advantage Project. Janel's artwork has been recognized locally and internationally, including being awarded a proclamation by the City of Pittsburgh, within AfroPunk.com, The Apollo Theatre, Carnegie Library of Pittsburgh, Ebony Magazine, at the 2020 U.S. Open Tennis Tournament, Verizon Media, Yahoo.com, and RAW Artists shows in New York City and Sydney, Australia.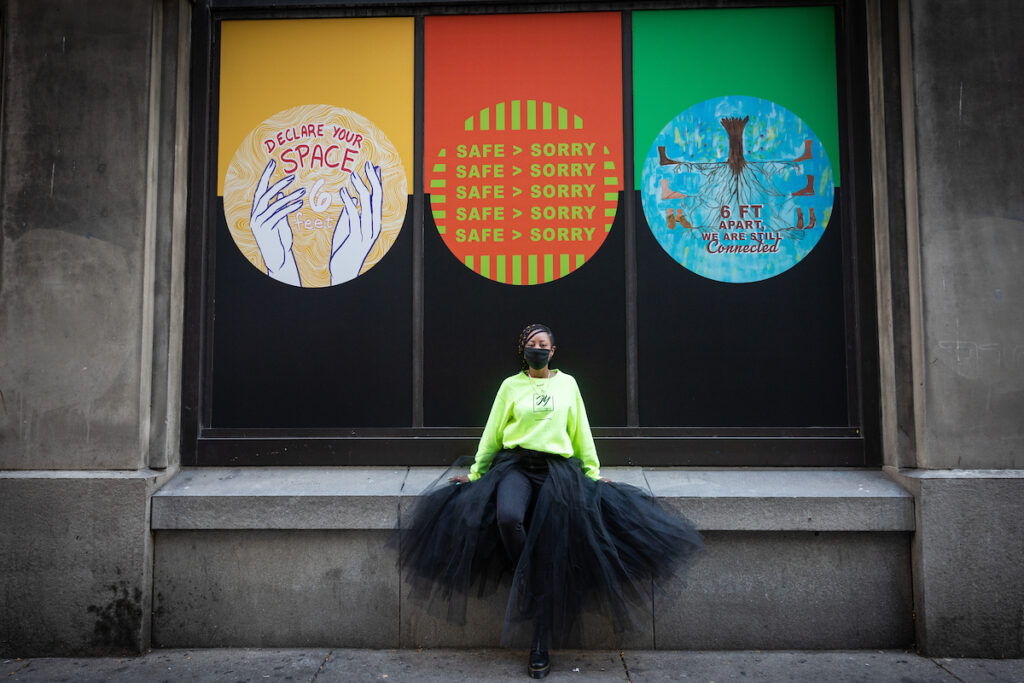 Rochelle Shicoff is an artist whose paintings have been exhibited nationally and internationally. In 1980 she was the recipient of the Rome Prize Fellowship in Painting and spent a year painting in Rome, Italy and traveling throughout Europe and the Middle East. Among her awards are Visiting Artist residencies, community grants, and nominations for the Fulbright, and American Academy of Arts and Letters. In 2001 she co-authored The Mural Book: A Practical Guide for Educators published by Crystal Productions which was specifically written for K-12 educators. Her public art murals can be seen in NYC, Massachusetts, Florida, Georgia, and Mexico. Her murals have been awarded an Art in Action Grant, The Women Waging Peace Award, Youth Friends Award, NYC Dept of Ed., NY State Council on the Arts, and MA Council for the Arts. She is a member of Gallery A3/Amherst, Quabbin Art Association/Belchertown, and Artmakers, Inc./ NYC.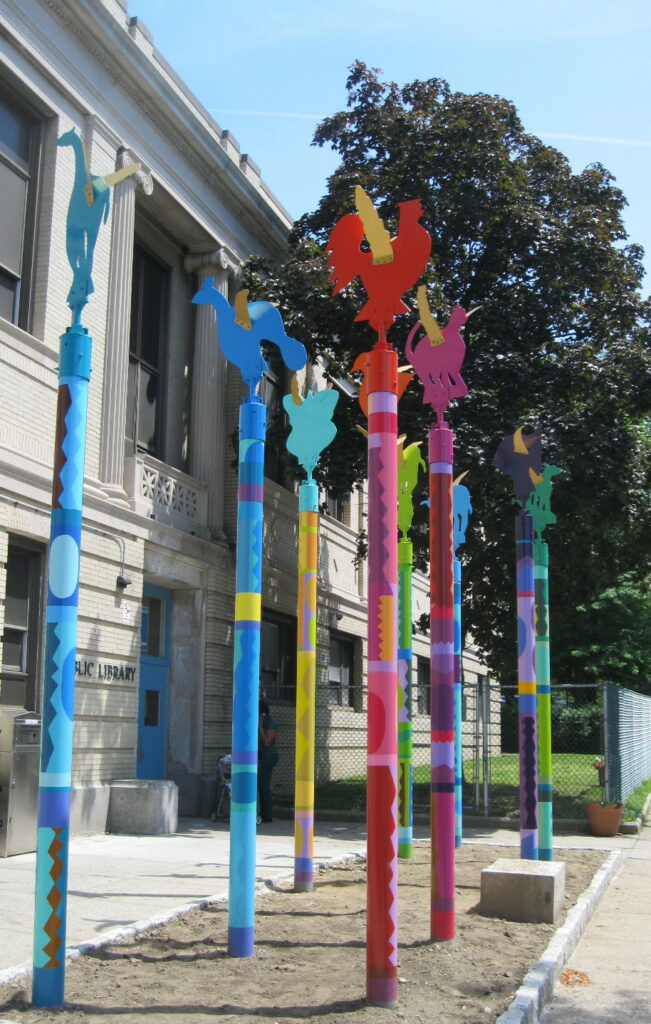 We look forward to seeing how these artists and agencies collaborate to tackle the unique transit challenges presented by COVID-19. To stay up to date on their progress, sign up for Smart Growth America's Arts & Culture emails here.
This program is made possible with support from the Kresge Foundation.