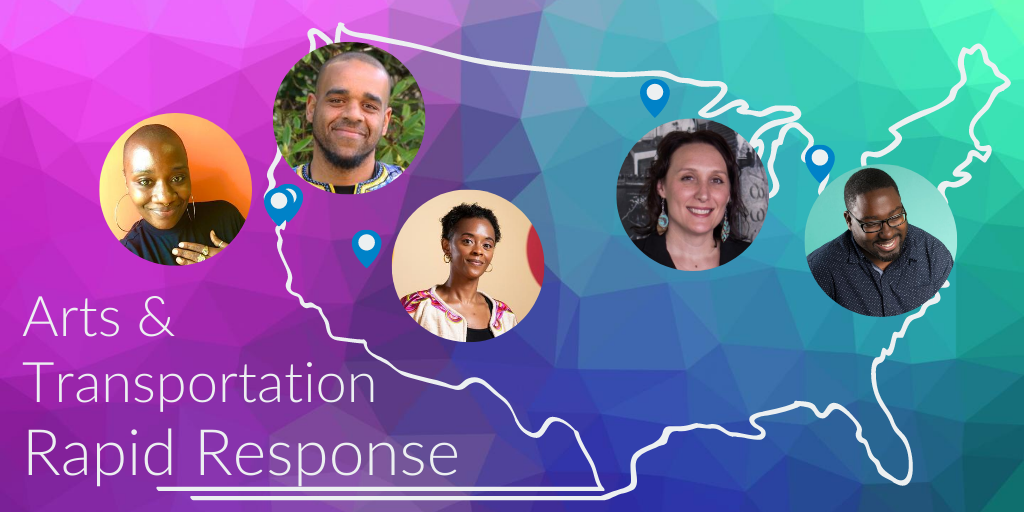 Smart Growth America is excited to announce the selection of five artists for our Arts & Transportation Rapid Response initiative. These five artists will be working in tandem with five local transportation agencies to design and implement projects that address pandemic-related transportation challenges and systemic inequities.
Each of the five proposed projects seeks to address COVID-related transportation challenges and systemic inequities and do so in unique, creative ways—with the support of one of these five local artists. Selected by Smart Growth America, in partnership with Forecast Public Art, the artists are (pictured above from left to right) as follows:
Tosha Stimage will be working with San Francisco Bay Area Rapid Transit (BART) in the San Francisco Bay Area, CA to pilot a community-informed intervention strategy to deconstruct racial prejudices worsened by COVID-19, and normalize the culture of mask wearing on transit.
Jonathan Brumfield will be working with Oakland Department of Transportation in Oakland, CA to design a new Oakland Slow Streets "look and feel" that better reflects the unique community identities across Oakland, rather than bringing to mind construction sites.
Ashley Hairston Doughty will be working with the Regional Transportation Commission of Southern Nevada in Las Vegas, NV to design and implement artwork and signage at the Bonneville Transit Center—a major transit hub serving frontline workers, residents, and tourists—that will educate the public about social distancing and safe transit riding practices. Mark Salinas will be working with Ashley behind the scenes to provide guidance and knowledge from his experience as a seasoned public artist and arts and culture administrator.
Naomi RaMona Schliesman will be working with West Central Initiative (WCI) in west central Minnesota to create a reusable community engagement kit consisting of both virtual and physical tools that can be used while social distancing is required. With the help of the kit, WCI staff is seeking to reach a more diverse range of stakeholders to better inform their transportation planning—specifically active transportation—across the nine-county region.
Ndubisi Okoye will be working with the Detroit Department of Public Works in Detroit, MI, to implement creative wayfinding to connect major bus stops to nearby community recreation centers. These recreation centers provide access to critical services such as food, employment resources, cooling centers, and other programming for vulnerable community members, many of whom are accessing these centers for the first time during the pandemic.
Photos in the above graphic courtesy of (left to right) Tosha Stimage, Jonathan Brumfield, Lonnie Timmons III/UNLV Photo Services, Naomi RaMona Schliesman, and Ndubisi Okoye.
Meet the artists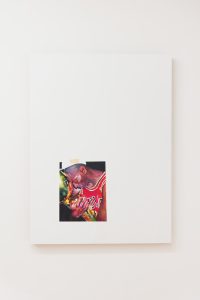 Tosha Stimage (artwork right) b.1982 is an artist living and working in Berkeley, CA. Stimage holds a BFA from the Columbus College of Art & Design and an MFA from California College of the Arts. She is a recipient of numerous awards and residencies including; The Murphy Cadogan Contemporary Art Award, The Toby Devan Lewis Award, Svane Family Foundation Grant, Facebook Artist in Residence, AICAD Teaching Fellow, Real Time and Space Artist in Residence, and YBCA Political Power Fellow.
Jonathan Brumfield (artwork below) graduated from San Francisco State University with a bachelor's degree in Criminal Justice in 2000. Since then Jonathan's professional trajectory has been consistently focused on urban youth, from ages 12 -21 years of age, providing intense case management services and facilitating urban arts workshops and classes in community and school settings reaching the most disengaged students. Jonathan is an accomplished artist, in custom clothing, logo & tattoo designs; mural painting with aerosol; Hip Hop calligraphy; airbrushing; and illustration but the list goes on. Being an aerosol writer since a youth in 1989, Jonathan has used his art form in many ways from destructive to constructive. His educational experienced had its trials and tribulations just like his students, which makes him very relatable to the young people while his tour of duty in the Urban Art world has made him very reputable amongst the youth as well. He has been a resident artist at the African American Complex in San Francisco, and the resident artist at several nonprofits in Oakland, and a global artist as well. Since 2005, Jonathan has worked at Safe Passages as an Urban Arts Instructor, case manager, and program manager. The success of his work has propelled Safe Passages to develop the Get Active Program to increase the organization's capacity to effectively engage the hardest to reach students, in their learning process with an emphasis on men and boys; and to expand Jonathan's reach in terms of training and mentoring others to carry the baton of social justice and cultural empowerment with the youth. Jonathan received his master's in Ethnic Studies with an Africana Studies emphasis from San Francisco State in 2015. He currently teaches through the dual enrollment process for Peralta at several Oakland Unified School District sites. He has also taken his work across the globe to Europe, the Americas, and West Africa where he integrates art and social justice practices that the young people can find their voice in. He has also been a leading figure within Oakland's spray can art community as one who promotes Hip Hop Restorative Justice, giving back to the community through the visual art form by going over the blighted buildings with murals that represent the community.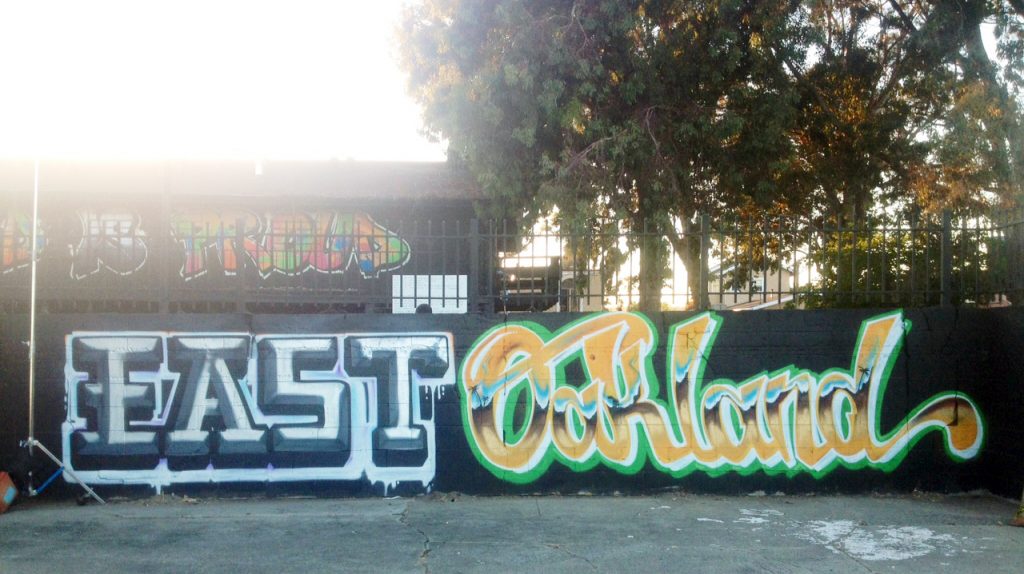 Ashley Hairston Doughty (artwork below) is a visual storyteller, explaining personal experiences through verbal and visual language. Much of her practice deals with socio-economic, racial, and gender-based issues, particularly those relating to cultural misconceptions and the development of personal identity. Doughty's distinctive perspective has grown through residing in nine different cities throughout her lifetime, mostly in the southeastern, midwestern, and southwestern United States. Although trained as a graphic designer, Doughty's artwork often crosses multiple media, including typography, illustration, writing, fiber and materials, and book arts. She shares and encourages such art-making as an Assistant Professor of Art at the University of Nevada, Las Vegas, and through her design studio, Design Kettle. Doughty's work is included in the Joan Flasch Artists' Book Collection in Chicago and has received awards from the Caxton Club, the College Book Arts Association and Arion Press.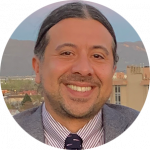 Mark Salinas, supporting Ashley's work behind-the-scenes, is a governor-appointed Board Member of the Nevada Arts Council and the former founding Director of the Carson City Department of Arts & Culture.  As a public arts administrator, Salinas has founded community-affairs organizations within government, non-profit, and commercial sectors utilizing over 25 years' experience as a creative contributor to the museum, gallery, fashion, film, and theater industries. Prior to his 2016 relocation to Carson City, Salinas lived in Queens, New York, having worked for such organizations as Pace Gallery, Brooklyn Art Museum, and the World Trade Center Site Memorial Design Competition.  He is the founder of the non-profit community organization, 7Train Murals. Salinas is a 2019 recipient of the Nevada Humanities Rising Star Award and the first Nevadan inducted into the National Association of Latino Arts & Cultures (NALAC) Leadership Institute.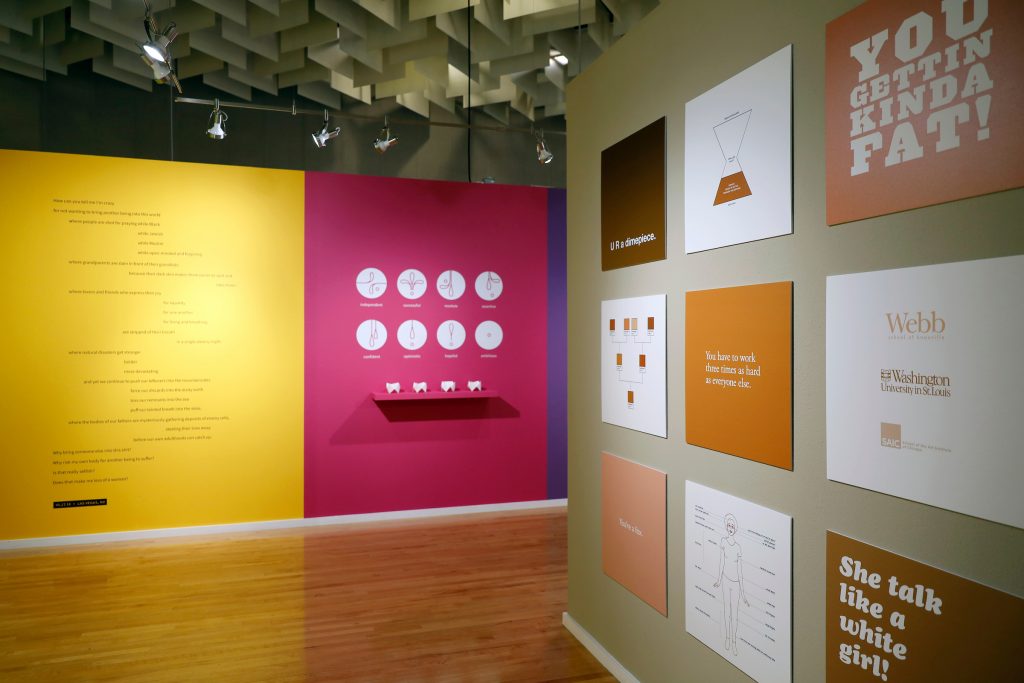 Naomi RaMona Schliesman (artwork below) is a nationally known visual artist that lives in Minnesota, and is an active advocate for the arts. She has her BFA with an emphasis in sculpture from Minnesota State University Moorhead, and an MFA from the University of Wisconsin-Madison. Schliesman has received a Fellowship from Ragdale and Kimmel Hardening Nelson Center for the Arts, was awarded 2nd place for Miami University Young Sculptors Competition for William and Dorothy Yeck Award, and was a LEAP finalist for the Society of Contemporary Craft Award. She has traveled abroad to Italy, Scotland, Ireland, France, United Kingdom, Netherlands and Belize to study art and has done artist residencies at Vermont Studio Center, Kimmel Hardening Nelson Center for the Arts, Ragadale, The Traveling Museum and Hospitalfield Arts. Schliesman currently serves on the Public Arts Commission for The City of Fergus Falls, and continues to collaborate with artists and organizations nationwide and exhibits her artwork nationally.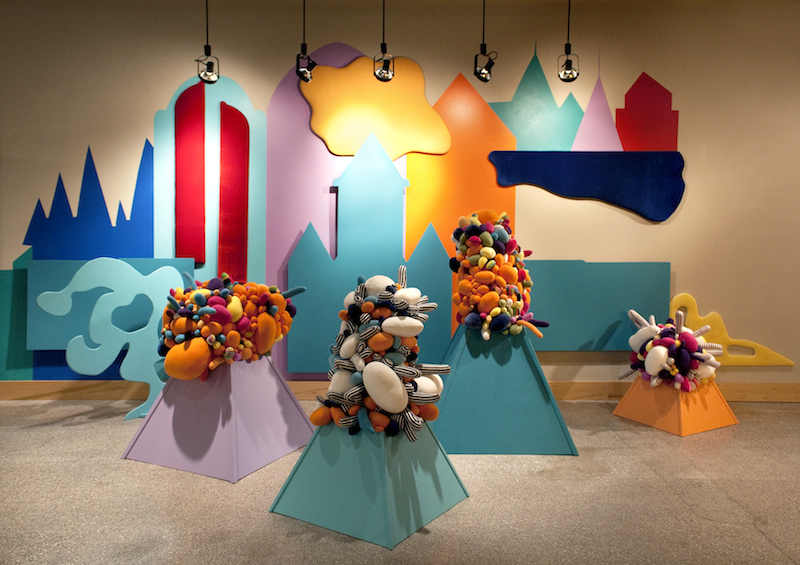 Ndubisi Okoye (artwork below) is a multidisciplinary artist with a passion for art and design that tells a story. Through his drawings and murals, he creates unique stories to motivate, represent, and inspire people throughout the African Diaspora. Okoye's combinations of typography, geometric shapes, vibrant color palettes, and tribal patterns represent an improvised rhythm throughout his work that is aimed at uplifting and motivating the viewer. He draws inspiration from many areas of his life, including anime, movies, music, poetry, and graphic design. He creates art to reflect the African Diaspora, his faith in God in the presence of indifference, and call attention to political issues. He wants to show the power, beauty, and complexity of blackness. Okoye graduated from College for Creative Studies in 2015 with a B.F.A in Advertising Design. He has worked as an Art Director for many advertising agencies working for clients such as General Motors, Chevrolet, Ram, Chrysler, Dodge, Camaro. Simultaneously, He has also done murals for Universal Music Group, Carolina Panthers, Mercedes Benz, GM, and HGTV. In both commercial Advertising and Fine Arts, he continuously finds ways to enjoy and excel at both in Detroit, Michigan.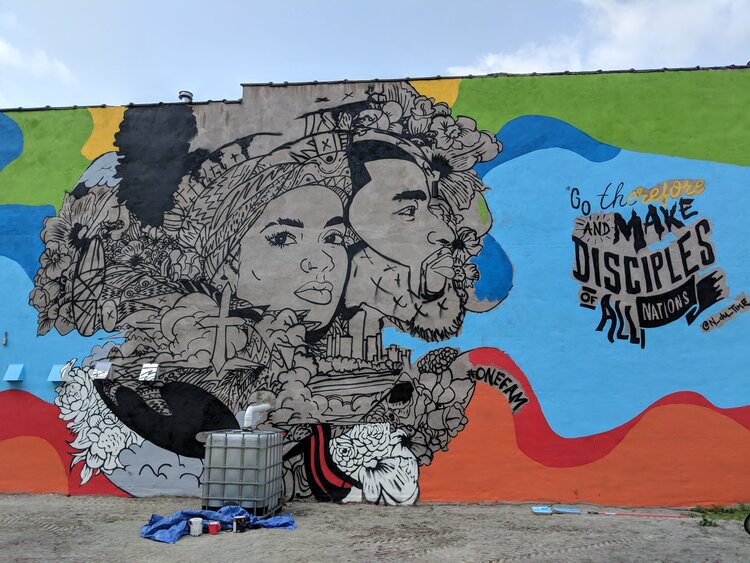 ---
We look forward to seeing how these artists and agencies collaborate to tackle the unique transportation challenges presented by COVID-19, and Smart Growth America will be reporting on their progress.
This program is made possible with support from the Kresge Foundation and the National Endowment for the Arts.