On Thursday, September 28, National Brownfields Coalition (NBC) Steering Committee members Michael Goldstein and Gerald Pouncey testified at the Senate Committee on the Environment and Public Works' hearing on the Federal Brownfields Program. At the hearing, Goldstein and Pouncy provided recommendations and improvements for the program including Low Income Housing Tax Credit program additions for affordable housing on remediated sites, more effective intergovernmental agency cooperation, and additional financial incentives that expand brownfields funding and stimulate private sector participation in brownfields projects. NBC witnesses also highlighted the urgency of accelerating investment in brownfields given the current housing access crisis and given the opportunity for economic development and job creation. With $1.5 Billion of Brownfields funding within the Infrastructure Investment and Jobs Act (IIJA), this is a critical moment of opportunity.
Watch the recording of the hearing here.
National Brownfields Coalition leaders testifying included Michael Goldstein, Steering Committee member and Chair of the Policy Committee, and Gerald Pouncey, Steering Committee member. Goldstein is the managing partner of Goldstein Environmental Law firm, based in Coral Gables, FL. Pouncey is the chairman of Morris, Manning, & Martin, LLP, based in Atlanta, and heads their Environmental practice. NBC is a program of Smart Growth America. 
Chairman of the Senate Committee, Senator Tom Carper (D-DE), opened the hearing by highlighting the importance of the Brownfields Program and its invaluable role in the remediation and assessment of over 35,000 contaminated sites across the country. He also emphasized the program's economic benefits, which have resulted in the creation of over 180,000 jobs since 1995, and accelerated economic growth — for every $1 of federal assistance in brownfields created $20 of non-federal money for the economy.
Ranking member Sen. Shelley Capito (R-WV) also emphasized how the Brownfields program has been a "resounding success story for the economy and environment" and noted the program's bipartisan support. She also commented on the many communities and types of brownfield sites, noting how sites can range from former factories and landfills to abandoned gas stations and dry cleaners. 
"These underdeveloped properties line the streets of once […] bustling industrial, commercial, and agricultural areas across our nation, discouraging investment and job creation, reducing local tax revenues and harming property values. Rather than viewing these properties as a stain on our community, the Brownfields program recognizes the vast untapped economic potential these contaminated sites can [bring] after they have been successfully remediated."

— Sen. Shelley Capito (R-WV)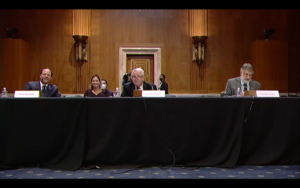 Four witnesses provided stakeholder perspectives—Goldstein Environmental Law Firm, Morris, Manning, & Martin, LLP, Groundworks Lawrence, West Virginia Brownfields Assistance Center at Marshall University—to identify ways "to modernize and update the program so it can best meet evolving challenges that communities face" in brownfields across the country. 
On behalf of the Coalition, Michael Goldstein identified three financial levers that would improve the program's implementation and lead to equitable impacts for communities affected by brownfields projects. Goldstein recommended the following:
Renew the Federal Brownfield Tax Deduction; (note that this has been a long-time priority of the Coalition, including

recent advocacy for the Brownfields Tax Incentive Reauthorization Act

);

Create a loan guarantee program that would encourage private sector involvement in projects by alleviating risk; and

Encourage opportunities for affordable housing funding at the federal level by introducing additional Low Income Housing Tax Credits ("LIHTC") for developers who build affordable housing on environmentally damaged land that require clean-up. 
Goldstein also stressed the importance of interagency collaboration and involvement in brownfields redevelopment, including the participation of the Federal Highway Administration , Army Corps of Engineers, and the Economic Development Agency. These agency partnerships could provide robust planning resources for entities undertaking brownfields remediation projects, and support the surrounding communities, which are disproportionately underserved and impacted by the effects of climate change.
"EPA's Brownfield Program – and the funding that Congress has increasingly made available going back to the mid-1990s on a non-partisan, non-political basis – has given the voiceless a voice and the powerless agency. [It] has transformed how environmentally challenged and marginalized communities think about pollution and economic disinvestment where they live, work, pray, and play and where families put down roots and then take wing generation after generation after generation."

—Michael Goldstein, Managing Partner of Goldstein Environmental Law, NBC Steering Committee Member and Chair of the NBC Policy Committee
Read Michael Goldstein's full written testimony here. 
Gerald Pouncey, an NBC Steering Committee member, drew upon his extensive experience in environmental law to describe the current challenges that hinder both the financing and redevelopment process of brownfields sites. He noted that pollution liability, as well as the delay in and cost of redevelopment that deter developers, often hinder private sector participation in brownfields remediation and noted that upfront costs for acquiring brownfield sites are sometimes 5 to 10 times more expensive than non-contaminated properties. Pouncey also shared how state-based liability incentives can alleviate the burden of liability that private sector developers and entities must assume in brownfields redevelopment projects. The other witnesses echoed Pouncey's recommendation of relinquishing federally enforced brownfields sites to state jurisdiction, which he argued would expand their eligibility for tax credits, funding opportunities, and federal TAB (Technical Assistance for Brownfields) grants. 
"The question becomes how do we create the incentive that encourages the private sector either on its own or jointly with the public sector to redevelop these sites, and I would offer that one of the most effective ways to do this is to move these sites to State Brownfield programs…"

—Gerald Pouncey, NBC Steering Committee member and Chairman of Morris, Manning, & Martin LLP
Read Gerald Pouncey's written testimony here. 
The conversation at the hearing demonstrated the success of the Brownfields program so far, as well as the high potential for future brownfields redevelopment to address today's housing crisis and improve environmental and community health. To accomplish these goals, there must be continued federal investment, interagency coordination, and the development of additional financial levers to accelerate development and recognize the complexities inherent in work with contaminated sites. 
The National Brownfields Coalition and Smart Growth America applaud the testimony of these coalition leaders and underscores the urgency of continued investment in brownfields to advance equitable outcomes and support local communities and economies. NBC thanks Michael Goldstein and Gerald Pouncey for representing the Coalition at the Senate hearing. 
For more information on the National Brownfields Coalition including memberships and how to join, please visit NBC's main page or for questions reach out to [email protected].