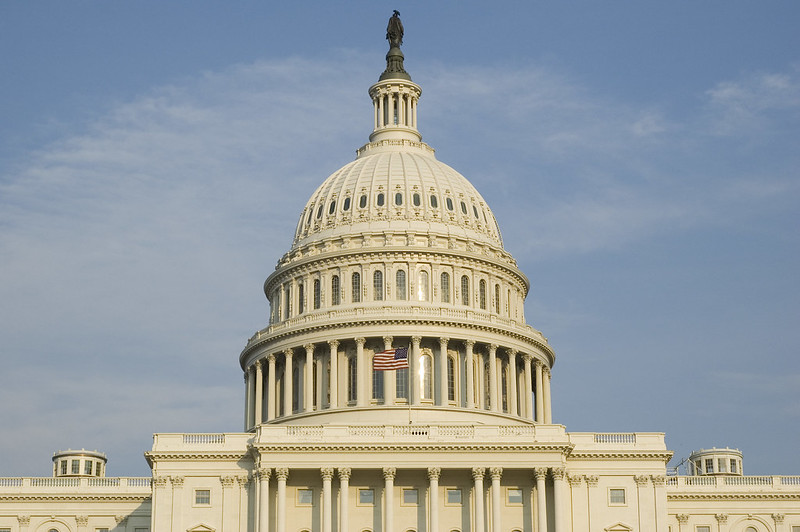 On June 3, the House Committee on Transportation and Infrastructure released the Investing in a New Vision for the Environment and Surface Transportation in America (INVEST in America) Act. This act authorizes nearly $500 billion over five years to address some of the country's most urgent infrastructure needs, as well as the economic crisis presented by the global coronavirus pandemic.
Smart Growth America's programs are deep into the details of this bill. On the whole, SGA has declared that it's an important step away from the status quo that finally starts to connect transportation spending to measurable outcomes that Americans actually care about. In addition to this LOCUS analysis, our Transportation for America program has examined the bill through the lens of their three simple principles, chronicled nine other valuable things to know about it, and started to unpack specific areas in detail, starting with passenger rail. 
In January, LOCUS produced three internal transportation and infrastructure principles to help guide our advocacy and policy work this year. These principles are focused on creating a new vision of mobility, creating a more interconnected country, and more access to increased funding for transportation projects. How does the INVEST Act measure up to these LOCUS principles?
Transportation and Infrastructure Principle #1: A new vision of America's infrastructure and mobility for the 21st Century that ensures a triple-bottom-line of benefit and value to the economy, the environment, and equitable distribution.
The INVEST Act meets this principle by:
Adding surface transportation program eligibility for resilience improvements, natural infrastructure, reducing carbon pollution, bus frequency, and ridership enhancement projects.

Requiring each state, in consultation with regional and local partners, to establish a vulnerable road user safety assessment which will identify corridors and hot spots that pose a high risk to bicyclists and pedestrians.

Creating a new carbon pollution reduction apportionment program that provides broad flexibility to the states to fund projects that reduce greenhouse gas emissions. This includes eligibility for intercity passenger rail projects that reduce greenhouse gas emissions and improve mobility on public roads.

Requiring metropolitan planning organizations (MPOs) and state departments of transportation to consider carbon pollution and emissions reduction, climate change, resilience, and hazard mitigation throughout the planning process. Adds additional planning considerations for accessibility and equity, including a holistic look at housing and land-use policies.

Creating a Task Force on Developing a 21st Century Surface Transportation Workforce to evaluate current and future workforce needs and develop recommendations.
Transportation and Infrastructure Principle #2: Empowerment of metropolitan regions to respond to and interact with an interconnected, global economy.
The INVEST Act meets this principle by:
Creating a new competitive program, funded at $100 million annually, to increase bus frequency, ridership, and total person throughput by redesigning urban streets and corridors to efficiently move transit vehicles in congested major urban areas.

Establishing an Office of Transit-Supportive Communities to make grants, provide technical assistance, coordinate transit-housing policies across the federal government, and incorporate strategies to promote equitable development for underrepresented and underserved communities.

Providing $250 million to support rural communities in addressing needs on and off the federal highway system. Eligible projects include those that focus on safety, state of good repair, and access to jobs and services. 

Establishing a $250 million grant program to support infrastructure investment in connected active transportation networks. This grant program supports the development of active transportation networks to connect points within a community, and active transportation spines to connect communities to one another.

Establishing a $600 million per year grant program to support local investments in projects to improve safety, state of good repair, accessibility, and environmental quality through infrastructure investments. Sets aside a minimum of 25 percent of program funds for projects in rural communities.
Transportation and Infrastructure Principle #3: Increased funding and patient capital for public transportation and equitable transit-oriented development.
The INVEST Act meets this principle by:
Increasing rail investment funding levels by more than five times current levels, authorizing $60 billion to

address the state of good repair backlog

in rail infrastructure, establish new intercity passenger rail routes, build on Amtrak's legacy, and expand the opportunities for commuter rail.

Providing multiple incentives in the transit capital investment grant (CIG) rating process if the project preserves or encourages higher density affordable housing near the transit project. Also allowing Economic Development Administration (EDA) Public Works grants and Housing & Urban Development (HUD) Community Development Block Grants to be counted as part of the local share of funding for a project, provided that the funds are used in conjunction with an affordable housing development.

Making permanent the authority for transit-oriented development project loans, and it clarifies that Railroad Rehabilitation Infrastructure Financing (RRIF) loans may be used as the non-federal share of project costs if such loans are repaid from non-federal funds.
What is missing from the bill: 
The INVEST Act does not expand the Transportation Infrastructure Finance and Innovation Act (TIFIA) to include commercial and residential development near transit as the Senate Environment & Public Works infrastructure

bill

did. 

While the Transportation & Infrastructure committee doesn't have jurisdiction over tax-related items (nor how this bill will be paid for), we hope that the Ways & Means Committee produces a companion bill that includes other finance-related LOCUS priorities such as the

REHAB Act

and the Brownfields tax incentive. 
These provisions that we outlined are most in-line with the work that LOCUS has advocated for. LOCUS remains optimistic that the INVEST Act, through all possible revisions, can maintain its alignment with our principles, while supporting communities investing in transit-oriented development, affordable housing, and sustainable solutions.