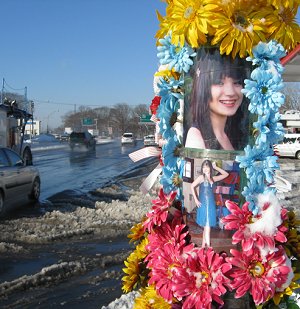 Last September, Brittany Vega made a guess that cost her life: she tried to cross the road while walking to school.
Just 14 years old, Vega was killed by a car as she made her way across Sunrise Highway at Wantagh Avenue in Wantagh, New York. Here, Sunrise is a seven-lane arterial lined with restaurants, banks, and other businesses, and the intersection is just steps from a commuter rail station.
Despite these destinations that generate pedestrian traffic, the road is designed for high speeds and little else. According to an analysis from the Tri-State Transportation Campaign, Sunrise is the second most dangerous road in the New York-New Jersey-Connecticut region, claiming the lives of 10 pedestrians between 2006 and 2008.
Brittany Vega's death stunned the community and her family. Barely a freshman in High School, Vega was full of life and ready for a great future. Though the intersection where Vega was killed has received some pedestrian safety enhancements, her mother Sandi is determined to prevent other New York families from feeling the same devastating pain. She understands that tragedies like her own can be prevented, and that thousands upon thousands of similarly dangerous intersections exist across the state.
Partnering with elected officials, Sandi Vega is advocating for Complete Streets policies across Long Island. She's also working with the Tri-State Transportation Campaign to promote a statewide Complete Streets law, introduced as S1332 in the State Senate and A1863 in the State Assembly, but known as "Brittany's Law." Though the law won't apply to all roads in the state — localities will need to establish their own policies — it is an important step toward safer roads. Not only will state-controlled roadways be planned, designed, and built for all users, but the State Department of Transportation will provide a model for localities of all sizes looking to do the same.
These bills have met resistance though, most notably from the New York State Association of Counties. However, advocates and opposition are sitting at the table together, working out language that all can agree on.
Meanwhile, New Yorkers are rallying around the bills: within two weeks of its launch, nearly 2,500 from across the state signed the petition initiated by Vega and Tri-State to support the legislation. They understand that approaching every transportation project as an opportunity to improve safety for all people, whether they are walking, bicycling, waiting for a bus or train, or driving a car, is the best way to make sure no more families suffer the tragic loss of their children, their parents, their cousins, or grandparents.
"If we were able to get it passed for this area we would know that every time that we see a road getting fixed it would be safer for all the kids in the community," said Vega.
If you live in New York State, please join Sandi Vega in asking for statewide Complete Streets legislation.