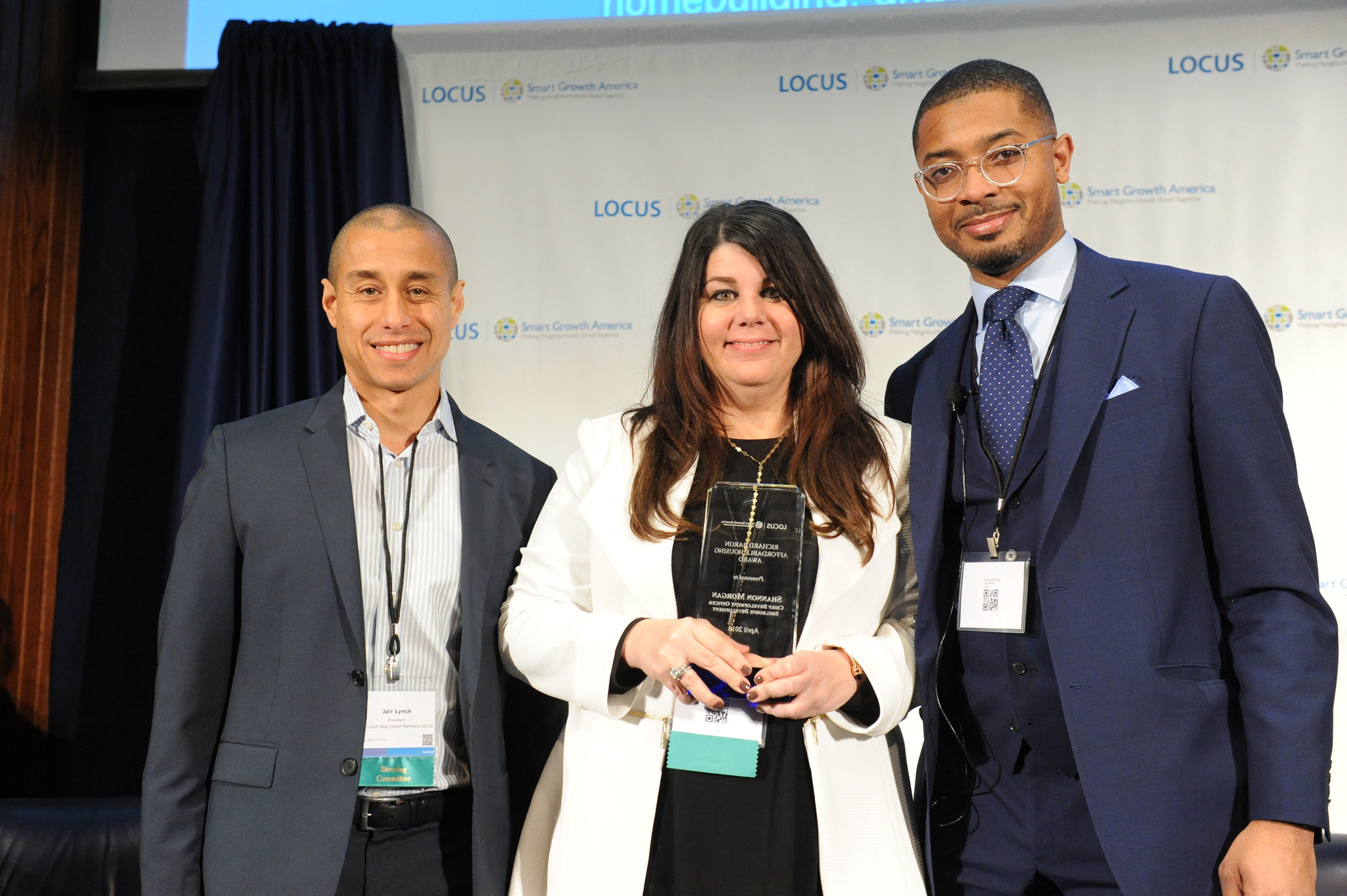 LOCUS President Jair Lynch (L) and Director Christopher Coes (R) recognize Shannon Morgan, Chief Development Officer at Shelborne Development in Detroit, MI, with the Richard Baron Award for Affordable Housing at the 2018 LOCUS National Leadership Summit.
Do you know a real estate developer, investor, or company creating great walkable places and demonstrating exemplary public leadership to advance smart growth development? If so, nominate them for the 2019 LOCUS National Leadership Awards.
This year, LOCUS will present four National Leadership Awards. Categories are:
Developer/Investor of the Year 
Company of the Year
Project of the Year
Richard Baron Award for Affordable Housing 
To be eligible, nominees must be the owner or principal of a private, for-profit company, have a history of development near major centers of employment, public transit and/or transportation hubs, and conduct their business in a way that exemplifies the LOCUS mission to build neighborhoods that are more economically, socially, and environmentally sustainable for America's future. Full eligibility and criteria are available here.
The 2019 National Leadership Award recipients will be presented during the 2019 LOCUS President's Dinner, taking place on Sunday, June 23, 2019, the first night of the 2019 LOCUS National Leadership Summit: Opportunity Rising in Washington, DC.
In addition, National Leadership Award recipients will receive:
A complimentary one year LOCUS Steering Committee membership.
Spotlight profile feature in LOCUS' monthly newsletter, distributed to our nationwide network and posted on our website.
Complimentary attendance at the 2019 LOCUS National Leadership Summit: Opportunity Rising to accept the National Leadership Award and make a brief presentation about their award-winning project.
The deadline to submit nominations is Thursday, May 16, 2019. Finalists will be announced by May 23, 2019.
Since 2012, LOCUS has awarded National Leadership Awards to 24 individuals and companies. Among them are:
Meea Kang, President and Co-Founder, Domus Development
2014 Developer/Investor of the Year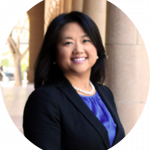 Since its founding in 2003, Domus Development has become the go-to company for California communities to find solutions to problems no other developer can solve. At its helm, Meea Kang has distinguished herself as an indisputable leader in the complex fields of affordable housing, smart growth, and building and maintaining attractive, well-designed assets that promote economic and community prosperity. Additionally, Kang has served on the board of the California Infill Builders Federation, a not-for-profit organization working to control sprawl by promoting infill development.
EYA
2018 Company of the Year

EYA, based in Bethesda, MD, specializes in walkable, residential communities and mixed-use development. The company has embodied the spirit of walkable, urban development for over 20 years, having built almost 40 walkable urban neighborhoods in the DC metropolitan area, including Chelsea Heights, Chancellor's Row, Westside at Shady Grove Metro, and Capital Quarter. While homebuilding is EYA's primary business, building sustainable neighborhoods is the company's passion.
Buwa Binitie, Managing Principal, Dantes Partners
2017 Richard Baron Award for Affordable Housing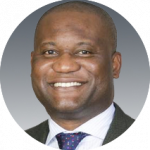 The 2017 LOCUS Richard Baron Affordable Housing Award went to Buwa Binitie of Dantes Partners for his commitment to developing and financing "luxury affordable housing" for individuals and families.
For a full list of past LOCUS National Leadership Award recipients, click here.
---