Last month the National Transportation Safety Board (NTSB) released a list of 19 recommendations aimed at reducing speeding-related injuries and fatalities. That full report was released yesterday and we had an opportunity to ask NTSB board member, T. Bella Dinh-Zarr, PhD, MPH about the study.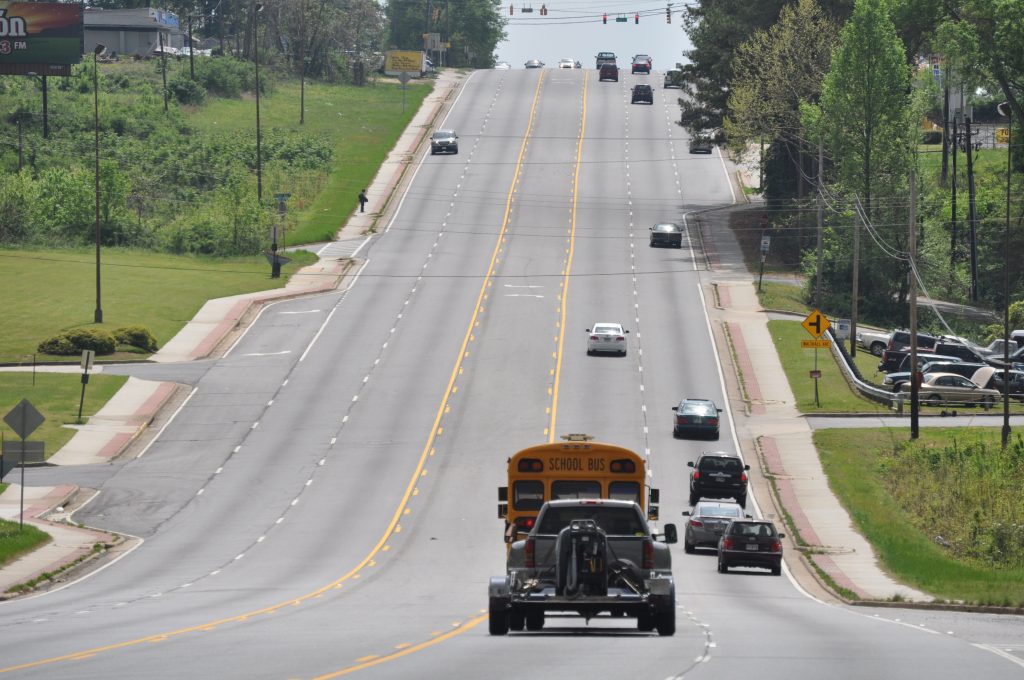 The National Complete Streets Coalition released a statement lauding the recommendations and Streetsblog called them "a breakthrough for the agency, which is known for investigating plane and railroad disasters." The recommendations included a detailed critique of how most states and cities set speed limits and showed how these standard practices may actually lead to more speeding-related fatalities and injuries.
With the release of the full NTSB report yesterday afternoon, we conducted a short Q&A with Dinh-Zarr, NTSB's first board member trained in public health. She rides her bike daily and has actively promoted safe and sustainable transportation as U.S. Director and Road Safety Director of the FIA Foundation and internationally on behalf of the United Nations.
Below is a transcript of our interview, lightly edited for length and clarity.
NCSC: There has been a great deal of public support for this NTSB speeding study. How do you think people can leverage this report when implementing traffic safety projects moving forward?
Dinh-Zarr: The NTSB is an independent agency that investigates transportation disasters to advance safety. We're privileged that many people consider us an objective voice for safety. I hope that this report will be leveraged to implement effective countermeasures for speed-related crashes, as well as simply raise awareness of the importance of speed management in making communities safer. Our safety recommendations will go to government agencies and all 50 U.S. states, but we recognize that some jurisdictions already may be addressing speed — even if we were not able to include it in our report. By allowing states the freedom to be creative in implementing effective countermeasures (such as automated speed enforcement and road design), we are giving people the tools they can use to make their communities safer. States (and other jurisdictions) know their communities best and our report will give them the scientific information to advance safety. I hope people will use this report as a credible source to help generate public and political support to implement traffic safety projects.
What do you believe has to happen to change the normalization of speeding as a common behavior?
This publication is the first study on speeding by the NTSB in our 50-year history. With more people walking and biking and with changes in demographics like the aging of the Baby Boom generation, perhaps more people are now beginning to think of speeding as an unsafe behavior. Like seat belts a few decades ago, I am optimistic that good efforts, such as Complete Streets, will begin to change the way people think about how speeding affects safety. I hope that, one day, kids will tell their parents not to speed just as they now tell them to put on their seat belts.
The safe system approach introduced in the report considers the vulnerability of all road users. How will the recommendations make streets safer for people like you who commute by bike, and those who walk, bicycle, use transit, and drive?
We can't talk about speeding without talking about people who walk, bike or use transit, younger and older road users, and people with disabilities. The safe system approach, discussed in the report, incorporates the needs of all road users, especially vulnerable ones. Although this report focuses on passenger vehicles, some recommendations apply to all road users by ensuring that appropriate speeds are maintained and enforced.
How does the study treat the influence of road design on traffic crashes?
The report focuses on countermeasures that are considered less widely accepted. But it is important to note that [changing] road design to address speed-related crashes is not yet widely implemented, even if it is generally accepted as good practice. Some jurisdictions are already addressing speed-related crashes using road design, by using Fatality Analysis Reporting System (FARS) data related to infrastructure and other data-driven measures. Some states, as I have seen firsthand, are already including speed as an emphasis area in their Strategic Highway Safety Plans (SHSP). Some jurisdictions are using design manuals with features that enhance compliance for lower speed limits rather than simply lowering speed limits.
As someone who walks and bikes every day, I was interested to learn that the Federal Highway Administration (FHWA) recently released a new resource, the Traffic Calming ePrimer, which has design solutions aimed at vulnerable populations. I am also encouraged to hear that AASHTO's next Green Book update will better address designing for a multimodal system and that NCSC's new Safe Streets Academy will provide local jurisdictions with hands-on training of engineering for speed control.
Federal government agencies can, and should, be given the ability to foster best practices in which jurisdictions take a systemic approach to identifying locations prone to speeding-related crashes and correcting them, using data.
What does the study not cover and how are those gaps being addressed?
This study was focused on the reducing speeding-related crashes of passenger vehicles, but the NTSB is concerned about death and injuries for all road users. Last year, we held a Pedestrian Safety Forum and we are currently conducting a series of investigations into pedestrian fatalities.
Thank you to Bella Dinh-Zarr for speaking with us about this groundbreaking study. The full NTSB report, Reducing Speeding-Related Crashes Involving Passenger Vehicles, is available now.