LOCUS's technical assistance helped the neighboring towns of Greenfield and Montague focus their sights on two feasible development/ redevelopment projects within their respective downtown Opportunity Zones. Since the conclusion of the Academy, both Greenfield and Montague have experienced activity around their chosen projects.
This post is part of a series summarizing the experience and outcomes of the inaugural class of Smart Growth America and LOCUS's  Massachusetts Opportunity Zones Academy. Read about Greenfield and Montague, and be sure to check out the posts for Barnstable-Yarmouth, Fitchburg, and Salem.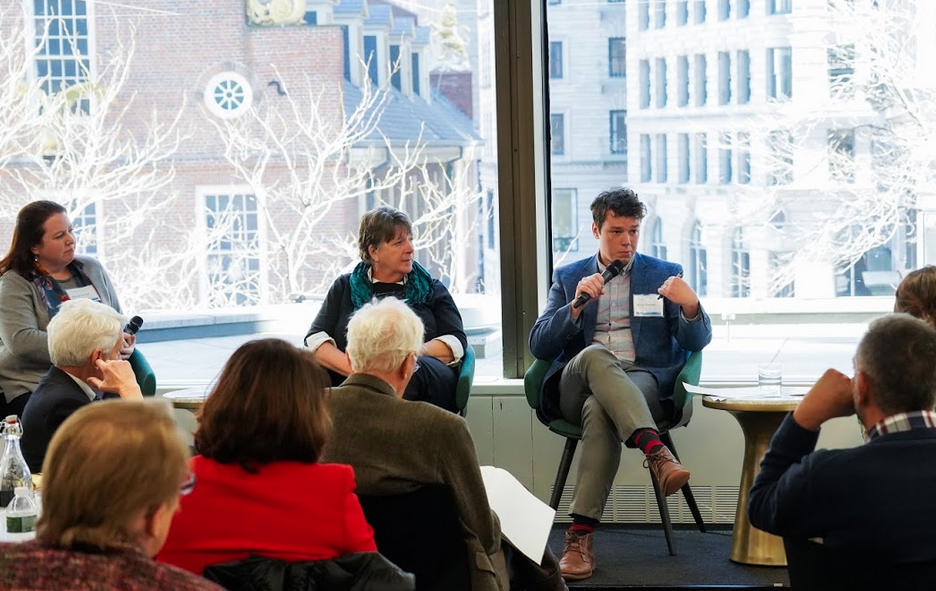 Left to right: Jessica Atwood, Economic Development Program Manager, Franklin Regional Council of Governments; MJ Adams, Director of Community & Economic Development, City of Greenfield; and Walter Ramsey, Town Planner & Conservation Agent, Town of Montague share an overview of their Academy experience at the Massachusetts Opportunity Zones Convening in November 2019.
Together, the City of Greenfield and Town of Montague in Massachusetts' Pioneer Valley are home to three Opportunity Zones. The history of collaboration between the two communities, as well as their demonstrated commitment to equitable and sustainable community development, were among a handful of reasons why the two were selected to participate in the first-ever Massachusetts Opportunity Zones Academy.
The two communities set out to better understand how to attract more market-rate housing and mixed-use development to their respective downtowns. Smart Growth America conducted a series of quantitative analyses and in-person workshops on leveraging Opportunity Zones to help achieve these smart growth development goals.
SGA conducted hot spot and pro forma analyses for development sites and shovel-ready projects in Greenfield and Montague's three Opportunity Zones. These analyses were intended to help the two communities visualize the type of equitable Opportunity Zone development that would be most feasible in their downtowns. The hot spot analysis calculated the return on potential real estate projects in the three Opportunity Zones, based on existing land value, and also weighed costs and benefits of downtown and downtown adjacent development. The hot spot analyses concluded that highest real estate value and potential was located within Greenfield and Montague's respective downtown Opportunity Zones, with an average value of $716,000 per acre within Greenfield's hot spots and $676,000 per acre within Montague's hot spots.
The two communities then selected four shovel-ready Opportunity Zone projects, one in Montague and three in Greenfield, to assess through the pro forma analysis. SGA's findings concluded that two of the assessed project sites would pencil with help from the Opportunity Zone incentive. The two projects were a mixed-use development for a vacant lot in downtown Montague, known as 38 Avenue A, and a mixed-use rehab of Greenfield's historic Garden Cinema.

Reduced parking minimums at each of these sites were major factors in the determination of project feasibility. SGA recommended that the other two project sites, the Greenfield Armory and the First National Bank building in Greenfield, be redeveloped into civic spaces or affordable housing so that the projects would be eligible for state and federal tax credits, grants, and financing programs.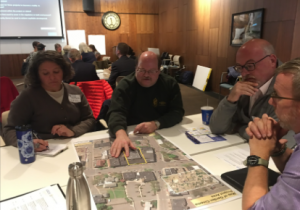 In mid October 2019, SGA staff traveled to Greenfield for a two day trip that began with a half day tour of both Greenfield and Montague, showcasing their Opportunity Zone project sites. That evening, a public information session was held for the two communities to learn more about Opportunity Zones and their potential community and economic development benefits. Over 100 people attended. The info session included a presentation from Greenfield's Mayor William Martin, summarizing the function of Opportunity Zones and their significance to Greenfield and Montague, and a presentation from SGA, demonstrating how the tax incentive can best be utilized in the two communities.
On the second day, SGA led a half-day workshop and presentation to 45 city/town staff and key stakeholders on the findings from the hot spot and pro forma analyses. During the workshop, participants shared their visions for both Greenfield and Montague's Opportunity Zone projects and identified how partnerships, policies, and features within the built environment could play a role in those visions.
As of the conclusion of the Academy, the town of Montague has accepted a proposal from a local developer for a mixed-use development at the 38 Avenue A site, and in Greenfield a developer has purchased the Garden Cinema building for an adaptive reuse project. Moving forward, the town of Montague is hopeful that the development at 38 Avenue A will act as a catalyst for further downtown redevelopment, while Greenfield continues to explore the acquisition of the Greenfield Armory and its potential for TOD housing.
---
The Massachusetts Opportunity Zones Academy was a six month technical assistance program led by Smart Growth America and LOCUS to educate cities and towns in Massachusetts with designated Opportunity Zones on how to best take advantage of the new tax incentive to stimulate equitable development, responsible real estate investment, and community engagement. In 2019, as part of the inaugural Massachusetts Opportunity Zones Academy, LOCUS worked with six communities: Barnstable-Yarmouth, Fitchburg, Greenfield-Montague, and Salem.