Transportation and Thriving Communities
Where we live (and the options we have for getting around) directly impacts our health, the environment we get to enjoy, the safety we experience, and the opportunities we will have. Yet even though we spend $40 billion in federal dollars each year on transportation, it seems that the more money we spend, the more broken things seem to be, with congestion, emissions, and pedestrian fatalities on the rise, and too many Americans becoming less healthy. This is because—at nearly all levels—we fail to prioritize the most essential purpose for transportation: getting people where they need to go safely and efficiently.
To build healthier and more prosperous places for all people to thrive, this team works to take better care of what we've already built, improve access to opportunity, build streets that are safe for everyone, expand transit service to more people, improve health and well-being, and improve the processes by which we choose what kinds of transportation investments to make, and where.
Our Transportation and Thriving Communities programs:
Transportation for America ››


Our signature transportation advocacy program, Transportation for America is made up of local, regional and state leaders who envision a transportation system that safely, affordably and conveniently connects people of all means and ability to jobs, services, and opportunity through multiple modes of travel.


National Complete Streets Coalition ››
The Coalition promotes the development and implementation of Complete Streets policies and professional practices that ensure streets are safe for people of all ages and abilities, balance the needs of different modes, and support local land uses, economies, cultures, and natural environments.

State Smart Transportation Initiative ››
The State Smart Transportation Initiative works with governors, state DOT CEOs, and other transportation stakeholders to promote transportation practices that advance environmental sustainability and equitable economic development, while maintaining high standards of governmental efficiency and transparency.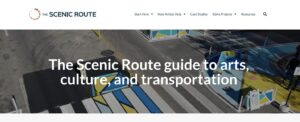 Arts & Culture ››
Our small team of experts help advance arts and culture as an organizing force for residents, business owners, and other stakeholders to work towards strengthening neighborhoods, by revealing the authentic character of communities, and by connecting citizens with decision makers to collectively pursue smart, equitable policies and projects.
---
Important research and analysis from the team
Driving Down Emissions

Driving Down Emissions explores how our land-use and transportation decisions are inextricably connected, and unpacks five strategies that can make a significant dent in the growth of emissions while providing more housing in smart locations and building a more just and equitable society.

Learn More
Dangerous by Design

Dangerous by Design 2022 takes a closer look at the alarming epidemic of people struck and killed while walking, which are up by a staggering 62 percent since they began steadily rising in 2009. The report finds that 6,529 people were struck and killed while walking in 2020, an average of nearly 18 per day, and a 4.7 percent increase over 2019, even as driving decreased overall because of the pandemic's unprecedented disruptions to travel behavior. Learn more about how our streets are Dangerous by Design and prioritize speed over safety.

Go deeper
The Scenic Route Guide to Arts, Culture, and Transportation

Arts and culture in transportation might be a new concept to you, but our Scenic Route guide is a terrific primer. We wrote the first edition to introduce planners, public works agencies, and local elected officials to these concepts. But after five-plus years of learning a ton through our own work and  significant developments in the field, we wholly re-conceived and updated the Scenic Route guide in 2021 to be both more approachable for beginners and hopefully more useful for arts and culture veterans.

Check out the interactive guide
Transportation and Health Equity

The State of Transportation and Health Equity identifies the biggest challenges to health equity facing our transportation system and the best tools to address the problem. Developed through rigorous feedback from a huge panel of health and transportation experts from across the country, each of the six sections outlines challenges, corresponding strategies, as well as success stories from all different types of places.

Read More
Accessibility Analysis

Transportation agencies and planning organizations often stress the importance of accessibility—connecting people to jobs and services. Meanwhile, our historical reliance on metrics like traffic speed, transit reliability and sidewalk coverage as proxy measures for accessibility-related outcomes has led to piecemeal implementation and unintended consequences like increased sprawl and rising transportation emissions. This guide from SSTI, Measuring Accessibility, is tailor-made for transportation and land use practitioners getting started in accessibility analysis.

Learn more
The Congestion Con

This report examines why our expensive strategies to reduce congestion are failing, why eliminating congestion might actually be the wrong goal, and how spending billions to expand highways can actually make congestion worse by encouraging people to drive more than they otherwise would, a counterintuitive but well-documented phenomenon known as induced demand.

Learn more
---
Learn more about Smart Growth America and smart growth
Learn more about our work and how we do it
---
What is smart growth?