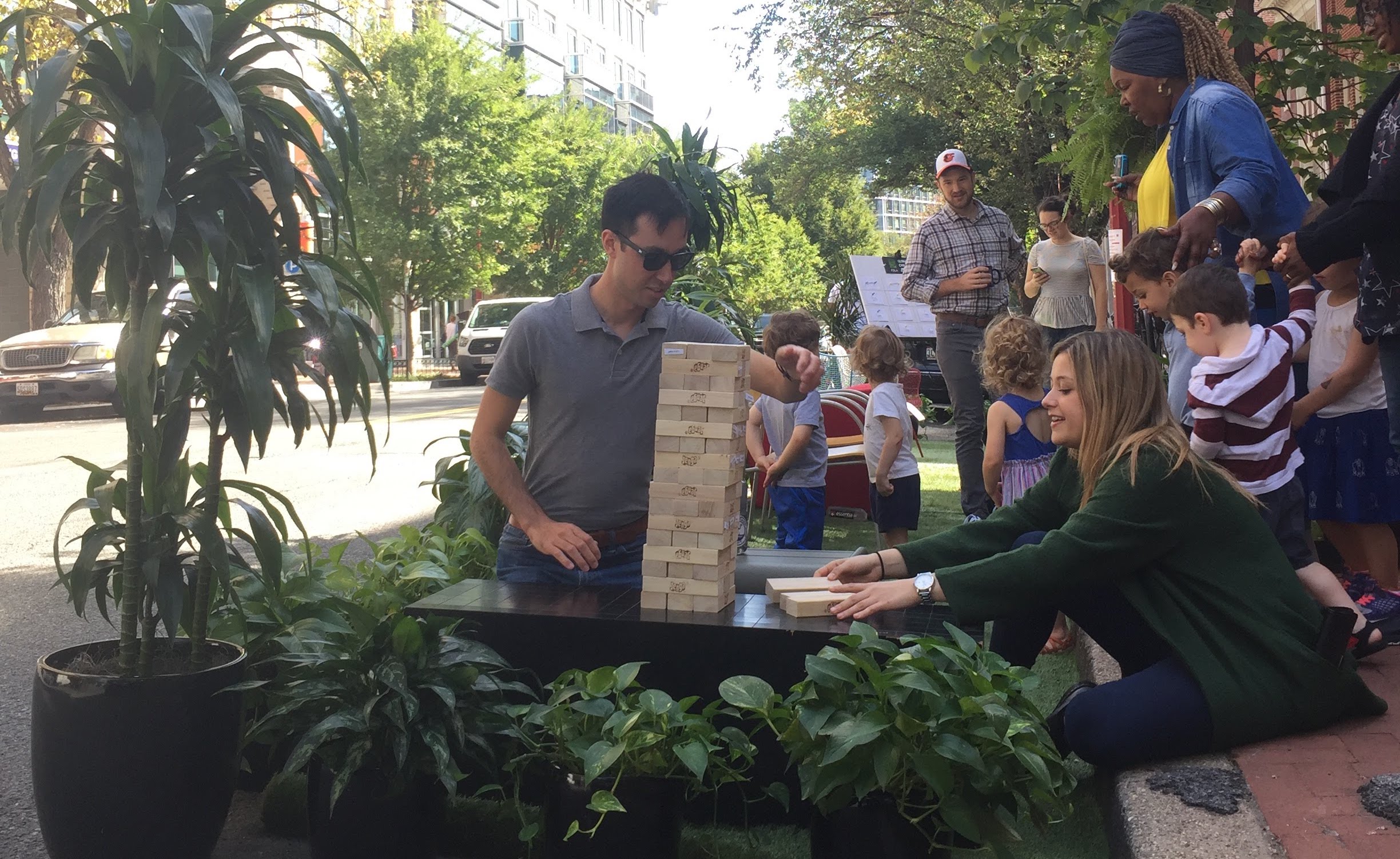 In 2005, three collaborators tested a new idea—they turned an underutilized and heavily subsidized piece of land (a parking spot) into a useful space with some grass, a bench, and a potted tree. People started using it almost immediately. Since posting the first picture of this DIY mini-park in San Francisco, this experiment in urban design has morphed into a global phenomenon. Now, hundreds of cities around the world hold PARK(ing) Day on the third Friday in September where dozens of parking spots that are usually reserved for stationary, empty cars are transformed into places for people.
According to John Bela, one of the brains behind the park that started it all, "it wasn't necessarily about protest, but it was about demonstrating an alternative to storing cars in parking spaces." It's an important point. Cities—especially in North America—devote an insane amount of public space to storing empty, voluminous private vehicles. A recent study of parking shows that "car storage has become the primary land use in many city areas," and at great expense.
Policies that require an excessive amount of parking for new development, based on unrealistic standards, can dramatically drive up the cost of housing or business space. And devoting 9-18 feet of street space for on-street parking takes up a lot of land that could otherwise be used for wider sidewalks, bike/scooter lanes, rain gardens, and—as PARK(ing) Day illustrates—many other public uses.
Below are a few of the "parklets" scattered around our office in Washington, DC and what their creators had to say about them.
Island Press
"Island Press is excited to celebrate PARK(ing) Day 2019 for the fourth time. As a local environmental nonprofit, our goal is to convey information through books like Walkable City Rules and Tactical Urbanism that inform the way people think about cities and urban life. This initiative demonstrates how streets and city life could be more safe, sustainable, and enjoyable."
---
American Society of Landscape Architects
"Today, National ASLA and many of our chapters nationwide are using PARK(ing) Day to demonstrate how streetscapes can be better designed to play a role in reducing greenhouse gas emissions" said Wendy Miller, FASLA, President-Elect of ASLA. "Reducing parking spaces means more space for low-carbon forms of transportation like walking and bicycling. It is ideal that this year's PARK(ing) Day coincides with the Youth Climate Strike that draws attention to the perils of the climate crisis."
---
ZipCar
"Park(ing) Day envisions a world with more space for people, not cars, which is the future Zipcar has been driving towards for nearly twenty years. In fact, up to 13 personally owned cars are taken off the road for each Zipcar. Taking cars off the road and creating a more sustainable and equitable future is what Zipcar is all about, and we know car sharing makes an impact on members and their communities. More sharing means fewer personally owned cars on the road, less traffic, more curb space, cleaner air, and more land for people to enjoy."
---
Heurich House Museum
"During this event, the Heurich House Museum's parking space on Sunderland Place NW will be turned into a place of 'play.' Table games such as jenga, chess, and Connect 4 will be complemented by large-scale checkers and coloring book pages. Visitors will be invited to take a seat at one of the tables or grab a drink from the complimentary drink station while enjoying the outdoors. Potted plants will turn this parking space into a park by bringing in the element of nature."
---
DowntownDC Business Improvement District
"The DowntownDC Business Improvement District (BID) for the past three years has chosen 7th Street  NW in Chinatown to host our PARK(ing) Day parklet to help draw attention to the potential of this busy pedestrian and transit corridor," said BID President & CEO Neil Albert. "We are pleased by the measures the District Department of Transportation (DDOT) is implementing along 7th Street to increase space for pedestrians and improve safety and we look forward to continued conversations about how to further enhance this key corridor."
---
Mount Vernon Triangle Community Improvement District
"Taste of MVT" invests in our local and small businesses by reclaiming on-street parking spaces for community building. Seven Mount Vernon Triangle business owners are meeting and connecting with their neighbors, which boosts economic development in our neighborhood and the District.