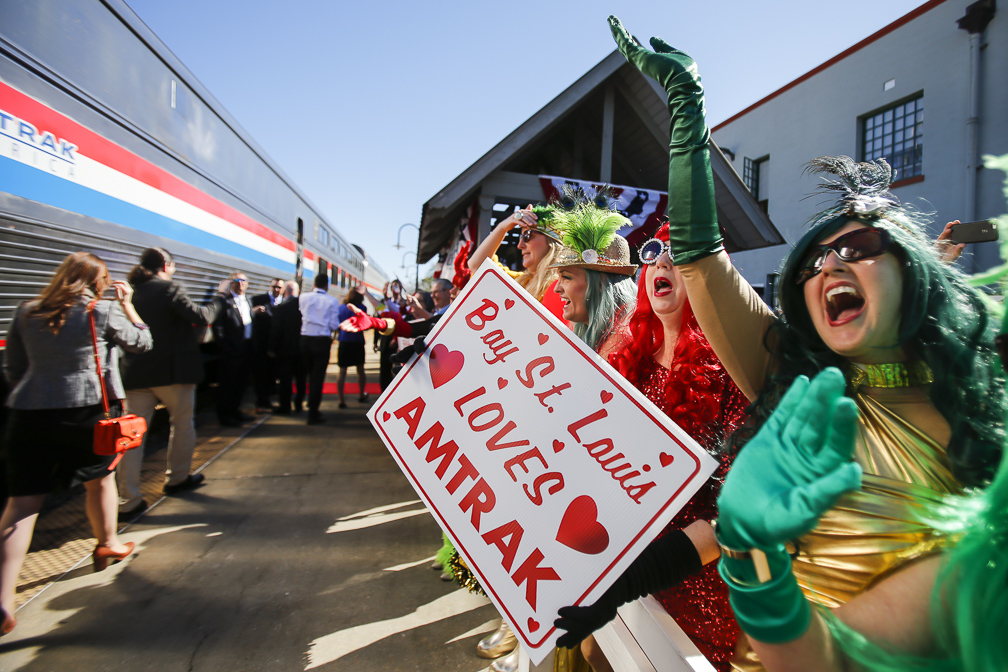 During the Gulf Coast Passenger Rail Inspection Trip from New Orleans, LA to Jacksonville, FL in 2016, local officials and community leaders were greeted by residents who were thrilled about the return of passenger rail. (Image: Tim Mueller Photography)
Passenger rail along the Gulf Coast has been absent since 2005 when Hurricane Katrina wiped out much of the infrastructure. But Smart Growth America, through our Transportation for America (T4America) program, has been coordinating a monumental effort to restore service along the Gulf Coast. Just last week, that work paid off when Mississippi and Louisiana received a $33 million federal grant to upgrade the infrastructure required to run reliable passenger trains in the corridor.
Amtrak's national rail network is a lifeline for many communities around the country. It gives residents an important, affordable connection to the rest of their region and the country and can bring tourists (who may be accustomed to great rail service where they're from) to town. The Gulf Coast is no exception.
Since Hurricane Katrina, passenger rail service east of New Orleans has been suspended and communities along the route have been left high and dry without this vital rail connection.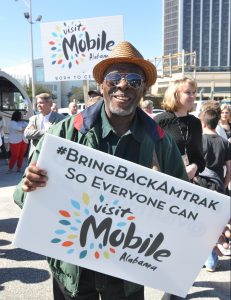 While rail service should never have been suspended for 15 years in the first place, a recent federal matching grant will help Louisiana and Mississippi make the needed investments to not only restore service, but implement dramatically improved service on the route. And if Gov. Ivey decides to commit local funds, as her peers to the west have done, Alabama could join the party and guarantee quality service to Mobile. But regardless of Alabama's actions, communities in Louisiana and Mississippi are ready.
It all starts with a good idea
John Robert Smith, chair of our Transportation for America (T4America) program, is what one might call a passenger rail evangelist, and for good reason. As former Mayor of Meridian, MS (from 1993-2009), he was responsible for building the first new multimodal transportation hub (i.e. an Amtrak station) in the south in more than a century and he saw the impact firsthand as it transformed his city. With this valuable new asset located in the heart of downtown and unifying multiple modes of travel under one roof, more than $165 million in private investment subsequently flowed into the surrounding area, renovating old historic buildings into new residences and business spaces, and breathing new life into the streetscape. Additional public funding also helped revitalize other cultural landmarks like City Hall and the historic Grand Opera House. The station itself is more than just a station—it hosts hundreds of community events throughout the year. All of this investment started with a train station that built upon an underutilized asset and created a new gateway to the city.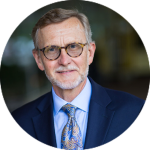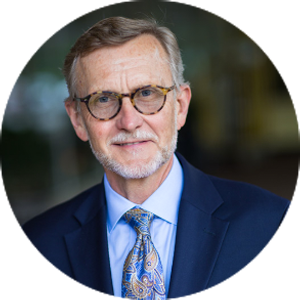 John Robert Smith (pictured left) also served on the Amtrak Board of Directors from 1998-2003 and led efforts to defend funding for the system during existential threats from the Bush administration. This depth and range of experience is exactly why we invited Mayor Smith to join Transportation for America and Smart Growth America years ago, where he's continued to evangelize about the power of public transportation—and passenger rail in particular—as a powerful economic development strategy for communities of all sizes. It was this personal experience plus the sharp policy minds of our T4America team that made us a good fit to help get the Gulf Coast rolling again.
Advocating for solutions
The first step toward getting passenger rail re-established was to build local and state support. There was no group more vital for doing this than the Southern Rail Commission. This unique regional group was created by Congress and has the unique authority to develop and enact a regional vision for passenger rail service, apply for and receive federal funding, and engage and negotiate with federal agencies and freight railroads—as with CSX, which owns the Gulf Coast trackage.
T4America's staff started working directly with SRC as policy advisors about five years ago. SRC was charged with building local support in Louisiana, Mississippi, and Alabama. They brought together local mayors along the line, garnered support amongst business leaders in the region, and won tacit support of their governors. Meanwhile, Transportation for America helped bridge the gap with elected leaders in Congress; we not only helped convince key members of Congress that there was a need for new and improved passenger rail along the Gulf Coast, but that they could establish a program that could direct federal matching funds to the region. SRC chairman John Spain noted last week that SRC "never would have been able to navigate these complex issues in Washington, DC without the policy guidance and hard work of our colleagues at Transportation for America."
T4America covered many of the details of the story over the last few years, but, long story short, in 2015, Senators Roger Wicker (R-MS) and Cory Booker (D-NJ) created the Consolidated Rail Infrastructure and Safety Improvements (CRISI) program to help pay for capital improvements to improve or expand passenger rail service. The next step for the SRC and Transportation for America was getting each of these three states—Louisiana, Mississippi, and Alabama—to put their own skin in the game and raise state matching funds so that a federal grant could be awarded.
To help build up support locally and within the states, the SRC and Transportation for America partnered with Amtrak to run a special inspection train from New Orleans to Jacksonville, FL in 2016—the first passenger train to roll east of New Orleans since 2005. T4America summed up its massive impact nicely:
"While there were some technical necessities for this trip—Amtrak inspected the tracks and stations to determine what physical needs there were along the line—the most important function was filling that train with elected, civic, and other local leaders from the Gulf Coast, while providing a visible sign that residents could rally around.

As the train approached the first stop after New Orleans—Bay St. Louis, MS—conversations on board suddenly stopped as passengers were surprised by overwhelming sights and sounds. Schools were closed, bands were playing, costumes were even donned, and it seemed like the entire city was there to see the first passenger train in 11 years. John Sharp, writing for AL.com, summed things up well, describing the arrival of that train as an incredibly cathartic moment for a city that was devastated by Hurricane Katrina and had fought for years to bounce back.

Bay St. Louis wasn't an outlier, though. That scene was repeated in town after town, whether in Mississippi's second largest city of Gulfport, or tiny little Atmore, AL."
This overwhelming public support for Amtrak rail service was a powerful motivator and ultimately the governors of Mississippi and Louisiana committed the required funding and applications to be awarded a $33 million grant last week.
Shepherds throughout the process
Applying for federal grants, particularly for huge, multistate infrastructure projects is complex. But Transportation for America advised SRC through the entire process from initial applications to submitting supplemental materials to obtaining letters of intent from governors and then securing state funding to ultimately receiving the first batch of federal funding last week.
Our technical assistance teams have also helped scores of communities with stations to develop their plans with an eye toward revitalizing downtown and leveraging their train stations, anchoring new development and attracting more investment. Smart Growth America and Transportation for America helped the SRC repurpose an old earmark to plan or construct new stations in Baton Rouge, Gonzales, and St. John The Baptist Parishes, LA; Bay St. Louis, Biloxi, Gulfport, and Pascagoula, MS; Birmingham, Anniston, Tuscaloosa, and Mobile, AL—some of which are far beyond just the planned Gulf Coast route.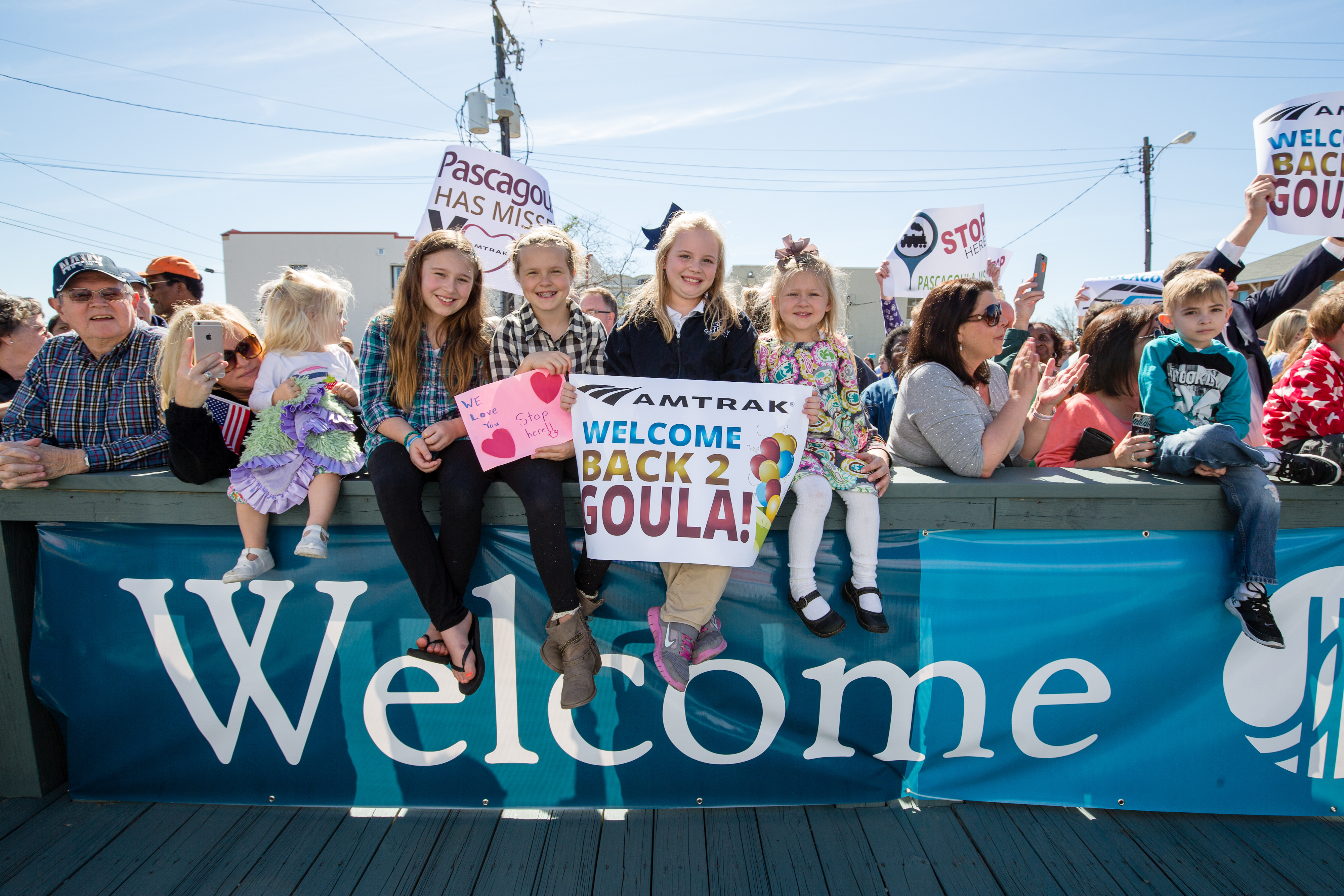 Residents in Pascagoula, MS greeted the 2016 Amtrak inspection train with open arms. (Image: Tim Mueller Photography)
An opening act for passenger rail?
Communities along the Gulf Coast should never have had to wait 15 years for rail service to be restored. And when trains do start rolling, they will enhance the national network of short- and long-distance passenger rail service. Part of the reason for this route's viability is because it connects to no less than three other long-distance routes: Chicago through the Midwest, the East Coast, and all the way to Los Angeles—serving far more than just the Gulf Coast region.
Now that the SRC is making progress, there's growing interest in working to improve other routes. A movement for new service between the twin economic centers of Baton Rouge and New Orleans in Louisiana has formed, as has a push for rail service and along the I-20 corridor between Shreveport, LA and Meridian, MS. This comes in addition to longstanding conversations to protect and expand passenger rail in the Midwest, the Mountain West, the Pacific Northwest, and across the country.
The Gulf Coast is showing how good ideas, effective advocacy, and technical assistance are a powerful combination for positive change. It's a recipe that Smart Growth America and our various programs will continue using to create a more healthy, prosperous, and resilient country.