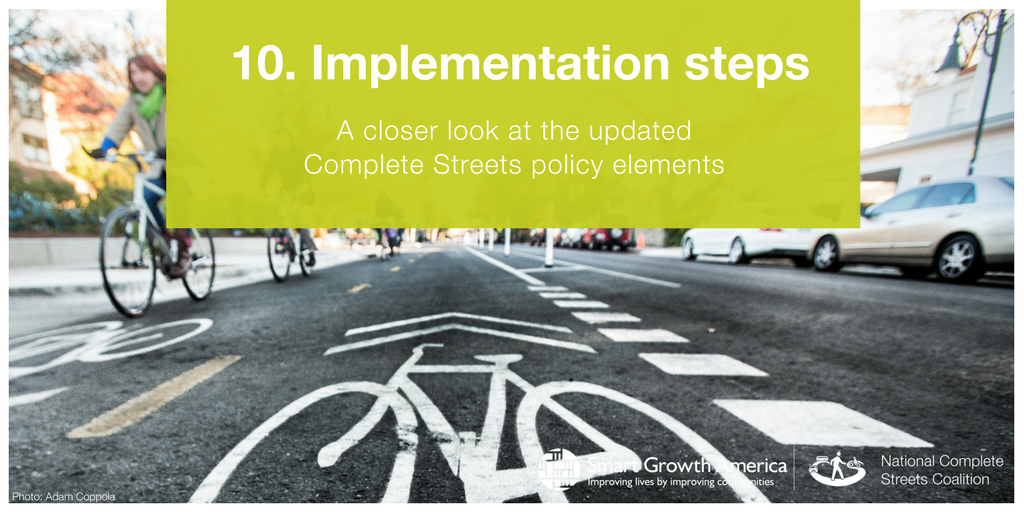 Over the last decade, we've come to understand that a Complete Streets policy is only the first step to making streets safer and more accessible to everyone. We've revised the "Implementation steps" policy element to include increased accountability from jurisdictions and requirements to include equity and community engagement.
This post is part of Complete Streets month at Smart Growth America. Throughout November, we are running a series of posts to unveil our brand new Complete Streets policy framework — revised for the first time in nearly a decade — explaining each of the 10 newly revised elements in some detail.
We've spent the month of November discussing some of the key goals and elements of a Complete Streets policy. However, these policies cannot achieve their ambitious goals unless they are thoughtfully and thoroughly implemented. To do this, departments of transportation must change the way they operate, including changing their project development process, design guidelines, and performance measures. This is most successfully done through training, education, and strong leadership. Jurisdictions should include language and actionable steps for implementation in their Complete Streets policy. Implementation steps are worth the most points out of all of the policy elements, as it lays out specific next steps for implementing the policy.
In addition to serving on the National Complete Streets Coalition Steering committee, AARP has a plethora of national resources available on Livable Communities, defined as a community that "is safe and secure, has affordable and appropriate housing, diverse transportation options, and supportive community features and services."
"For nearly a decade, AARP has promoted local change to build communities where people of all ages can thrive. Making sure that residents have a variety of safe and affordable options to get around town is a big part of that effort. That's why we are supporting Complete Streets initiatives in communities as diverse as Birmingham, Orlando, Honolulu, Cheyenne, and Westchester. While much of the focus so far has been on ensuring that transportation planning factors in pedestrians, bikers and public transit as well as cars, the implementation of these policies and procedures is critical. The new implementation policy will help communities reflect the needs and concerns of residents of all ages and abilities while increasing accountability for making our roads safer for everyone."

– Nancy LeaMond, AARP Executive Vice President, Community, State and National Affairs
Below is a summary of the five key steps to Complete Streets implementation:
Restructure or revise related procedures, plans, regulations, and other processes to accommodate all users on every project. This could include incorporating Complete Streets checklists or other tools into decision-making processes.
Develop new design policies and guides or revise existing to reflect the current state of best practices in transportation design. Communities may also elect to adopt national or state-level recognized design guidance.
Offer workshops and other training opportunities to transportation staff, community leaders, and the general public.
Create a committee to oversee implementation. The committee should include both external and internal stakeholders as well as representatives from advocacy groups, underinvested communities, and vulnerable populations such as people of color, older adults, children, low-income communities, non-native English speakers, those who do not own or cannot access a car, and those living with disabilities.
Create a community engagement plan that considers equity by targeting advocacy organizations and underrepresented communities which could include non-native English speakers, people with disabilities, etc. depending on the local context.
Stay tuned for more Complete Streets updates during the month of November
Have questions about the changes? Join us as we discuss how the new grading rubric will affect future policies during our webinar on December 1, 2017 at 1:00pm ET. The entire new grading rubric resource will be released on our website shortly before the webinar.  Register for the webinar today >>
We are now accepting nominations for the Best Complete Streets initiatives. Do you know of a project, initiative, event, person, task force, etc. that exemplifies Complete Streets? Fill out this brief nomination form >>
If you have any questions about the changes to the Complete Streets policy framework, please contact us! We're happy to discuss further.
Special thanks to our featured Steering Committee member:

AARP is a nonprofit, nonpartisan, social welfare organization with a membership of nearly 38 million that helps people turn their goals and dreams into real possibilities, strengthens communities and fights for the issues that matter most to families — such as health care, employment and income security, and protection from financial abuse.