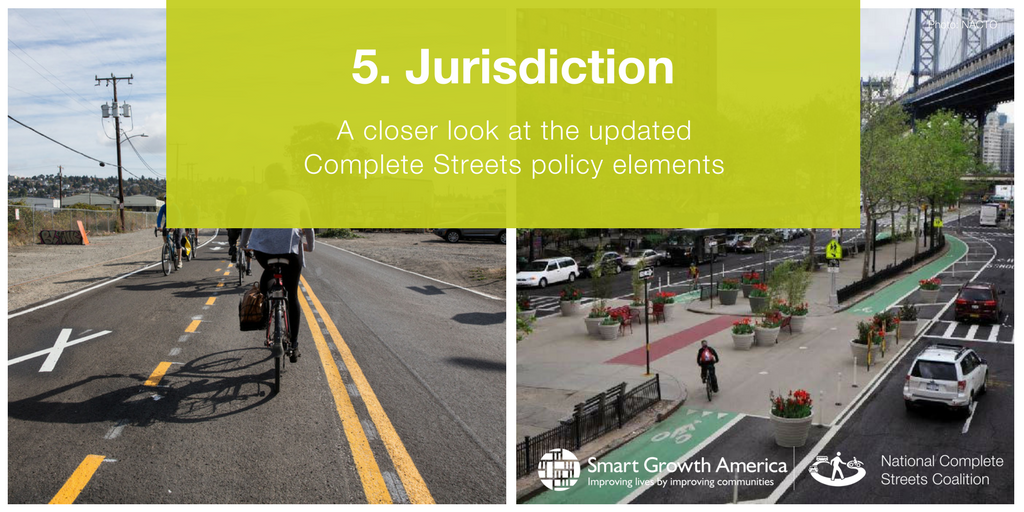 The jurisdiction element addresses how agencies who may be responsible for building or maintaining roads can require outside parties to comply with Complete Streets policies. Creating a Complete Streets network requires interagency coordination between government departments and partner agencies. We spoke to Byron Rushing, one of our Steering Committee members from the Association of Pedestrian and Bicycle Professionals who shared his insight on why this element is crucial in Complete Streets policies.
This post is part of Complete Streets month at Smart Growth America; we will be sharing a series of blog posts that cover and explain each of the 10 revised policy elements in some detail.
Streets are not one dimensional when it comes to who builds and is responsible for the road. Many different agencies build and maintain roads such as state, county, local agencies, and private developers. For this reason, jurisdictions may face hurdles when creating Complete Streets networks. However, through a strong policy, individual jurisdictions can have an influence on how others will work to incorporate Complete Streets in their plans. For instance, in order for private developers to move forward with a permit, they should be required to address how they will incorporate Complete Streets into the project that is being reviewed in the permitting process.
Within the previous policy framework, the jurisdiction element was vague in describing how agencies can best work together and what that would look like in practice. It also did not include any actionable requirements, only a mention of expectations to follow the Complete Streets policy and working with others was sufficient to score points on this element. In our revised framework, we have accounted for the interagency coordination and partnerships needed to successfully implement a Complete Streets network. We also included more requirements for all agencies to comply with the policy, read below for how each type of policy should be applied.
For municipality/county policies – A municipality's or county's policy requires private development projects to comply.
For state/Metropolitan planning organization policies – A state's or MPO's policy clearly notes that projects that address how they will account for the needs of all modes and users are prioritized or awarded extra weight for funding and/or inclusion in long-range transportation improvement plans (TIPs).
For all policies – Policy specifies a requirement for interagency coordination between various agencies such as public health, housing, planning, engineering, transportation, public works, city council, and/or mayor or executive office.
Finally, we heard from Byron Rushing, President of Association of Pedestrian and Bicycle Professionals (APBP) and Bicycle & Pedestrian Program Manager at Atlanta Regional Commission who shared his thoughts on the updated policy:
Public policies are never one-size-fits all and understanding the role and responsibility of a particular agency is critical for a successful policy. Using the right tool at the right scale ensures that agencies and jurisdictions are using their resources effectively, minimizes opportunities for variances from the policy, and creates a framework for better decision making amongst all partner agencies. Interagency coordination is fundamental to building trust and achieving effective outcomes.
"Jurisdiction" is just one of 10 policy elements that will be featured this month. We've officially revised our policy grading rubric, known as the 10 Elements of a Complete Streets Policy. The Complete Streets movement has evolved since it began in 2004 to focus far more on implementation and equity, but the framework for grading the quality of policies hasn't kept pace. For months, a group of national stakeholders, consisting of engineers, planners, researchers, and advocates, worked to revise the policy elements and truly raise the bar for what Complete Streets look like in practice. The entire revised framework will be available on our website on November 30, 2017.
Stay tuned for more Complete Streets updates during the month of November
Have questions about the changes? Join us as we discuss how the new grading rubric will affect future policies during our webinar on December 1, 2017 at 1:00pm ET. The entire new grading rubric resource will be released on our website shortly before the webinar.  Register for the webinar today >>
We are now accepting nominations for the Best Complete Streets initiatives. Do you know of a project, initiative, event, person, task force, etc. that exemplifies Complete Streets? Fill out this brief nomination form >>
If you have any questions about the changes to the Complete Streets policy framework, please contact us! We're happy to discuss further.
Special thanks to our featured Steering Committee member: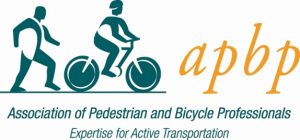 The mission of the Association of Pedestrian and Bicycle Professionals (APBP) is to grow the pedestrian and bicycle profession and its influence by facilitating the exchange of professional and technical knowledge, elevating practitioners' skills and defining the field.