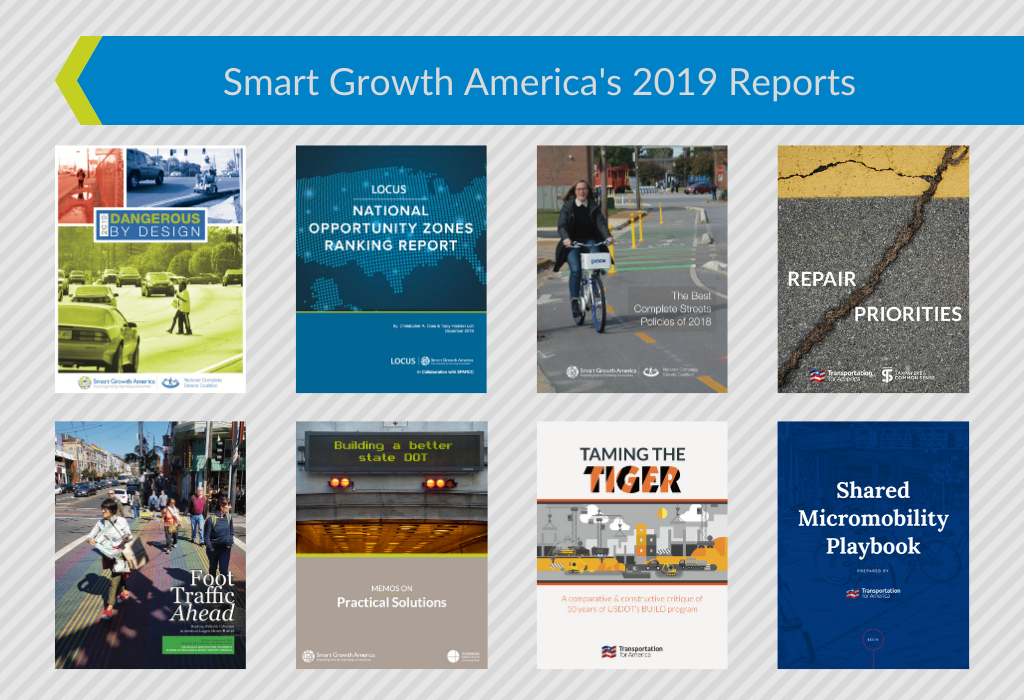 This year, Smart Growth America continued to produce vital research and other content that is changing the conversation around critical issues—like the epidemic of pedestrians struck and killed by drivers on our streets, the disconnect between rhetoric and policy on road repair, and the Opportunity Zones most poised for equitable, sustainable growth. Critically, we also offered solutions and recommendations in these reports: how we can save lives, repair our bridges and transit, and ensure low-income communities aren't displaced when new development occurs. These reports help fuel our advocacy across the country and in the nation's capital, fighting for a future that is healthy, prosperous, and resilient.
Will you make a donation to support Smart Growth America's leadership in the next year?
Dangerous by Design
—Documents the epidemic of pedestrian fatalities, how street design is responsible, and what we can do to save lives.
National Opportunity Zone Ranking Report—Ranks Opportunity Zones based on smart growth potential and social equity and provides a policy framework for equitable growth.
Best Complete Streets Policies of 2018—Ranks policies passed last year and profiles the strongest ones that other communities can use as a guide.
Repair Priorities—Shows how our national policy and funding priorities, not a lack of funding, are responsible for the poor state of our nation's infrastructure.

Foot Traffic Ahead 2019
—Analyzes the real estate market to show how walkable urban places are in high demand and makes the case for building more of them.
Building a Better State DOT—Identifies assumptions and practices that lead states DOTs to view highways as a solution for every transportation problem and offers a better way.
Taming the TIGER—A constructive critique of a federal grant program that's building more roads under the Trump administration, in a departure from the program's multimodal past.
Shared Micromobility Playbook—An online resource for cities dealing with the rise of dockless scooters, bikes, and other modes that identifies best practices.

Help support this work by making a year-end contribution below.
---