National Brownfields Coalition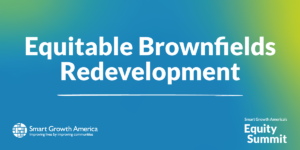 On the Equitable Brownfields Redevelopment webinar, speakers discussed tools and strategies for community wealth-building and preventing displacement as part of Smart Growth America's continued Equity Summit programming.
Miss the event? Watch the recordings here and learn how practitioners center equity in their work and develop strategies for inclusive brownfields redevelopment. Recognizing the risk of gentrification and home and business displacement arising from brownfields redevelopment projects, event speakers shared best practices for development, planning, and community engagement processes centered on community wealth building and supporting existing community members.
Watch the recordings from the event
---
Everyone deserves to live in a place that is healthy, prosperous, and resilient. Cleaning up underutilized, blighted, or environmentally impacted land—known as brownfields—is an important part of returning that land to the community. Yet the funding and capacity for cleaning them up pales in comparison to the need.
The National Brownfields Coalition is a unique, non-partisan alliance that advocates for policy change and funding to responsibly clean up and reuse underutilized or environmentally-impacted land.  We educate, advocate, and convene stakeholders nationally to advance brownfields redevelopment and thriving communities. The Coalition is jointly managed by Smart Growth America and the Center for Creative Land Recycling. We advocate for protecting public and environmental health sustainably and equitably, by removing or containing contaminants in the estimated 400,000 to 600,000 brownfields sites. By working across sectors and fields, practitioners and advocates are able to better confront environmental contaminants and return these lands to productive use.
---
Initiatives and Updates
Sign up for the Coalition's updates
NBC testifies before the House Subcommittee on Environment & Climate Change
February 15th, 2022
On Tuesday, February 15th, NBC Steering Committee member Lee Ilan represented the National Brownfields Coalition during the virtual 'Back from the Brink: Restoring Brownfield Sites to Economic Engines' hearing alongside four other witnesses and brownfields advocates from across the country. Witnesses praised the additional funding in the Bipartisan Infrastructure Law (BIL), discussed the connection between environmental justice and brownfield redevelopment, addressed concerns of gentrification and housing displacement related to redevelopment, and provided insight on other issues related to federal brownfield policy. Keep reading.
---
Webinar recap: Conversations on the state of the redevelopment field
December 16th, 2021
On December 16th, the National Brownfields Coalition was honored to present an engaging pre-recorded conversation with Representative Dan Kildee from Michigan's 5th District around the recently passed Bipartisan Infrastructure Law and new opportunities for brownfield communities. Rep. Kildee has been instrumental in advancing brownfield priorities both at the state and federal levels by serving in the prestigious Ways and Means Committee and as Chief Deputy Whip of the House Democratic Caucus. He also founded Michigan's first land bank which invested millions of dollars in Flint and served as a land bank model for communities across the country. Keep reading.
Watch webinar recording
---
EPA roundtable on preventing displacement of long-term residents as communities work toward brownfields redevelopment
December 14th, 2021
The National Brownfields Coalition will be participating in a roundtable with EPA's Office of Brownfields and Land Revitalization (OBLR) on issues around gentrification and displacement of long-term community residents as the nation works toward responsible brownfield redevelopment. The conversation will touch on equity challenges in revitalization, resources for education and assistance to communities, and strategies to prevent displacement. Look out for an email from the Coalition summarizing key findings and insights soon!
---
NBC testifies at Congressional hearing before the House Subcommittee on Water Resources and the Environment
December 8th, 2021
The National Brownfields Coalition was proud to testify before the House Subcommittee on Water Resources and Environment in a congressional hearing focused on "promoting economic and community redevelopment and environmental justice in the revitalization and reuse of contaminated properties." Keep reading.
Watch hearing recording
---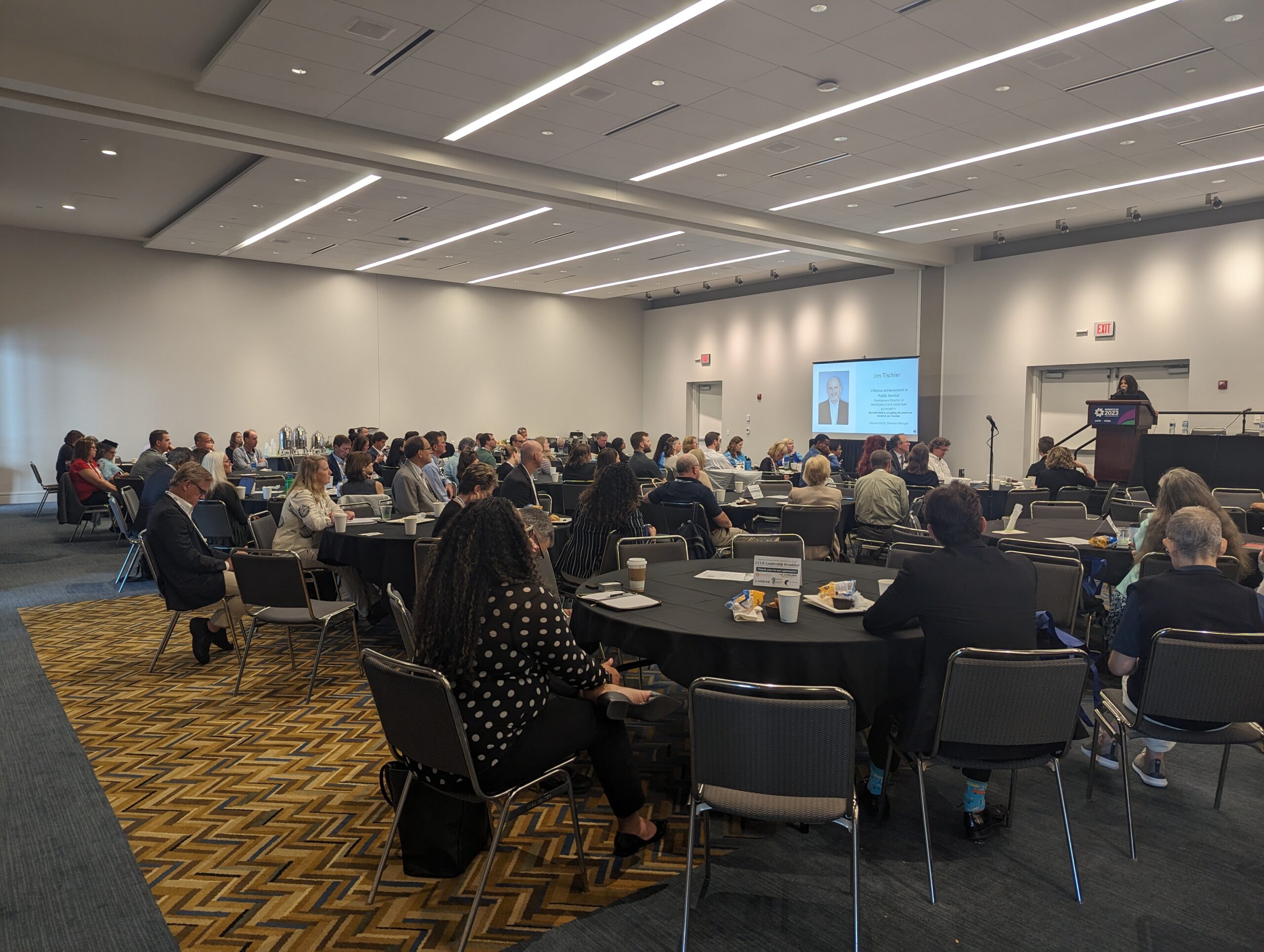 In August 2023, over 2,700 Brownfields practitioners met in downtown Detroit to share the latest trends and best practices for revitalizing and redeveloping contaminated brownfield sites across the country. The National Brownfields Coalition (NBC), a nonpartisan advocacy coalition convened by Smart Growth America and the Center for Creative Land Recycling (CCLR), actively participated at the … Continued
Read More ›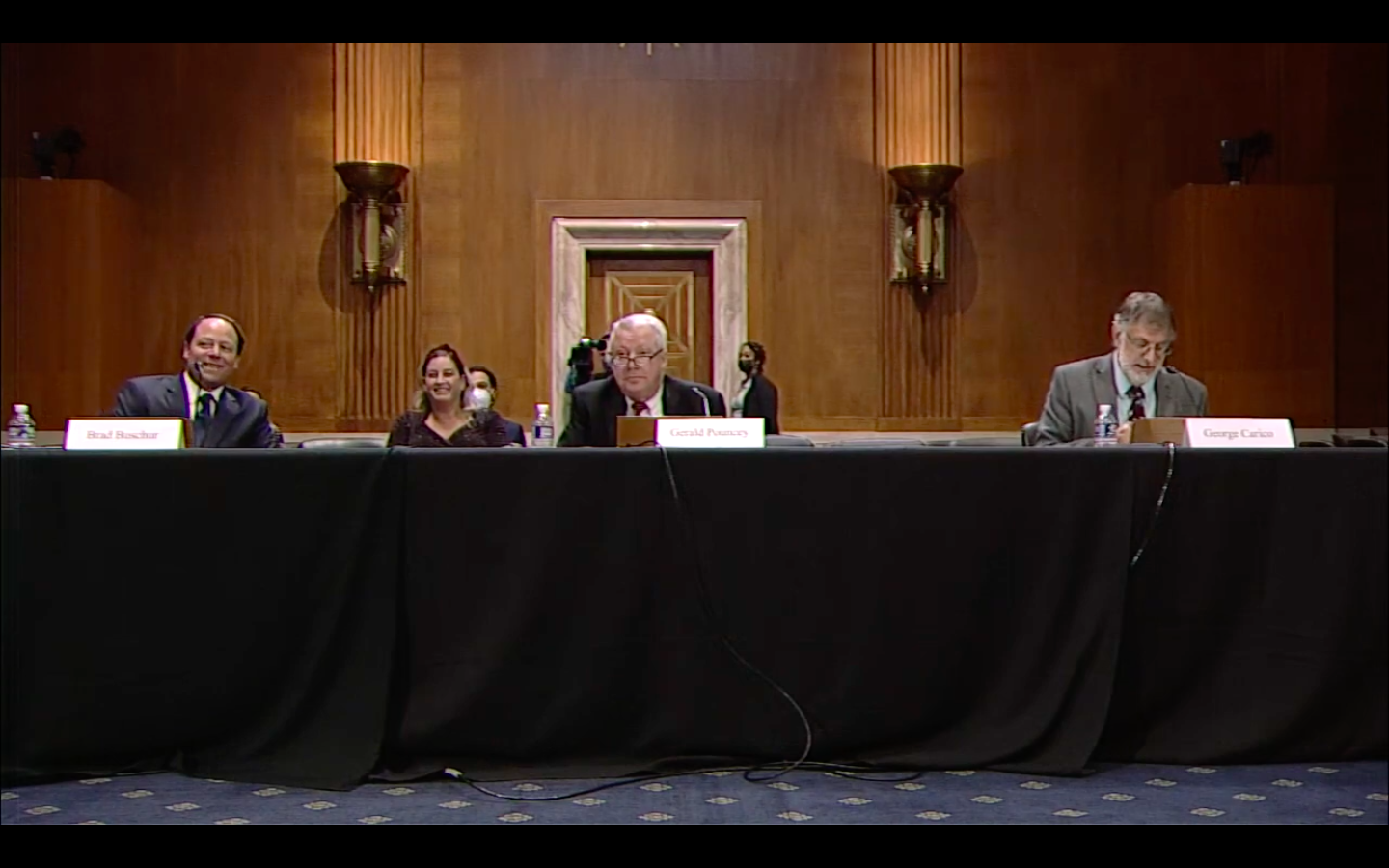 On Thursday, September 28, National Brownfields Coalition (NBC) Steering Committee members Michael Goldstein and Gerald Pouncey testified at the Senate Committee on the Environment and Public Works' hearing on the Federal Brownfields Program. At the hearing, Goldstein and Pouncy provided recommendations and improvements for the program including Low Income Housing Tax Credit program additions for … Continued
Read More ›