About
The National Brownfields Coalition is a unique, non-partisan alliance that advocates for policy change and funding to responsibly clean up and reuse underutilized or environmentally-impacted land. We educate, advocate, and convene stakeholders nationally to advance brownfields redevelopment and thriving communities.
Read more about the Coalition here.
Our Team
The National Brownfields Coalition is jointly managed by Smart Growth America and the Center for Creative Land Recycling.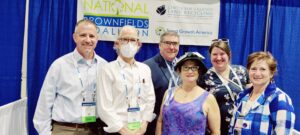 Our Work
The Coalition raises awareness about, as well as develops and advocates for policies and practices that support the remediation and redevelopment of brownfields nationwide. The Coalition pursues collaborative efforts that:
Advocates for federal legislation that authorizes and funds brownfields cleanup and redevelopment like, The Brownfields Utilization, Investment and Local Development Act (BUILD Act) and the 2015 Brownfields Federal Tax Incentive Reauthorization Act (read the case study report);

Supports the improvement of federal environmental liability regulations;

Produces best in class research that highlights best practices and lessons learned in brownfield redevelopment, and;

Convenes national leaders in brownfield cleanup and reuse regularly to increase their expertise, leadership, and relationships on important brownfield policy topics.
The following committees have been formed to meet the goals of the National Brownfields Coalition:
Advocacy and Outreach Committee
Policy Committee
Education and Membership Committee
Environmental Justice and Public Health Committee
---
2021 Report
The National Brownfields Coalition has remained focused on key federal issues and policy related to brownfield remediation and redevelopment throughout 2021 despite the ongoing COVID-19 crisis, and taken advantage of the re-energized federal policy environment to engage our members in advocacy efforts for legislation dedicated to brownfield-focused funding. These efforts resulted in a series of exciting accomplishments like the reintroduction of the federal brownfields tax incentive and new, productive relationships with brownfield advocates in the federal legislative space:
Testimony before the House Subcommittee on Water Resources and Environment: On December 8th, the National Brownfields Coalition was proud to testify before the House Subcommittee on Water Resources and Environment in a congressional hearing focused on "promoting economic and community redevelopment and environmental justice in the revitalization and reuse of contaminated properties." Six environmental justice and brownfield redevelopment advocates from across the country, including our very own Michael Goldstein, provided testimony on issues including the federal brownfields tax incentive, affordable housing incentives, support for EJ40, EPA's role in supporting EJ communities, reinforcing partnerships with the U.S. Army Corps of Engineers, and more.
Conversations with a U.S. Representative on the State of the Redevelopment Field: In December, the National Brownfields Coalition hosted a national public webinar on the state of brownfield redevelopment with several NBC members and guest speaker Representative Dan Kildee from Michigan's 5th Congressional District. Recorded interview with Rep. Kildee addressed opportunities in the IIJA, the Build Back Better Act, and the federal Brownfields Redevelopment Tax Incentive.
EPA Roundtable on Brownfields and EJ: On December 14th, three NBC members, including two members of the NBC Environmental Justice committee, Dr. Krystal Hepburn and Lee Ilan, represented the National Brownfields Coalition in a roundtable discussion hosted by EPA's Office of Brownfields and Land Revitalization (OBLR) on issues around gentrification and displacement of long-term community residents as the nation works toward responsible brownfield redevelopment. The conversation touched on important foundational ideas of environmental justice, including equity challenges in revitalization, tactics for equitable development such as community benefits agreements and resources for capacity building and engagement with communities.
[Call to action] Renew the Federal Brownfield Tax Deduction: On June 30th, the Coalition sent an email blast to our 2,749 subscribers encouraging them to take action by contacting their federal Representatives in support of restoring the federal Brownfield Tax Deduction Incentive, which expired in 2012. The call-to-action provided a pre-written letter for federal legislators that could be modified by each supporter and sent to the appropriate Representatives. The Coalition is excited to report that 77 messages were directly sent out to federal Representatives along with a total of 42 supporters engaging with our call for advocacy.
[Call to action] Support the Federal Brownfield Redevelopment Tax Incentive: On July 13th, Representatives Mikie Sherrill (NJ-11) and Mike Turner (OH-10) reintroduced the Brownfields Redevelopment Tax Incentive Reauthorization Act of 2021 (H.R. 4427) in Congress. The Coalition called upon our supporters to reach out to their Representatives again, this time requesting that they support or cosponsor the newly-introduced H.R. 4427. 34 supporters engaged with our second call to action resulting in a total of 73 messages sent directly to federal Representatives to advocate for this advantageous bill.
---
Our Members
Members of the National Brownfields Coalition inform Coalition strategy, collaborate on Coalition projects, and help make the case for brownfield cleanup and redevelopment nationwide. They are experts in building healthy, successful communities and improving policies and practices at the national level.