Complete Streets, Complete Communities distance learning series
The Complete Streets, Complete Communities distance learning series is a set of five online modules designed for public health professionals who want to learn how to influence health through local and regional transportation policies and practices, as well as for transportation professionals who want to learn more about opportunities to collaborate with the public health sector. This set of modules supports the work of the Active People, Healthy NationSM initiative.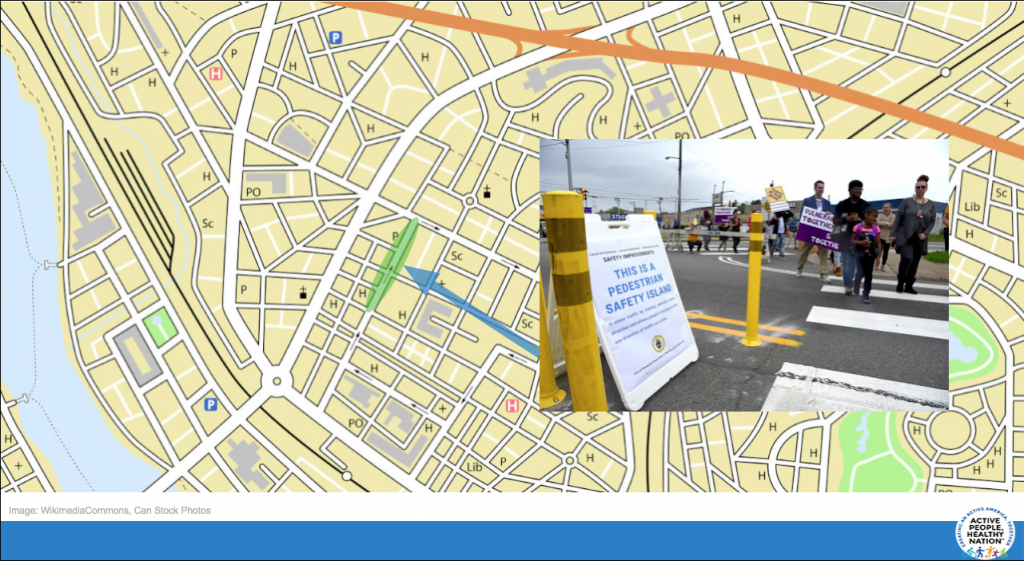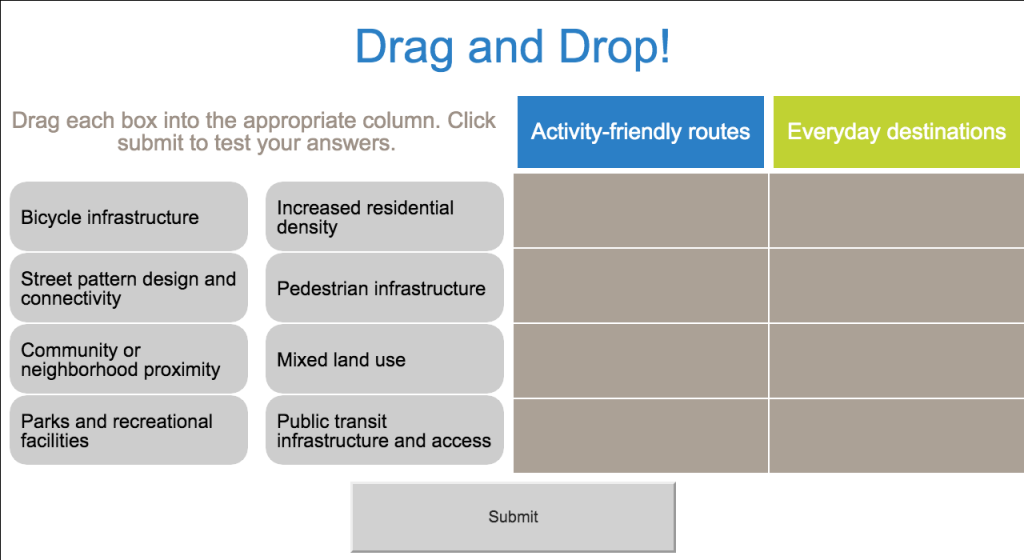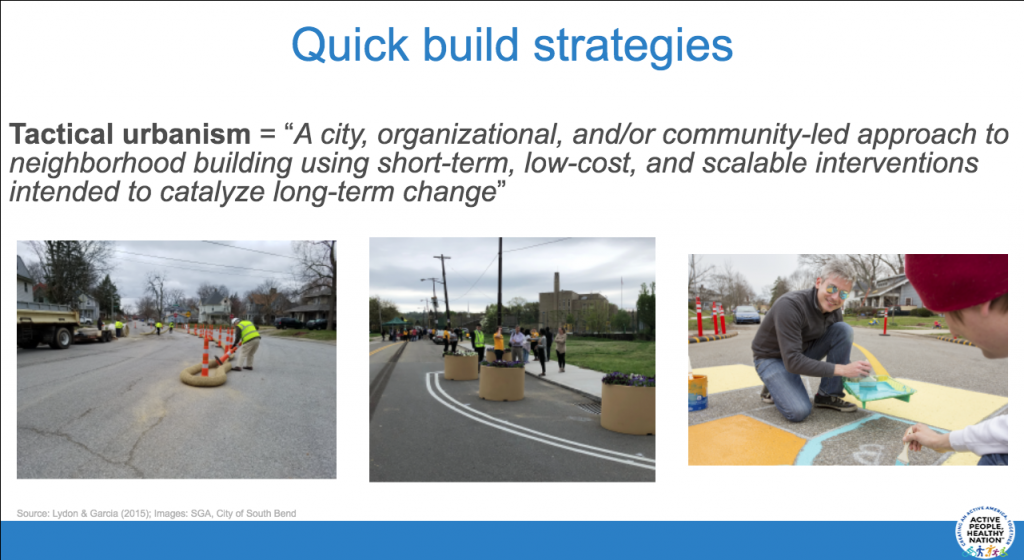 The modules include pre-recorded presentations as well as interactive quizzes and activities to build knowledge and skills in the following topics:
Module 1: Introduction to Complete Streets
This module provides an overview of basic transportation terminology, details the components of a Complete Streets approach, and explains the historical and current practices in transportation that have created a need for Complete Streets policies.
Module 2: Built Environment & Health Equity
This module elaborates on the connection between the built environment and public health and explores specific examples of transportation, land use, and housing interventions to alleviate health disparities.
Module 3: Inclusive Community Engagement for Health Equity
This module discusses barriers to public engagement for communities impacted by health disparities and explores strategies to overcome them.
Module 4: Building Coalitions for Health Equity
This module explains the steps to mobilize an effective cross-sectoral coalition including strategies for identifying stakeholders and establishing achievable, measurable goals.
Module 5: Creating Safer Streets, Quick Builds
This modules describes the benefits of quick build projects, details best practices for implementing them, and provides case studies of real-life quick builds to improve health and safety.
Enroll today
The Complete Streets, Complete Communities distance learning series is eligible for 5.0 CM through AICP. Each module is self-paced and takes approximately one hour to complete. These modules are currently available free of charge to recipients of REACH, HOP, and SPAN cooperative agreements from the Centers for Disease Control and Prevention's Division of Nutrition, Physical Activity, and Obesity. Register up for the modules using the form below;

Smart Growth America (SGA) Is seeking an experienced web developer to lead a redesign of smartgrowthamerica.org, including a visual rebrand and restructuring of the overall information architecture. We are looking to create a dynamic, highly visual, educational site that clearly communicates our North Star, programmatic priorities, programs, and importantly, our impact. As a national leader … Continued
Read More ›

Smart Growth America (SGA) is seeking a human resources consultant (individual consultant or dedicated individual within a small firm) to perform an update of SGA's employee handbook and provide associated services related to the rollout of the new handbook. The deadline to submit a proposal is April 3, 2023, 11:59 p.m. Eastern Standard Time. About Smart … Continued
Read More ›