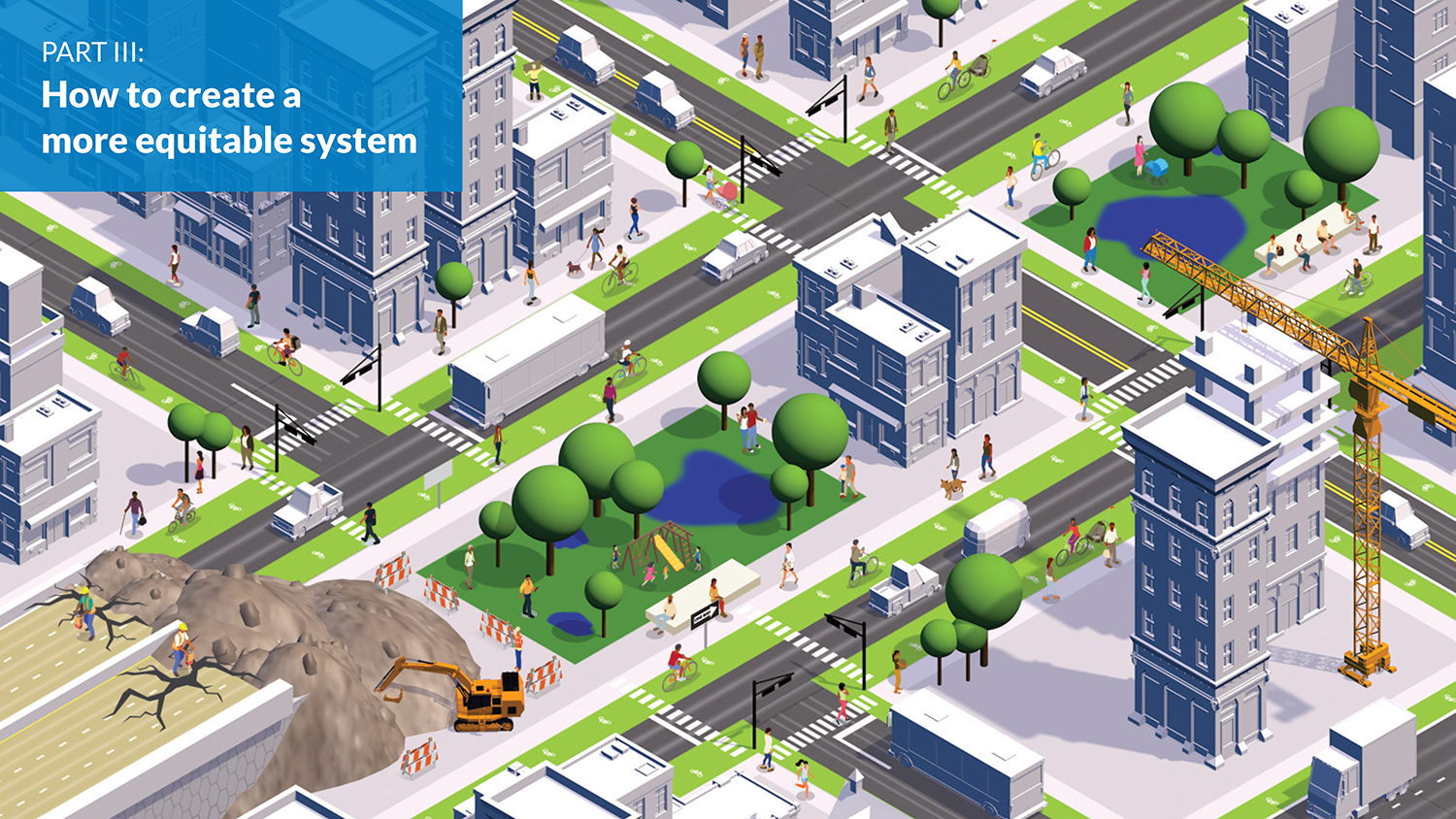 As Part I shows, intentional decisions were made to divide and harm communities of color. And as Part II shows, the overt racism of the early interstate age may no longer exist in the same form, but our standards and measures and models are failing to fix that damage, and often make it worse. This requires those in control to be intentional about undoing the damage and unwinding an approach that is still leading to the same, inequitable outcomes.
Leaders at the federal, state, and local levels have an opportunity and a responsibility to put an end to these injustices, but they will need to intentionally prioritize improving equity with every investment, and examine how the current system fails to do so.
To repair the damage of existing transportation investment and prevent future harm, first and foremost, impacted communities must be centered in the decision making around investment in their community and the vision for their future. We cannot truly rebuild the fabric of these communities without prioritizing those who have been marginalized or disenfranchised by past decisions. Some agencies and practitioners are moving from a public engagement to a co-creation model, which is exactly what is needed. But to ensure that the co-created vision is realized, there are a lot of barriers to knock down. The following recommendations focus on those barriers to improving access to jobs and essential services and ensuring that locals benefit from and are not displaced by investment.
To advance these goals, we propose four broad recommendations, with several specifics under each. (Click any sub-recommendation below to expand its detail, or refer to page 38-44 in the PDF to read them all.)
1

MEASURE WHAT MATTERS MOST

As Part II shows, data measures that focus exclusively on vehicle travel, particularly vehicle speed, come at the expense of people traveling outside of a car— often children, the mobility impaired, and those that can't afford a car. This contributes to a system where almost all Americans must own a car to travel, which has acute economic and public health impacts for everyone, but particularly people in communities of color.
2

REPAIR THE DAMAGE AND STOP REPEATING PAST MISTAKES

The first step to solving any problem is to stop making it worse. And yet, even as state and local decision makers make plans to utilize federal funding to reconnect communities, they also continue to plan costly highway expansion or construction projects that will further harm and divide communities. This must change. In addition, leaders and practitioners must making solving this problem a priority, using every opportunity at their disposal to enhance public health and safety, particularly for the most vulnerable road users.
3

PRIORITIZE THE SAFETY OF EVERYONE OVER THE SPEED OF A FEW

State DOTs are often pressured to solve the wrong problem, and it will take leadership at every level to allow them to change course. As we said in Building a Better State DOT in 2019, state DOTs were tasked in the 1950s with the primary job of building highways to move vehicles quickly, a mission that made more sense when their primary job was to build a network of Interstate highways from scratch. But their mission never changed, even as the network was completed. And by applying that approach to the entire transportation system, on and off the highways, we have created a deadly, inconvenient system that is weighted by income, and Black and Brown communities suffer the worst impacts of this approach. It's time for that to change and to give our agencies new goals, standards, and tools. USDOT should lead the way on all of the recommendations, but state DOTs that prioritize equity do not have to wait for USDOT.
4

ALWAYS CONSIDER LAND USE AND TRANSPORTATION TOGETHER

Things that get labeled as transportation problems are often land-use problems. Because of restrictive zoning, housing gets built on the fringes of a city or town far from jobs, groceries, banks, and other necessities. 1 This results in traffic snarls, makes walking and biking difficult, and drives up transportation costs, especially for lower-income households. The state or local DOT and transit agency is then called on to attempt the impossible task of fixing a problem created by land-use choices. Or new infill development is stopped for fear of traffic at the closest intersection or increased parking demand, considering the needs of only those with the money and ability to drive. Then such development is forced to the fringes where it will cause the problems listed in the previous example.

The transportation implications of these development decisions are predictable but rarely considered, while transportation agencies do not admit that they can't fix a problem that is caused by the spatial mismatch of this development pattern. Both land-use and transportation agencies need access to tools that allow them to consider the impacts of both decisions on the other and determine which produces the most effective, efficient, and equitable results.