National Brownfields Coalition
Everyone deserves to live in a place that is healthy, prosperous, and resilient. Cleaning up underutilized, blighted, or environmentally impacted land—known as brownfields—is an important part of returning that land to the community. Yet the funding and capacity for cleaning them up pales in comparison to the need.
The National Brownfields Coalition is a non-partisan alliance of public interest organizations, academics, as well as public and private sector professionals who raise awareness about, as well as develop and advocate for policies and practices that support the remediation and redevelopment of brownfields nationwide.  The Coalition is jointly managed by Smart Growth America and the Center for Creative Land Recycling. We advocate for protecting public and environmental health sustainably and equitably, by removing or containing contaminants in the estimated 400,000 to 600,000 brownfields sites. By working across sectors and fields, practitioners and advocates are able to better confront environmental contaminants and return these lands to productive use.
Sign up for the Coalition's updates
Read more
The Brownfields Utilization, Investment and Local Development, or BUILD Act was signed into law in March 2018 and is the first major legislative change to brownfields law since passage of the original statute in 2002. Specific changes include: increased funding for cleanup, program eligibility expanded to include non-profit organizations, additional liability protections, and changes to grant … Continued
Read More ›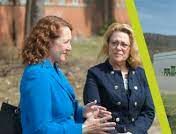 Congresswoman Elizabeth Esty and Mayor Patricia Murphy of New Milford, CT visit New Milford's Century Brass mill, a brownfield site, in 2014. Photos via The News-Times.
Congresswoman Elizabeth Esty (D-CT-5) is fighting hard to reinstate a tax incentive to help cleaning up contaminated land more affordable and more feasible.
Late last month, Esty introduced the Brownfields Redevelopment Tax Incentive Reauthorization Act of 2015 (H.R. 2002), a bill to re-establish the Brownfields Tax Incentive which ended in 2011.
Originally signed into law in 1997 and codified through Section 198(h) of the Internal Revenue Service's tax code, the Incentive allowed taxpayers to fully deduct the costs of brownfield sites' environmental cleanup the year the costs were incurred—making the arduous process more affordable for those who take it on.
Read More ›