Complete Streets Act of 2021
A federal solution to a national problem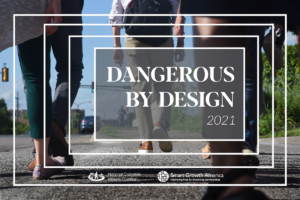 America's streets are deadly. For too long, federal policy has prioritized high-speed driving at the expense of safety; tens of thousands of people are killed every year because of it. The number of people struck and killed by drivers while walking increased by 45 percent over the last decade. We are in the midst of an astonishing safety crisis as the United States has become an incredibly deadly place to go for a walk.
But a handful of leaders in the U.S. House and Senate have introduced a bill that would finally require states and metro areas to design and build safer streets for everyone. The Complete Streets Act of 2021 is desperately needed but it will take your support—and the support of your members of Congress—to get this bill passed into law.
To create safer streets, the Complete Streets Act of 2021 does three basic things:
Sets aside federal funds to support Complete Streets projects (five percent of annual federal highway funds).
Requires states to create a program to provide technical assistance and award funding for communities to build Complete Streets projects.
Directs localities to adopt a Complete Streets policy that meets a minimum set of standards to access that dedicated funding.
The federal Complete Streets Act is modeled on a landmark law in Massachusetts that has catalyzed the adoption of nearly 200 local Complete Street policies and implementation plans and which has funded over 100 safety projects in just three years. The cumulative effect is safer roads for people walking, biking, scooting, taking transit, or driving.
But unlike a state program, a federal Complete Streets law could dedicate more resources to safety, have a wider impact, and help undo some of the damage that has been done. After all, federal dollars and policies helped create unsafe streets in the first place, and federal funds, policies, and guidance have a significant role to play in fixing our existing streets and in designing the streets we'll build tomorrow.
This bill is the product of more than a decade of work by the National Complete Streets Coalition and Smart Growth America to create safer, healthier, and more equitable communities.
No more excuses. No more status quo. It's time to address the epidemic of pedestrian fatalities.
Tell your members of Congress that it's time for action with the form above