Complete Streets policies
Policy inventory
Across the country and on Capitol Hill, Complete Streets policies have been gaining traction as more places realize the benefits of having safe, accessible, and healthy streets in their communities. In total, over 1600 Complete Streets policies have been passed in the United States, including those adopted by 35 state governments, the Commonwealth of Puerto Rico, and the District of Columbia. We track these policies in our inventory and policy atlas.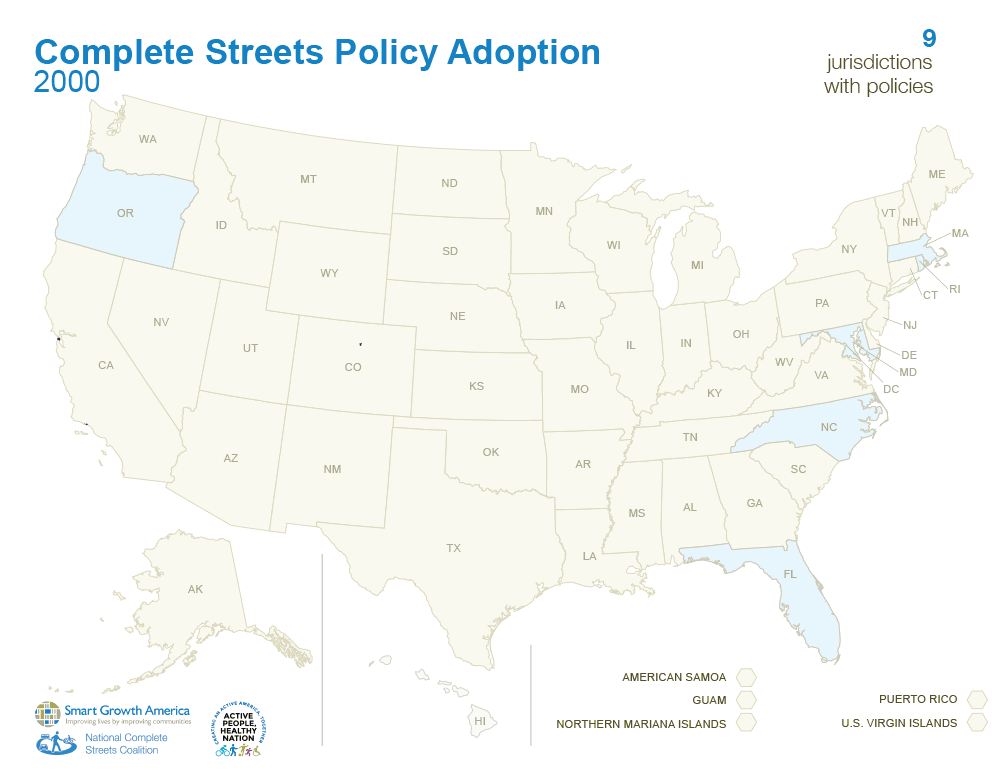 This Atlas notes places that have adopted some form of a Complete Streets policy, but full policy implementation requires changes and updates to plans, and processes so that they are aligned with the high-level direction of the policy.
Written Complete Streets policies vary in their coverage of all modes and their ability to affect transportation planning and design decisions. Our frequent Best Complete Streets Policies report provides detailed information on how existing policies compare to our ten elements of an ideal Complete Streets policy. The report includes examples of policies that do particularly well in meeting the "ideal" and lists the top policies based on jurisdiction and type.
DOWNLOAD: Inventory of all Complete Streets policies. (.pdf)(.xlsx) Updated quarterly. Last updated in April 2022. 
VISUALIZE: Download a PDF of the above gif, showing the year-by-year Complete Streets policy development through 2020 (.pdf)
Policy atlas
Explore the Policy atlas in full screen here.
Coalition inventory
The map below shows the variety of local citizen groups working across the country for safer streets. These coalitions, advisory groups, and grassroots organizations are on the front lines of local advocacy and community engagement, making them an essential part of the national Complete Streets movement.
Want to put your coalition on the map? Click Add your coalition at the top of the page.

Explore the Coalition Inventory in full screen here.

Send us your policy
To list your Complete Streets policy in our inventory and atlas, please send us a signed PDF at info [at] completestreets.org or fill out the form below.
Add your coalition
To put your coalition on the map, fill out the form below.