Complete Streets Power Hours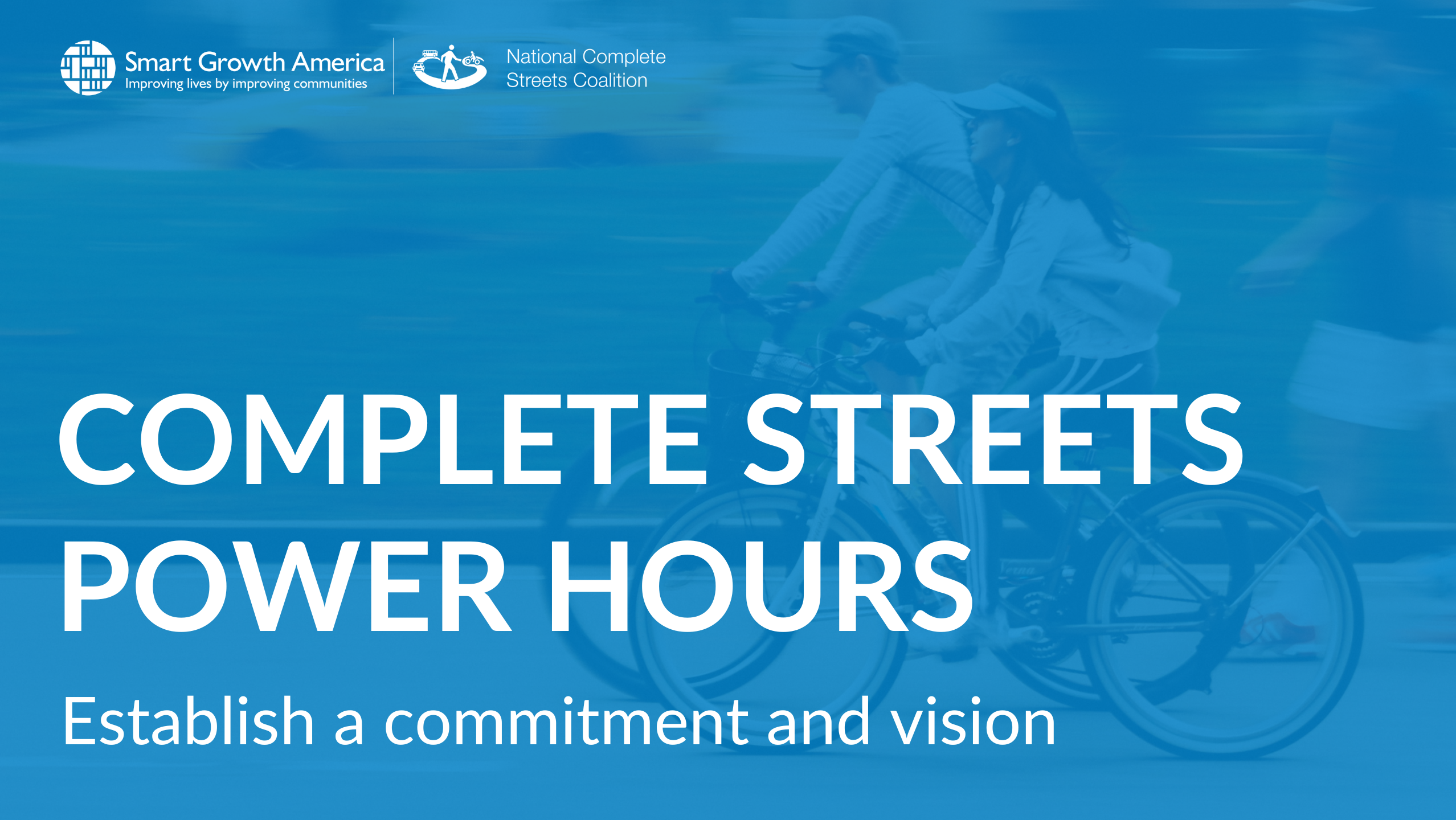 The National Complete Streets Coalition is bringing together advocates, policymakers, and practitioners ready to move the needle for Complete Streets. In a series of three webinars this fall, panelists will discuss the importance of establishing a clear vision and commitment when crafting an effective Complete Streets policy.
Are you a planner ready to build connections and find tools to advance safe streets? Don't miss our next Complete Streets Power Hour: Implementers Spotlight, on November 28, 2023 at 12:00 p.m. ET, where we'll talk strategy for implementers at the state and local level.
Register now > >
A strong Complete Streets policy can help ensure streets are safe for everyone. But how do we craft strong policies, or advocate to make them better? And once your community has a strong policy in place, how can you turn that policy into on-the-ground change?
Our series will focus on the first element of an effective Complete Streets policy: establishing a commitment and vision. The best Complete Streets policies start with this essential step, which will guide the community's Complete Streets work in the years ahead. But building that vision, and acting on it, takes more than just a policy; it takes partnerships, expertise, and powerful advocacy.
Complete Streets Power Hours are a series of virtual gatherings happening this fall where we'll discuss the importance of establishing a clear commitment and vision—and what that looks like in practice. We'll talk to elected officials, professional implementers, and the state and local advocates who hold them accountable. Most importantly, we'll connect with colleagues, share best practices, and discuss what local, state, and federal policy changes we need to make Complete Streets the rule, not the exception.
Complete Streets Power Hour: Implementers Spotlight
During our final Power Hour on November 28 at 12 p.m. ET, implementers from the state and local level will join us to discuss how to pave the way for safer streets as an implementer. We'll be joined by Barbara Chamberlain (Active Transportation Director, Washington State Department of Transportation) and Patrick Hartley (Complete Streets Program Coordinator, City of Tucson).
Barb Chamberlain has served as director of the Active Transportation Division at the Washington State Department of Transportation since the division was created in 2017. She led the team in creation of a state active transportation plan that has won state, regional, and national awards and oversees a growing portfolio of local grants and Complete Streets implementation across the agency. Barb serves on the AASHTO Council on Active Transportation and Equity Task Force. Before coming to WSDOT Chamberlain was executive director of Washington Bikes, the statewide advocacy organization; headed public affairs work for Washington State University Spokane; and served in the Idaho State legislature as a state representative and senator.
Patrick Hartley is the Complete Streets Program Coordinator with the City of Tucson's Department of Transportation and Mobility, a position he has held for over four years. Prior to coming to the City of Tucson, Patrick was a long-range and modal transportation planner with Pima Association of Governments—the federally designated MPO for the Tucson region. Patrick has worked in transportation planning for more than 10 years. He has a Masters in Urban Planning from the University of Arizona.
Complete Streets Power Hour: Advocates Spotlight
During our October Power Hour, advocates got the floor to build connections, talk strategy, and learn more about the tools they need to succeed. We were joined by Anna Zivarts (Director, Disability Mobility Initiative).
Anna Zivarts is a low-vision mom and nondriver who was born with the neurological condition nystagmus. Since launching the Disability Mobility Initiative at Disability Rights Washington in 2020, Zivarts has worked to bring the voices of nondrivers to the planning and policy-making tables through organizing, research and policy campaigns led by nondrivers. Zivarts launched #WeekWithoutDriving in 2021 and wrote a soon-to-be published book for Island Press about valuing the expertise of nondrivers.
Learn more about our first Complete Streets Power Hour: Safer Streets Ahead
Policymakers, practitioners, and advocates joined our kick-off meeting, where we set the tone for the months ahead and heard from panelists Nissa Tupper (Transportation and Public Health Planning Director, MnDOT), José Antonio Zayas Cabán (Executive Director, Our Streets Minneapolis), and Dave Cowan (Safe Routes to School Coordinator, MnDOT). Read a recap here.
Nissa Tupper is the transportation and public health planning director in the Office of Sustainability and Public Health at the Minnesota Department of Transportation. She works with partners to embed public health and equity practices into state transportation decision-making. This includes leading the agency's recent Complete Streets policy update and guiding implementation efforts. Her approach is informed by a diverse professional background in communications, landscape architecture, and public health.
José Antonio Zayas Cabán is the Executive Director at Our Streets Minneapolis. He also serves as a board member at Streets.mn and The Alliance. He is a 2022 — 2023 Mapping Prejudice Project Community Fellow and resident at the University of Minnesota Liberal Arts Engagement Hub. Outside of the transportation space, Zayas Cabán is a GRAMMY® Nominated Artist. He is also on faculty at St. Joseph's School of Music and was awarded the 2021 McKnight Artist Fellowship for his work on producing albums with music focused on present-day social issues and the relationship between his home country Puerto Rico and the United States Empire.
Dave Cowan brings over 15 years of experience to the forefront of active transportation and Safe Routes to School initiatives. His impactful contributions have been instrumental in advancing these programs throughout Minnesota and beyond. As a passionate advocate and strategic thinker, he excels in cultivating inclusive partnerships, catalyzing program innovation, and shaping lively, pedestrian and bike-friendly communities. Notably, Dave is also a dedicated father who has personally walked and biked his own children to school every day, rain or shine, over the past 8 years.