On November 21st we hosted "Promoting equitable change through creative placemaking & Complete Streets" the ninth installment of our monthly webinar series, Implementation & Equity 201: The Path Forward to Complete Streets. A recording of the webinar is now available above. You can also download the PDF of the presentation, or read the brief recap below.
As defined in Transportation for America's Scenic Route report creative placemaking is:
"In the transportation context, creative placemaking is an approach that deeply engages the arts, culture, and creativity, especially from underrepresented communities, in planning and designing projects so that the resulting communities better reflect and celebrate local culture, heritage, and values."
Nimotalai Azeez, Program Associate at the National Complete Streets Coalition opened the webinar by introducing each of the San Diego-based speakers, as well as Ignacio Bunster-Ossa, Vice President and Landscape Architecture Practice Leader at AECOM, who served as the moderator for the webinar and is one of NCSC's steering committee members. Ignacio discussed the importance of creative placemaking as a community building enterprise. Through visuals and recent local and international examples, Ignacio grounded the audience in the idea that streets are the theater stage of civic and urban life and in the same way that a stage can be transformed, streets should also be transformative and flexible. Flexibility is more than dividing lanes by transportation mode, but streets should accommodate all the means of personal mobility, and these means are ever-changing. Technology, more than ever, also plays a key role in how we organize on streets and within urban space.
Following Ignacio's introduction, Joe Cosgrove, Policy Coordinator at Circulate San Diego presented on a project funded by the Kresge Foundation and Transportation for America. The four steps taken to achieve equitable placemaking are as followed. First, if conducting a pilot/demonstration project, document the process including all successes and challenges. Then, establish a neighborhood placemaking collaborative that includes residents and organizations from various neighborhoods. Next, conduct research from case studies (A Place for Placemaking in San Diego) and use it to guide policy change. Lastly, advocate for and support a city-wide placemaking permit. Joe also touched on some of the barriers they found to success in placemaking, such as complicated permitting processes, inequitable decision-making amongst residents, and difficulty securing funding. A placemaking permit is intended to solve some of these challenges by creating a simpler, cheaper process for temporary installations.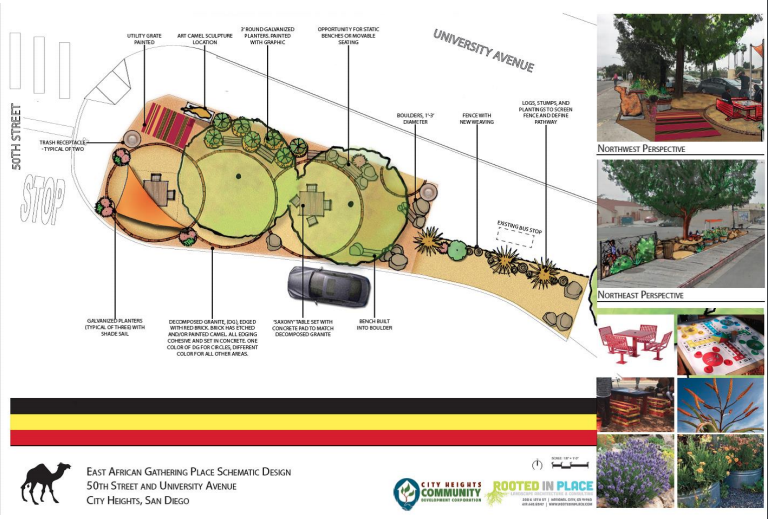 The last segment of the webinar included hearing a placemaking success story in San Diego from Ahmed Malinomar and Randy Andrade – Van Vleck who both work at City Heights Community Development Corporation in San Diego. The project, the East Africa Pedestrian Safety and Gathering Place, is in a neighborhood where many Somali and East African refugees settled when they first arrived in the United States. This neighborhood is now the second largest Somali enclave in North America, but unfortunately it also includes one of the most dangerous mid-block crossings in San Diego. After several Complete Streets improvements in 2016, grassroots artists and leaders who grew up in the area designed and implemented an outdoor seating space as a demonstration. This intersection became increasingly popular among local residents as a place to connect, eat/drink, and play cultural games. As part of the long-term vision, the community hosted visioning workshops on cultural corridors, pedestrian safety, and gathering spaces. The intention now is to create a permanent space with visual impact by highlighting the vibrancy of this cultural hub, a sense of destination, and a safer environment for people walking or gathering on the street as well as people driving. City Heights is currently awaiting a placemaking permit to finalize the installation.
Questions?
We had so many great questions during the Q&A section of the webinar that we couldn't get to all of them. We sat down with Joe Cosgrove to discuss the answers to some of the questions we missed.
National Complete Streets Coalition: What types of projects besides intersections are considered under the San Diego Placemaking permit? Are the costs for the permit fixed or variable depending on the project? Are certain types of projects — especially including artists — encourage or supported in some way?
Joe Cosgrove: The permit was designed in order to react to numerous communities placemaking needs on private property and in the public right of way. Placemaking is defined broadly to make sure that numerous temporary community engagement project could be utilized. This includes but is not limited to temporary sidewalk plazas, seating bulbous, etc. The permitting costs are fixed. The City also set up a revolving loan program to help projects with start-up costs. There is also a placemaking fund to cover the cost of the permitting as well.
NCSC: Can you share examples of how city officials were helpful to your process and goals?
JC: We reached out to interested City officials early on and found them to be receptive to the idea of a placemaking permit. They engaged with our collaborative to guide our discussion. They became a major champion of the permit because we were able to present the permit as a win-win. Once the City bought into the creation of the permit our group supported City staff to write the permit and get it adopted.
 If you find this information helpful, consider making a small donation today to support Smart Growth America's work in the new year. 
Donate >>