The first ever Smart Growth Showcase is designed to connect shovel-ready projects that represent best practices and innovations in smart growth development with investment partners that can bring them to life.
While representatives from each of the five featured will be at the LOCUS Leadership Summit next week, LOCUS is giving you a sneak peek of the projects today. Each project was selected for its potential to positively impact the community, whether by preserving affordable housing, making transit more accessible, or combining a mix of uses to spur economic development. Learn more about this year's featured projects below.
If you'd like to be a part of making these projects happen, register for the 2019 LOCUS Leadership Summit today to meet the participants and learn more, or reach out to [email protected] to get connected.
Sloss Connectivity Project
Sloss Real Estate
Birmingham, Alabama
The Sloss Connectivity Project aims to transform this obsolete industrial area into a vibrant mixed-use neighborhood called the Sloss Industrial Arts District (SIDA). Currently, the area is home to the old Sloss Furnaces which were once the largest manufacturers of pig iron in the world and are today a unique National Historic Landmark. The land around the furnaces offers ample opportunities for redevelopment.
The project also sits along the route of Birmingham Xpress, a bus rapid transit line that is currently under development. With improvements to bicycle and pedestrian infrastructure, access to the new Xpress service, and creative placemaking, the Sloss Connectivity Project will catalyze future development in the area, including mixed income and workforce housing.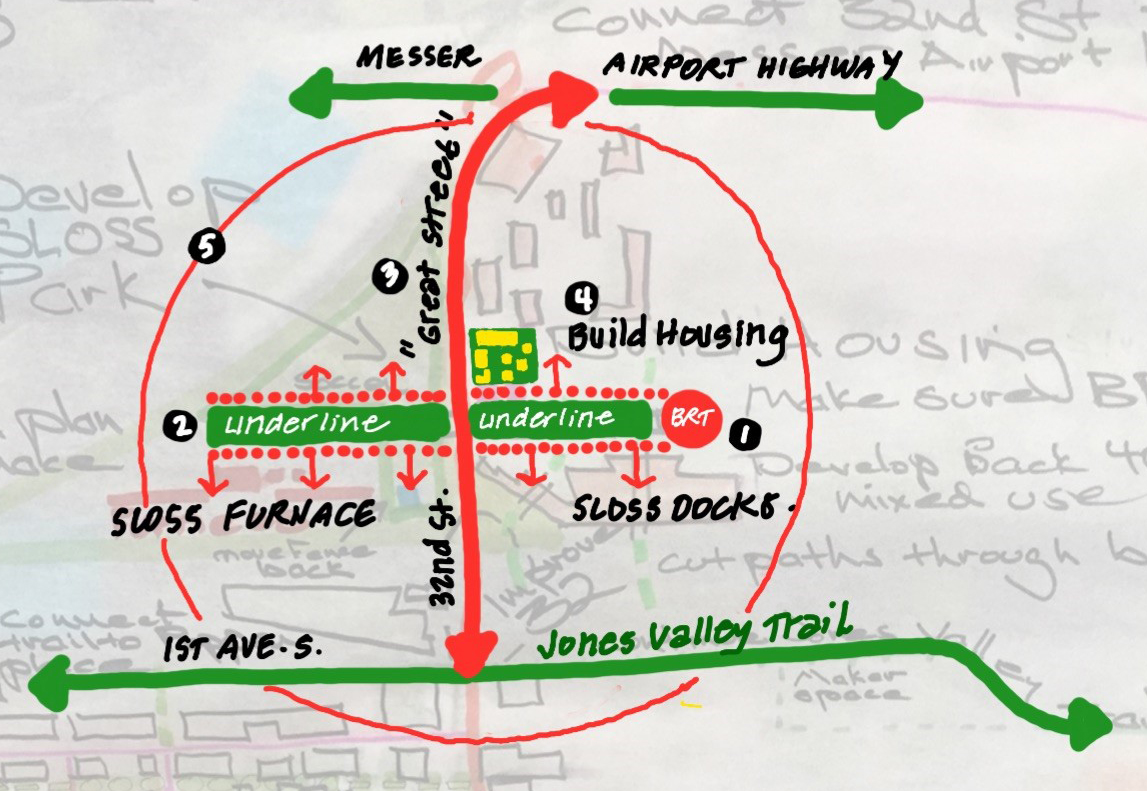 A sketch from a recent community workshop shows a nexus of activity around public transportation, part of the Sloss Connectivity Project. Image courtesy of Sloss Real Estate.
North Hartford Revitalization Initiative
Community Solutions
Hartford, Connecticut
The North Hartford Promise Zone (NPHZ) in Hartford, Connecticut is one of the poorest neighborhoods in the country in one of the nation's richest states. To address the significant barriers to economic mobility that NHPZ residents face, Community Solutions is seeking funding for two capital projects in the neighborhood. The Swift Factory Redevelopment Project will revitalize an abandoned factory and two adjacent historic homes in the center of the residential neighborhood. The factory will be transformed into a hub of employment, entrepreneurship, healthcare resources, and community engagement which will create over 150 jobs for residents and open up avenues to long-term financial independence.
Along with the Swift Factory Redevelopment, Community Solutions is working to create a Community Land Trust (CLT) to preserve affordability for current residents as neighborhood conditions improve over time. The CLT will consist of 100 single and multifamily housing units across the NHPZ that will be acquired, renovated, and rented out over a three-year period starting when funding is secured. The units will be rented at below market value to NHPZ residents, ensuring that they can enjoy living in the safer, more economically stable, and healthier community that Community Solutions and many neighborhood partners are working to build.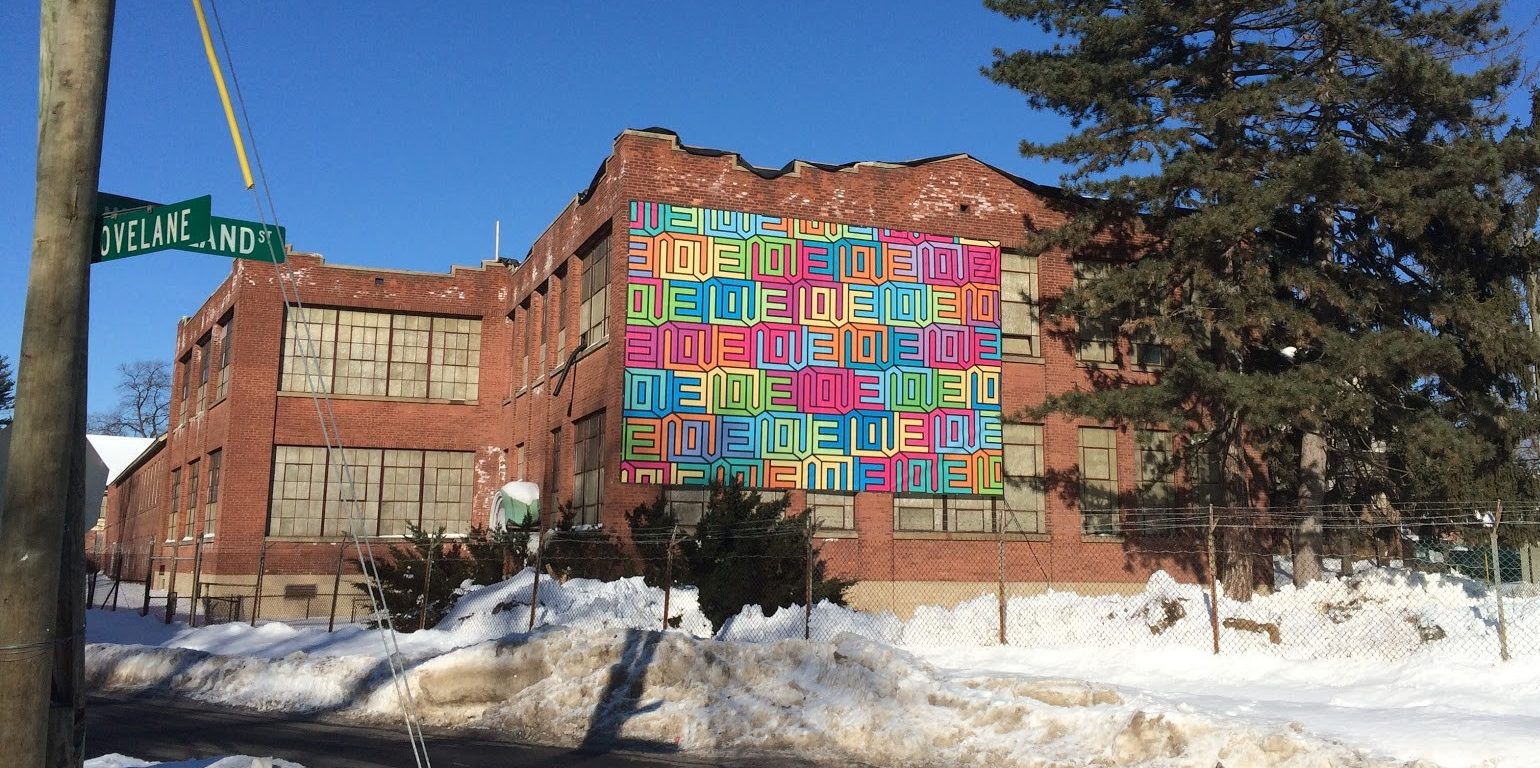 The redevelopment of the Swift Factory is a key piece of the North Hartford Revitalization Initiative. Image courtesy of Community Solutions.
Living Long Wharf Food Terminal and Market District
City of New Haven
New Haven, Connecticut
The New Haven Food Terminal, a 20-acre site on the New Haven Harbor, contains a mix of uses, including meat packing, restaurants, and the renowned Long Wharf Theatre. Located in walking distance of Union Station and highly visible from I-95, this historic industrial zone is poised for transformation into a vibrant transit-oriented mixed-use neighborhood. The vision plan amplifies the job-rich industrial uses while creating livable density. It also addresses coastal resiliency and sustainability through investments in flood protection, green infrastructure, and mobility.
The Market District, anchored by the Food Terminal, is only one piece of the Living Long Wharf Responsible Growth Plan that encompasses five unique districts that encourage sustainable mixed-use development and will reconnect the city to the coast.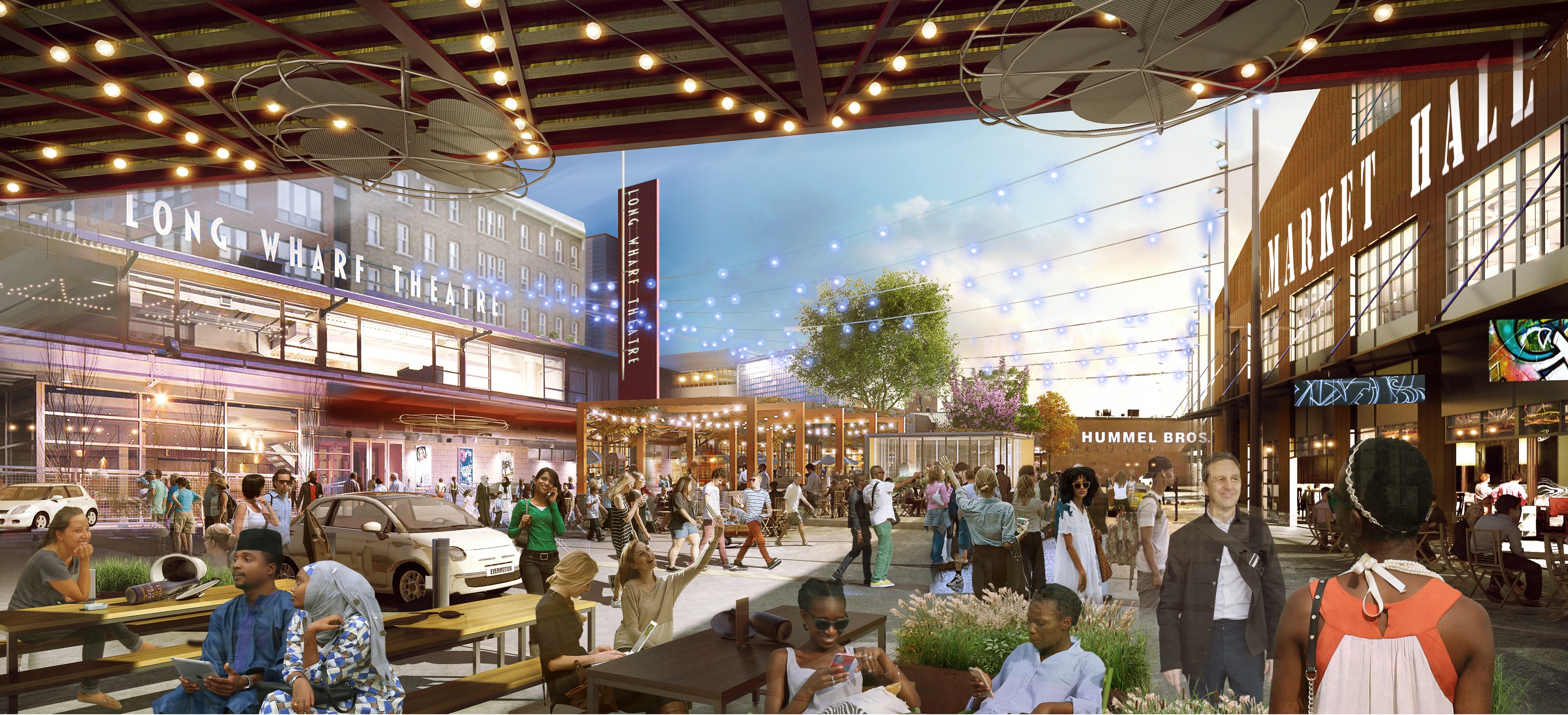 The Long Wharf Theatre is an anchor institution in New Haven's Market District, attracting over 100,000 people to the area annually. Image courtesy of the City of New Haven.
The Ferry Street Project
Brahman Holdings
Easthampton, Massachusetts
The Ferry Street Project is a historic textile mill complex located at 1 Ferry Street, Easthampton, Massachusetts. Originally developed in the 1800's for use as a textile mill, it has since been abandoned and is sitting dormant. The site is currently home to six blighted brick masonry structures that total approximately 380,000 square feet. The structures command scenic views of Mill Pond, the Mount Tom Mountain Range, and a unique canal which runs between the buildings. The redevelopment of the buildings will preserve their historical nature while creating a mixed-use campus that houses both residential units and commercial business space. This project has support from state and local government, including an infrastructure grant from MassWorks.
Redevelopment of the 1 Ferry Street site is set to create a mixed-use campus that houses both residential units and commercial business space. The development will preserve the exterior historical value of the property as feasible. The campus will have amenities for both residential and business patrons and will have multiple construction phases.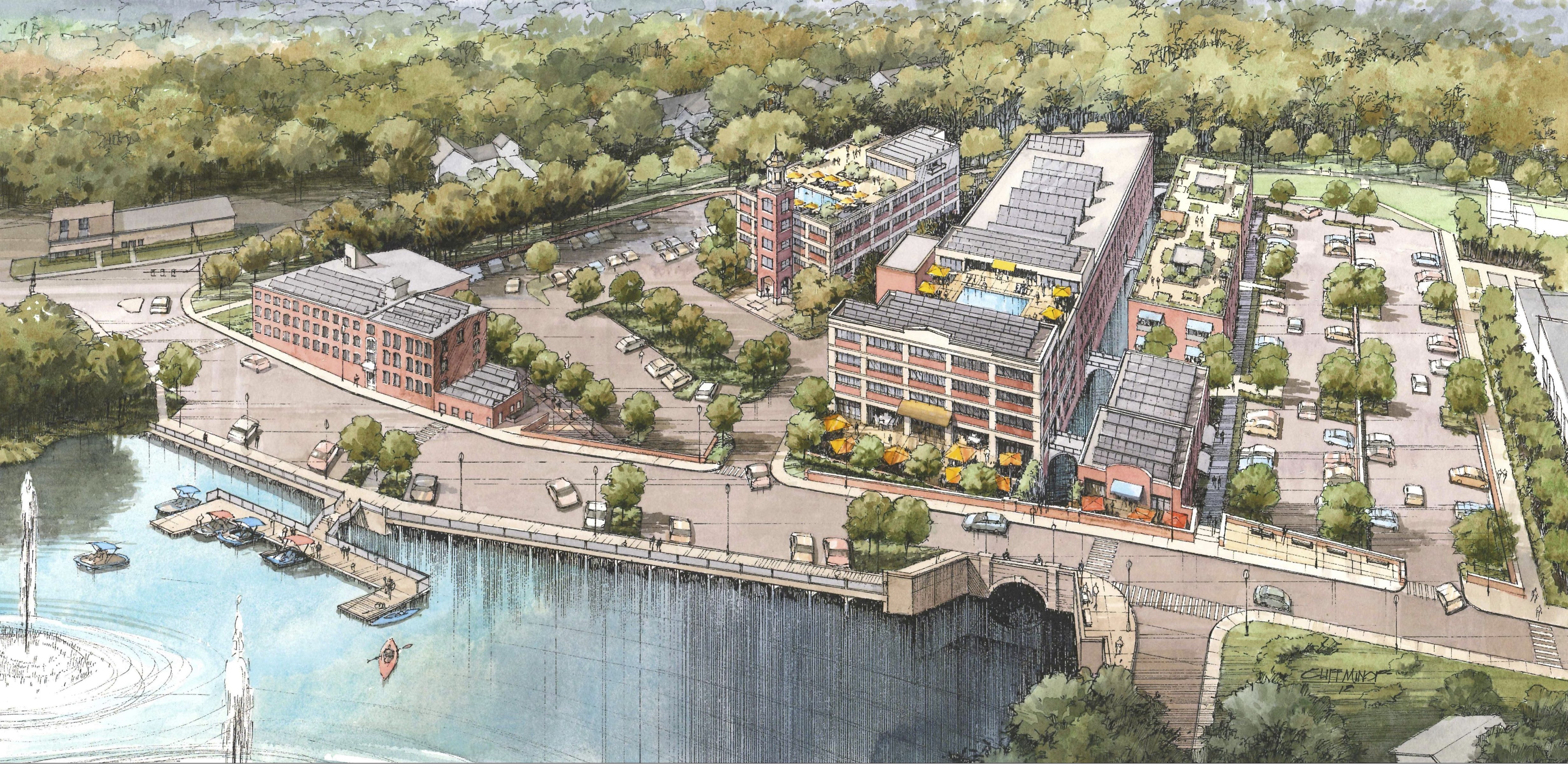 The Ferry Street Project will rehabilitate six buildings in a historic mill complex in Easthampton, Massachusetts. Image courtesy of Brahman Holdings.
Watkins Street Revival
Collier Construction
Chattanooga, Tennessee
Today, Watkins Street is a case study in urban blight. Anchored by the decaying Standard Coosa Mill, this 20 acre brownfield and empty 280,000 sq ft mill replete with asbestos and lead paint cast a long shadow over the area. Population decline, 9.5% unemployment, and a 2016 area-median income of $29,000 mark this community as significantly distressed. Just three miles from city-center and the thriving Southside revitalization, Watkins Street represents the "other Chattanooga", a community with limited access to support services, quality education, and the glory of the "Gig City" technology-focused entrepreneurship that's generating new jobs in Chattanooga.
The Watkins Street Revival incorporates a development concept that will effectively address the environmental issues, provide an urban infill model already tested in multiple Collier communities, and prevent rampant gentrification. The Watkins Street Revival will be a vibrant, socio-economic and racially diverse community that will produce hundreds of new residential units for middle- and low-income residents. Watkins Street Revival will be a community marked by critical infrastructure improvements to walkways, green space, and the local public elementary school, and a non-profit campus providing job training, education, social services, and a "community hub".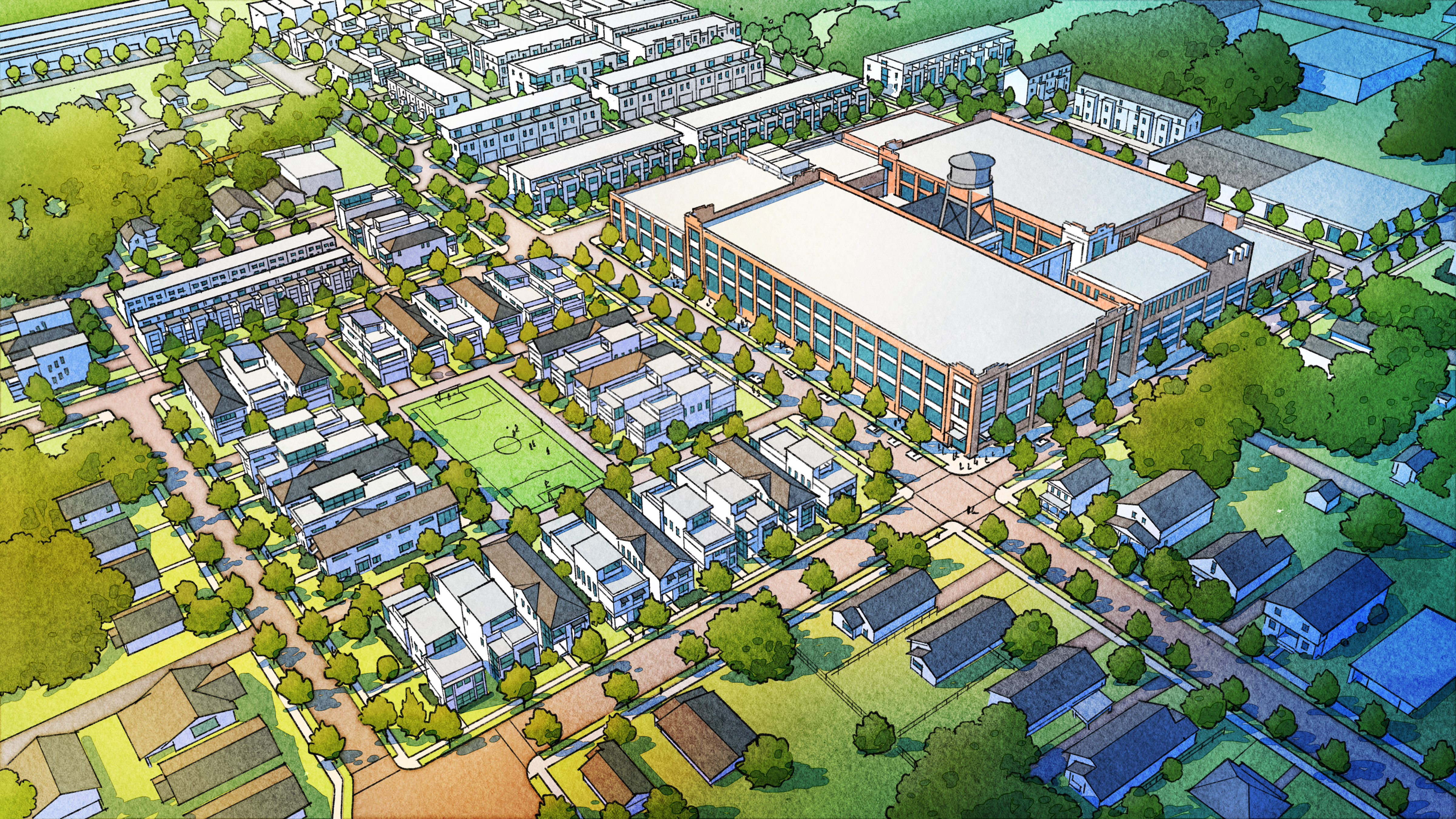 The Watkins Street Revival aims to create a vibrant and equitable community for current and future neighborhood residents. Image courtesy of Collier Construction.
Representatives from all five projects will be at the 2019 LOCUS Leadership Summit to share information with prospective investors, including market analysis, zoning and planning specifications, and anticipated project timelines, during the first ever national Smart Growth Showcase. Register for the Summit today.