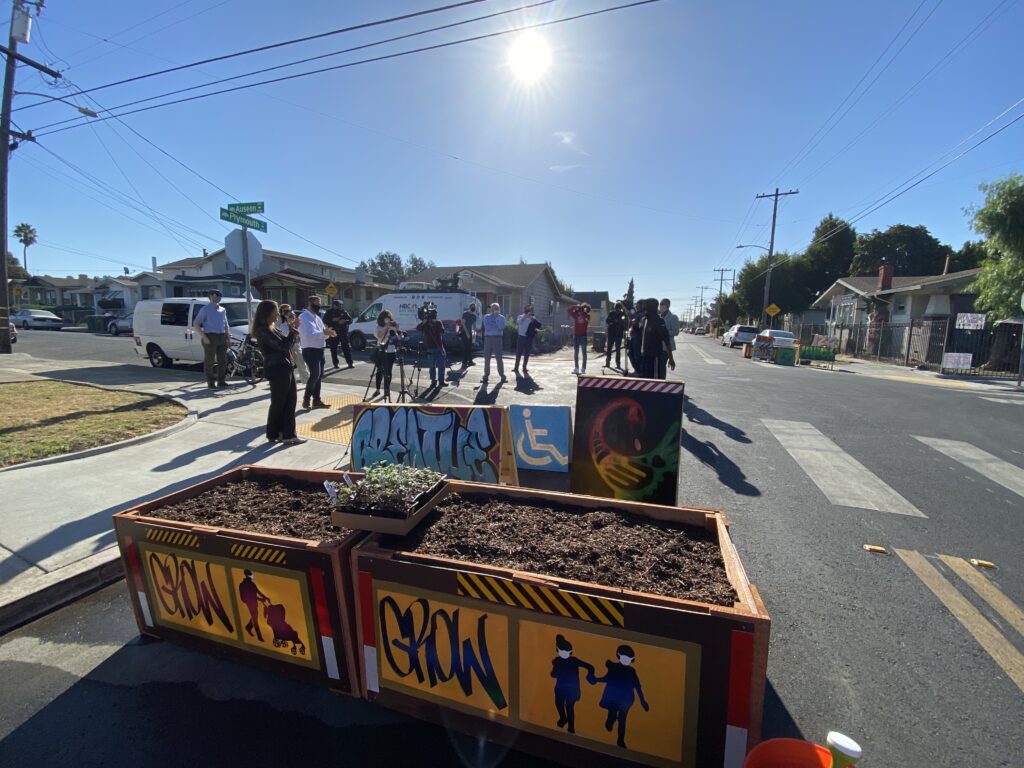 The City of Oakland worked with artist Jonathan Brumfield to pilot a solution for more aesthetically pleasing, sturdy Oakland Slow Streets barricades that better reflect East Oakland culture and still support safe distancing while traveling and exercising during the pandemic. Brumfield, in partnership with East Oakland residents, built a set of four barricade planters and a set of corresponding culturally-relevant signage.
In partnership with Forecast Public Art and with funding from the Kresge Foundation and the National Endowment for the Arts, Smart Growth America (SGA) launched the Arts & Transportation Rapid Response initiative, seeking to partner transportation agencies with artists to develop creative solutions to COVID-related transportation challenges. Read more about the project in this post, and check back all week as we publish a new story each day.
The challenge
The City of Oakland launched their Slow Streets Program in April to support physical activity and reduce overcrowding on trails, parks, and sidewalks during the pandemic by closing over 20 miles of streets to motor vehicles. After implementation, the city set out to evaluate the program and gather feedback from residents across the city. Residents in East Oakland—an historically predominantly Black community that has undergone decades of disinvestment—shared that the Slow Streets barricades were unattractive and confusing, and not meeting the needs of the community. The city sought to respond to the community through this project by working with an artist to pilot a solution for more aesthetically pleasing, sturdy Oakland Slow Streets barricades that better reflect East Oakland culture.
The project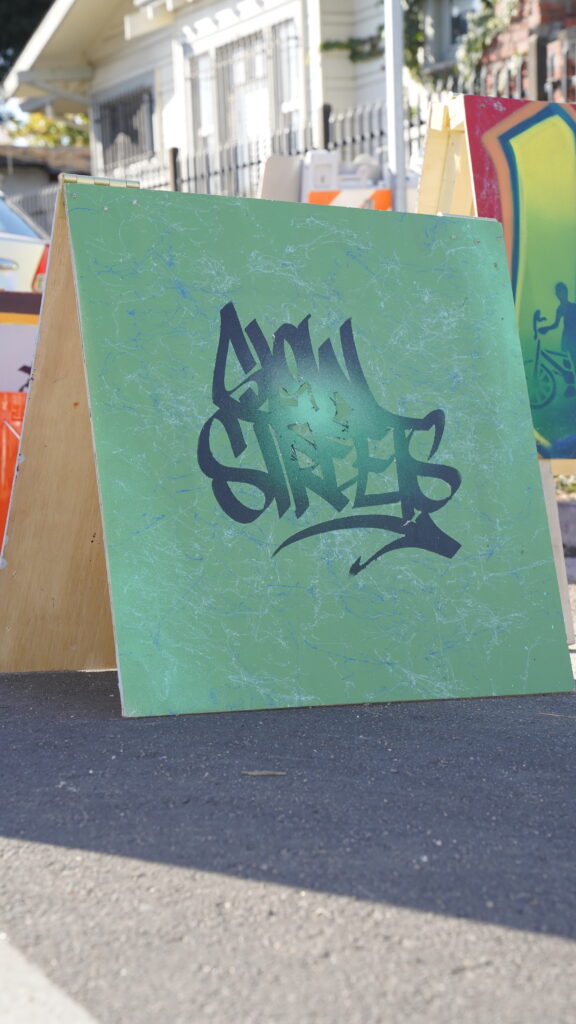 With help from Forecast Public Art, Smart Growth America selected and hired East Oakland-based artist Jonathan Brumfield. In addition to being an artist, Brumfield works with young people at a local non-profit and higher education institution, and is deeply aware of the disproportionate impact COVID has had on his Black and Brown neighbors and his community's concerns with the Slow Streets program. Keeping that front of mind, he worked with neighbors and the city to design a culturally-informed, beautiful, sturdy barricade that improved access to healthy food while still supporting safe transportation and recreation.
Before drafting designs, Brumfield reached out to neighbors and young people to share his project goals and learn more about which Slow Streets location should be used to pilot this new design and what they'd like to see included. This was the source of the idea of creating barricades that doubled as mini-community gardens. Brumfield then worked with a family in East Oakland to build a set of four barricade planters and painted artwork on the exterior of the planter that featured people riding scraper bicycles—a unique aspect of Oakland culture—children walking, people pushing strollers, and words of hope, including "Heal", "Justice", and "Grow." Brumfield also created a corresponding set of signage to accompany the planter that featured similar artwork.
Project team
Jonathan Brumfield, Artist
Noel Pond-Danchik, Transportation Planner at Oakland Department of Transportation
Warren Logan, Policy Director of Mobility and Inter Agency Relations at Oakland's Office of the Mayor
Jason Patton, Senior Transportation Planner at Oakland Department of Transportation
Brumfield worked with a family he knew in the East Oakland neighborhood to create the planter barricades. Those individuals were Mizan Alkebulan-Abakah, Sizwe Andrews-Abakah, and their children Fiyah, Omega, Pharaoh, and Saba; and Ajman Thrower.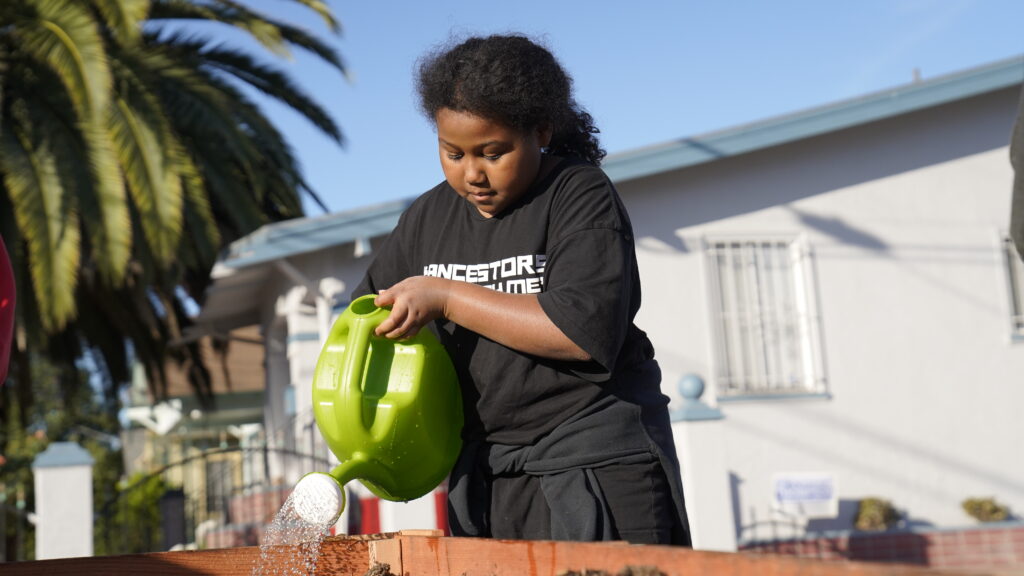 The results
In early October, 2020, Brumfield, in partnership with the Oakland Department of Transportation and the Office of the Mayor, unveiled the planter barricades. The city is currently working with Brumfield to replicate the artwork from this project and incorporate it into their permanent Slow Streets signage.
The initial feedback following the unveiling has been largely positive. Brumfield has already been approached by other elected and community leaders who are interested in building planter barricades for their Slow Streets.
"This came out of community voice and if there is one thing I know about my hometown of Oakland, it is that we celebrate, we heal, we express ourselves through art and also through food. […] This is a traffic calming device that is both of these things. […] That is how we are as Oaklanders, we heal through our art, we heal through our dialogue with each other in deep community."
– Mayor Libby Schaaf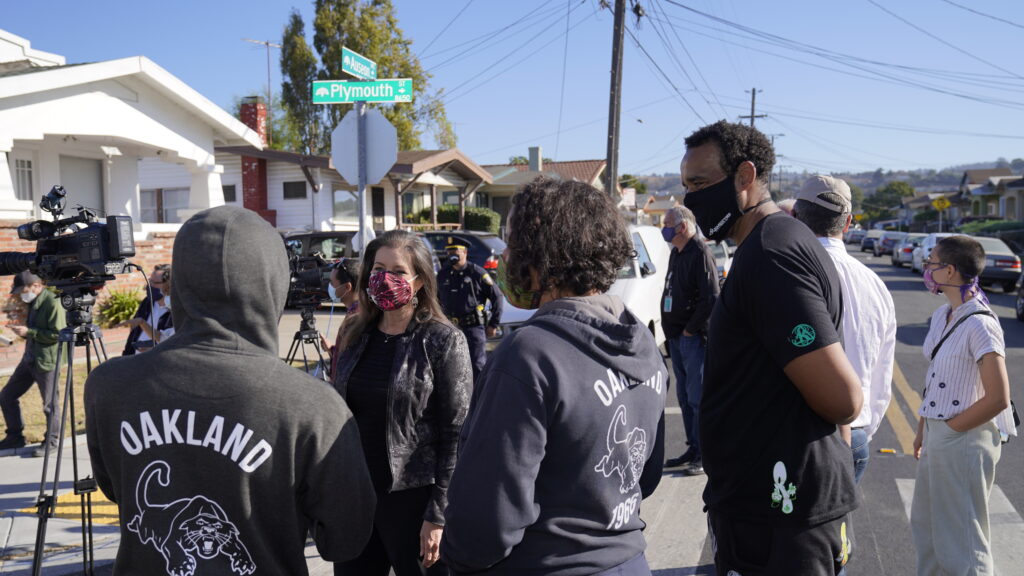 Other cities around the country who are seeking to launch similar initiatives should consider the following reflections from the City of Oakland and Brumfield's work: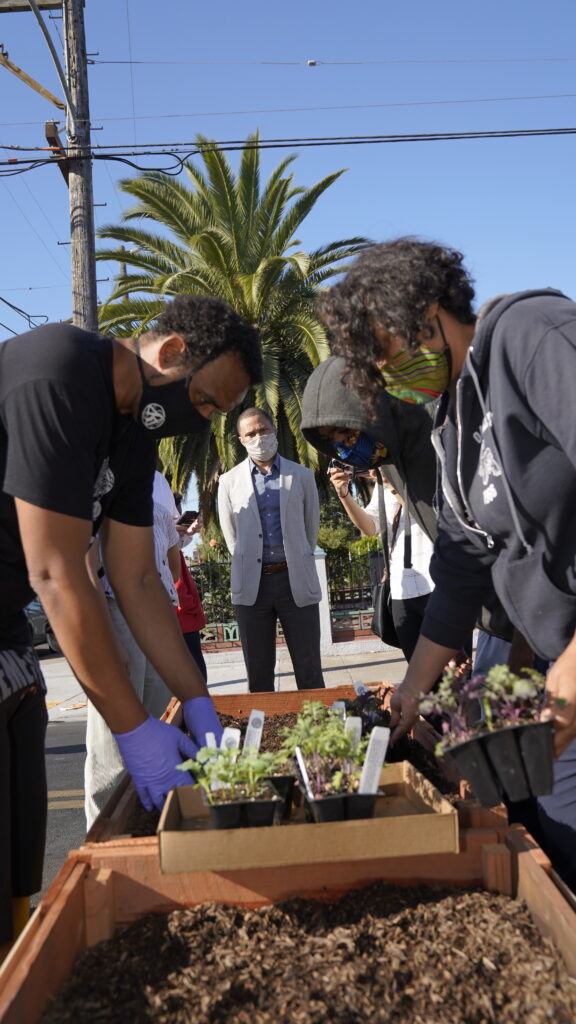 Work with artists who are rooted in their communities.
Feedback and concerns from East Oakland residents about the Slow Streets program was the impetus for this project. One of the reasons Brumfield was well suited for this project was his expertise as an artist as well as his expertise as a resident embedded in his community. Brumfield's deep understanding of East Oakland residents' concerns and feedback was crucial to the success of the project. Brumfield spent a considerable amount of time as the face of the project at the intersection where the barricade planters would soon be placed. He talked to neighbors, fielded questions, built the planter barricades with neighbors, and shared flyers. Having a trusted voice from within the community serve in this role was vital for the project's success—and something for other communities to seek to emulate.
Be experimental and test out new approaches.
From project inception, the city approached this project as a pilot to test out if an improvement to Slow Streets barricades would improve the reception of the project. This allowed the city to be more flexible and experimental in its approach.
Don't forget about maintenance.
Even though this was a pilot, throughout every step of the project Brumfield and the project team considered the long-term maintenance needs of the project. The planters are durable and built to last, but maintenance is still required to ensure longevity. Below are a handful of examples of how the team thought about the long-term future of the planters:
Who would water the plants in the planters? Brumfield is coordinating with a local non-profit to have their youth interns water the planters moving forward.
What if the artwork was damaged? Brumfield built the planter so that the art could be easily replaced without interfering with the structure of the planter.
How can we ensure the community feels ownership of the planter? From the beginning, Brumfield worked with neighbors near the Slow Streets location. He spent time at the intersection and had conversations with people who were curious about what he was working on; he sought and incorporated community feedback; and he worked with and paid a local family to help build the planters.