Last week, we hosted a webinar to celebrate the relaunch of our newly updated creative placemaking guide, the Scenic Route. This conversation with Smart Growth America, the National Endowment for the Arts, and the leaders of two projects featured in the guide explains key case studies to help inspire you, and provides an orientation to the new website, which can be found at www.transportation.art. If you asked a question that wasn't answered in the webinar, we've included answers below.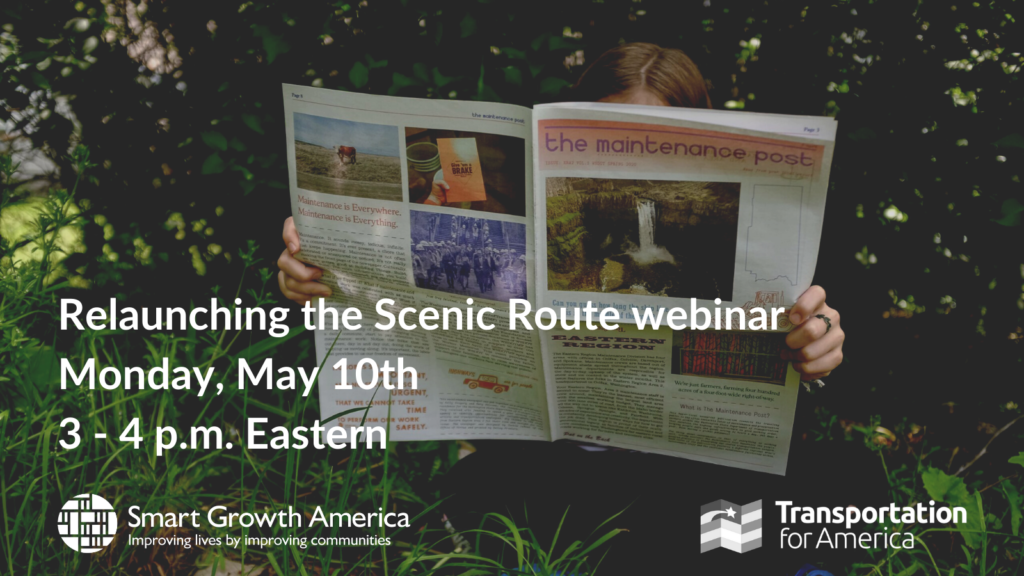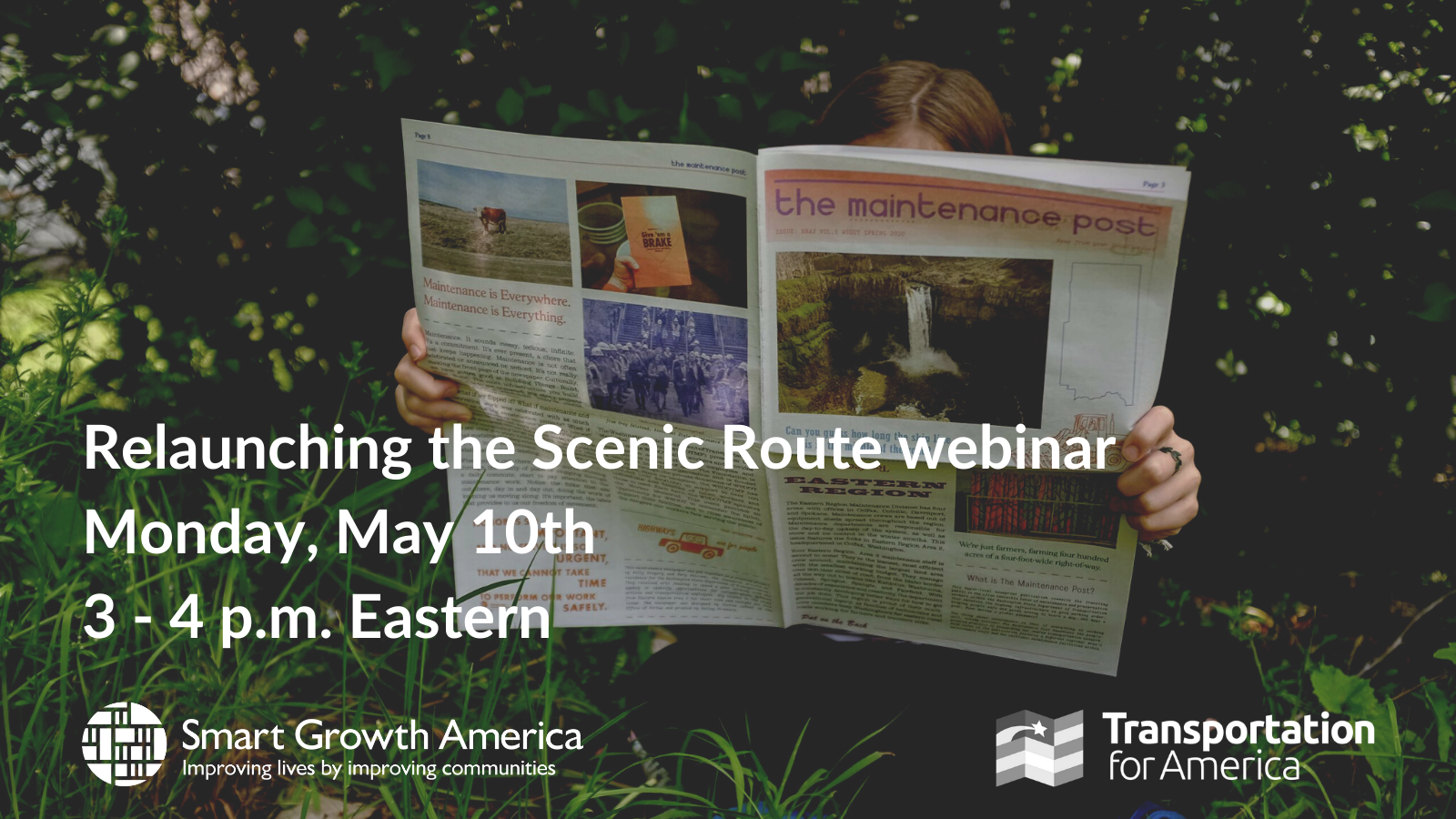 We were especially excited to have Jen Hughes from the National Endowment for the Arts (NEA), the Scenic Route's primary funder, join us for the webinar. As stewards of creative placemaking, the NEA funds programs and builds coalitions that promote work at the intersection of art and transportation. Through their Our Town grant program, the NEA supports the sustained integration of arts, culture, and design into every phase of community development. This arts-led, engagement-based initiative allows for a deeper exploration of the connection between arts and transportation and catalyzes local economic, physical, and social change.
(You can explore all of the National Endowment for the Arts' grants here)
The Scenic Route explores eight common ways that artists contribute to transportation projects. During our webinar, we highlighted two of these approaches via two exemplary projects. Destination Crenshaw, a community-led project in Hyde Park, Los Angeles, that allows residents to see themselves in modern facilities while also educating visitors about local Black culture; and Mariposa County's artist-led initiative to create a new multi-use trail that celebrates the community's cultures and ecology.
Special thanks to our guest speakers:
Jen Hughes, Director, Design and Creative Placemaking, the National Endowment for the Arts
Jason Foster, President, and COO, Destination Crenshaw
Mikey Goralnik, Community Design and Development Planner, Mariposa County Planning Department
Cara Goger, Executive Director, Mariposa County Arts Council
Visit the Scenic Route to learn more about the eight common approaches used in almost 50 exemplary projects across the country at the intersection of arts, culture, and transportation.
Additional Q+A from the webinar
During the webinar, we ran out of time before we had a chance to answer all of the questions submitted by participants. As promised, we shared your questions with the speakers. Their responses can be found below:
Questions for the National Endowment for the Arts
Are Quasi-governmental organizations eligible to apply for the Our Town grant?

Jen Hughes: Quasi-governmental agencies are not eligible to apply as the lead applicant to the program. Activities they are leading as part of the project can be supported in the project budget, and often we see quasi-governmental agencies engaged in Our Town applications in this way. For any specific eligibility questions, don't hesitate to reach out to [email protected]. We'll also be hosting a webinar on June 15 on the grant guidelines.
Questions for Destination Crenshaw
How long was the overall process? Including engagement, conversations, approaching businesses, etc?

Jason Foster: The overall community engagement process was 5 years and a very organic process. For projects hoping to get started now, I do not believe that it has to take that long, and Destination Crenshaw can hopefully be a model for other projects to move through with an understanding of what to expect.

How are murals maintained? Is a budget item assigned to this work?

The murals will be maintained by Destination Crenshaw as a part of our broader operations and maintenance plan. This is being factored into our larger capital campaign efforts currently underway. The budget is dependent on the number of temporary pieces that are commissioned during our construction project.
Questions for Mariposa County
At what point did Mariposa get to the architectural drawings? Did you already have a grant in hand?

Mikey Goralnik: We developed preliminary/conceptual technical drawings (ie, typical sections that are not intended for construction but include rough dimensions and material call-outs) with grant funding. Those materials, as well as many others, were leveraged to secure more grant funding from the Active Transportation Program, through which we will develop a full construction set.
Has the County funded a high percentage of this work in the capital budget?

Mikey Goralnik: Far from it! By far, the highest percentage of work on the Parkway (and all of the work on the Creative Placemaking Strategy) has been funded through competitive grant funding. To my knowledge, very little (potentially none) of the Parkway has been funded through our capital budget prior to the development of the master plan, which was adopted in 2020. However, in the summer of 2020, the Board of Supervisors authorized the use of county funds to acquire land for extending the Parkway to its planned upstream terminus.
---
To explore more of the Scenic Route, head over to transportation.art.