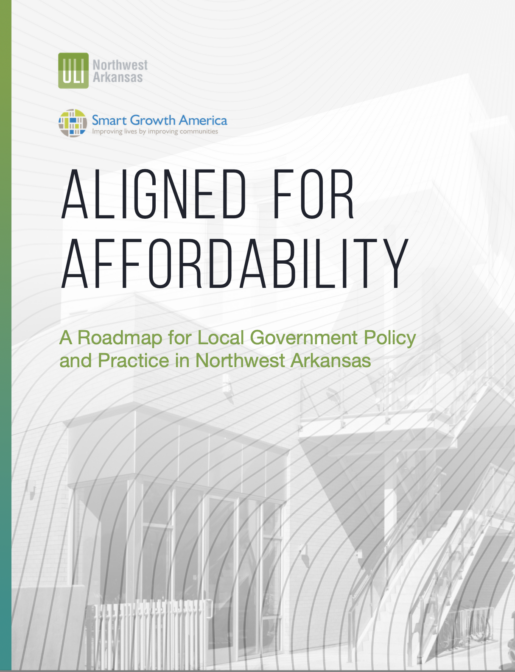 Publication Date
April 2023
Categories
Tags
Resource Type
Aligned for Affordability: A Roadmap for Local Government Policy and Practice in Northwest Arkansas
EXECUTIVE SUMMARY
In the last two decades, land values and construction costs in Northwest Arkansas have risen steadily, particularly in the four largest cities of Bentonville, Fayetteville, Rogers, and Springdale. Currently, Northwest Arkansas' population is growing by about 30 people daily. The Northwest Arkansas metropolitan area population is projected to reach 1 million—or nearly double—by from 2022 to 2045.
In search of lower costs and less resistance from property owners, rapid growth is pushing housing production to the suburban edges of cities or into unincorporated areas. In effect, residents trade lower housing prices for greater transportation expenses and longer commute times—ultimately eroding any potential cost savings.
Yet, neighborhoods and downtowns work better when they are readily accessible to pedestrians, as well as other modes of transportation, such as bikes, scooters, and public transit. The region needs an array of tools and policies that can support more diverse housing choices in well-located neighborhoods with a variety of transportation options.
Aligned for Affordability: A Roadmap for Local Government Policy and Practice in Northwest Arkansas is designed to help city planners in the region take the lead in achieving more attainable housing and livable communities.
A Roadmap for Housing Affordability in Northwest Arkansas: Three Essential Goals
Members of the Northwest Arkansas Planner Community of Practice have examined the dynamics of the NWA housing market, how local policies and entitlement practices impact affordability, and what solutions might work in their specific jurisdictions. Along the way, they have acquired expertise in industry best practices, and built their capacity as regional leaders and agents of change. The recommendations in this Roadmap reflect the planners' insights. Several "Checklists for Change" as well as lists of resources help to outline next steps for policy advances.
The three goals that are the center of this Roadmap:
Increase the Supply of Affordably Priced, Market-Rate Housing
Ensure That Affordably Priced Housing Is Close to Jobs, Services, and Amenities
Make It Easy to Do the Right Thing
Achieving these goals will advance the production of attainable, market-rate housing, as well as improve transportation choices, enhance public health, and address environmental protection.