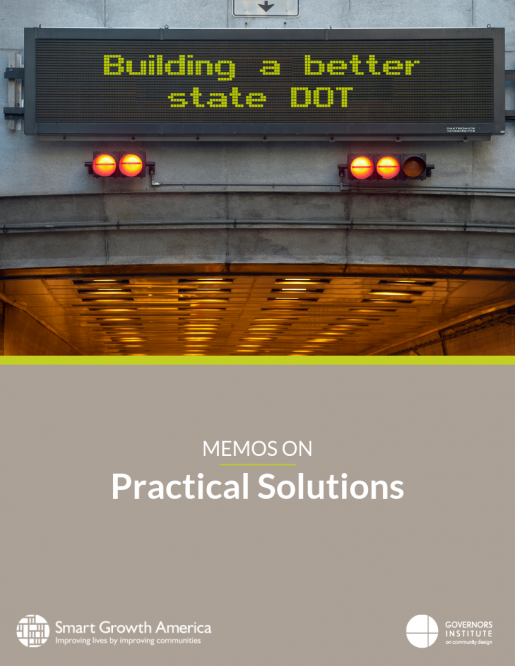 Authors
Publication Date
March 2019
Categories
Tags
Resource Type
Building a better state DOT
Smart Growth America and the Governors' Institute on Community Design has helped a small group of state departments of transportation question and assess the underlying assumptions that lead many states toward giant highway solutions for every transportation problem.
We have found states that are eager to figure out a better way and find innovative and flexible ways to meet users' needs that cost less to build and maintain. And we've worked to help them identify barriers and find solutions. The following memos are the outcome of that work—what we call 'practical solutions'—that delve into common areas of reform that we identified.
Download each of the memos individually below or all at once with the download link to the left.
Successful DOTs will need to provide unwavering leadership and support in rolling out a practical solutions approach. Prioritizing the efficient use of limited funds, the safety of all users, and smaller impacts and footprints will take a significant amount of effort, dedication, and time. Implementing practical solutions includes providing direction to supervisory and management staff that all staff will be held accountable in annual reviews and supplying the training and mentoring necessary to apply this approach. New performance metrics for the outcomes of projects to the system will need to be defined, measured, and reported.
Tailoring a project to a well-defined understanding of the problem or need helps agencies consider potential solutions beyond using maximum design standards by default. This helps avoid over-engineered project scopes that are high in cost, high in environmental impact, and that may induce travel demand requiring further intervention and expenditure. It also allows state DOTs to bring considerations for the safety of all roadway users, including pedestrians and bicyclists, into projects early enough to be part of the core project scope, rather than secondary to vehicle needs.
State DOT leadership and staff generally understand the importance of robust community engagement. However, that level and quality of engagement happens less frequently in practice because it is expensive and time consuming to conduct for every project. In reality, DOTs generally go to the public seeking approval and buy-in for a concept staff have already developed, rather than to seeking meaningful input that could change their approach.
Level-of-Service (LOS) has been the dominant performance measure for roadway design, and continues to drive transportation agencies toward overbuilt, expensive, car-oriented highways and sprawling development. No statement encouraging design flexibility and innovation or new design guidance will shift practices away from over-designing roadways unless state DOTs take steps to change expectations around LOS. DOTs can change guidance on LOS applications by (1) relaxing LOS standards in urban/urbanizing contexts, (2) changing the weighting of LOS in comparison to other measures in urban environments, and (3) consider alternative performance measures to LOS, like vehicle miles traveled (VMT).
Typical engineering standards are built around the objective of moving vehicles quickly through an area, and engineers generally default to using the maximum ends of the ranges in their design standards. These standards were developed for a specific purpose when we were building the interstate and national highway system, but many states continue to apply them to all projects regardless of the context. State DOTs should consider the aspects of the transportation planning process that have become obstacles to cost-effective, common sense designs and solutions. They include predictions around transportation needs for 20 years into the future, how models are used and what data they rely on, and rigid design guidelines.
Transportation agencies do not and should not play the leading role in land use decisions, but they cannot ignore local land use and development decisions either or dismiss them completely as someone else's responsibility. Land use and development has significant ramifications for the costs to deliver and maintain the state's transportation system. Priorities will be different for a state-maintained roadway where it serves as a town main street compared to five miles away in a transitional commercial area outside of town; the design and operation of the road should reflect those differences.
No transportation agency will ever have the resources to complete every project on their list so they need a way to choose projects that generate the greatest benefits within statewide transportation priority areas. And the public and other stakeholders are not as trusting as they once were—they want to see that taxpayer dollars are producing results. Successful states are 1) articulating their goals, 2) evaluating proposed transportation projects to ensure they are well-connected to those goals, 3) tracking how those projects perform after they are built, and 4) communicating each of these steps to their stakeholders.