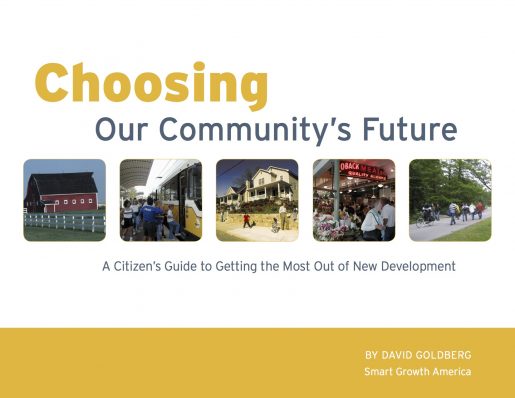 Authors
Categories
Tags
Resource Type
Upcoming public events - join us!
Choosing Our Community's Future
Choosing Our Community's Future is designed for citizens who want to make a positive contribution to shaping the growth and development of their neighborhoods, towns and regions. This guidebook will help readers make rational, compelling arguments against poorly conceived plans, but more importantly, it will help them paint a vision of what they do want.
The guidebook also is intended as a helpful companion to participants in design charettes, community planning processes, symposia and seminars on planning issues, education programs for newly-elected officials and civic leaders, or for anyone who wants to get a leg up on development.
Written in everyday language by a veteran journalist and citizen advocate in conjunction with experts in various arenas, the book is easy on the eye, with an appealing format, abundant photographs and illustrative examples.
"Why shouldn't the people have access to the same information as the professionals? The Citizen's Guide equips Americans to overcome the tyranny of expertise that can overwhelm a neighborhood. It will help developers, designers and neighbors find the productive path to mutual satisfaction."
– John Norquist, former mayor of Milwaukee and CEO of the Congress for the New Urbanism
The guidebook will help you learn how to:
Tame "big box" retail centers
Make sure that "infill" development works in your neighborhood
Evaluate mixed use projects
Argue for redevelopment that brings benefits to all
Reduce the impact on farms and natural areas
Get the most from community planning.
Contents include:
A Citizen's Introduction to Planning, Zoning and Development, with tips on how and where to the information you need;
Key Principles for Managing Change, a detailed description of the characteristics of good and not-so-good development, with a score card for evaluating projects;
Evaluating Potential Impacts of Development, from density to traffic to property values;
True Stories, profiles of the people and places who have been through the development mill, and the lessons they have to offer;
Plus, links to further help in your area, copious references to other resources and a comprehensive glossary.