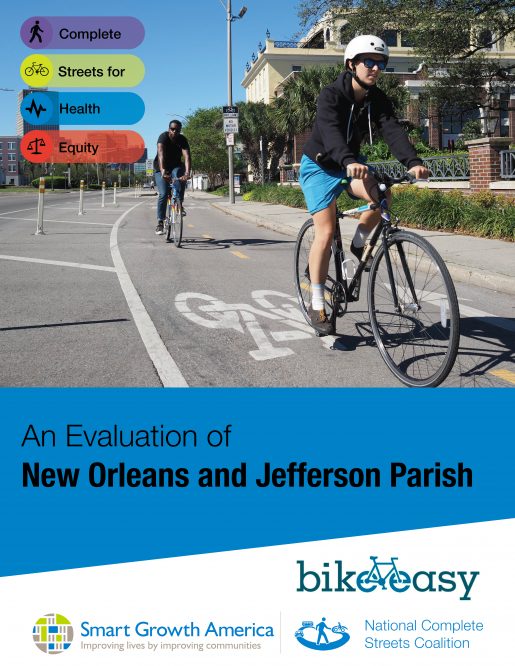 Authors
Categories
Tags
Resource Type
Upcoming public events - join us!
Complete Streets for Health Equity: An Evaluation of New Orleans and Jefferson Parish
The National Complete Streets Coalition, in partnership with Bike Easy, is excited to release Complete Streets for Health Equity: An Evaluation of New Orleans and Jefferson Parish. This report establishes an approach to evaluate Complete Streets programs with a focus on health equity for the City of New Orleans, Jefferson Parish, and other jurisdictions around the United States. The analysis identifies those populations facing the greatest health and safety risks and focuses on how Complete Streets can better serve these vulnerable communities.
Complete Streets can benefit low-income neighborhoods and communities of color that have historically not had much investment in biking, walking, and public transit facilities. Members of these communities experience disproportionate rates of chronic diseases, are at higher risk of being struck and killed by cars while walking, and are less likely to own a car. If jurisdictions implement policies that prioritize those most vulnerable to unsafe traffic conditions and health risks, the opportunities for benefits are enormous.
Based on the National Complete Streets Coalition's research and experience working with state and local departments of transportation, we have compiled the following list of recommended performance measures to evaluate Complete Streets through a health equity lens. In this report, we apply this evaluation approach to New Orleans and Jefferson Parish. By doing so, we identify ways for these two jurisdictions to increase the benefits from their Complete Streets investments. We hope this approach will serve as a guide for jurisdictions around the country to measure the success of their own Complete Streets programs with health equity in mind.