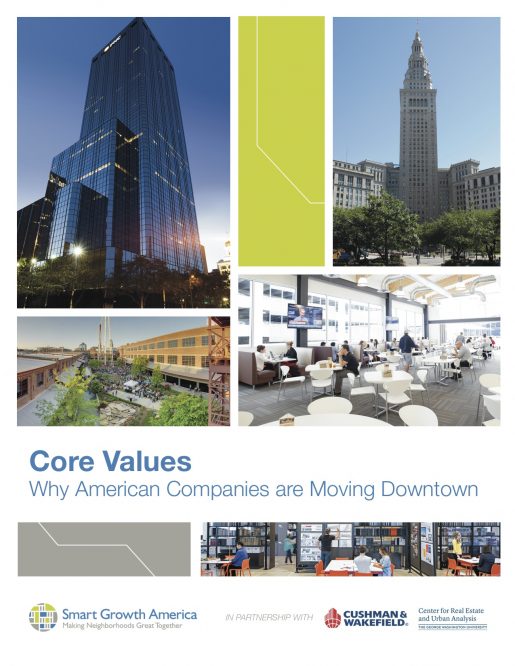 Authors
Publication Date
June 2015
Categories
Tags
Resource Type
Upcoming public events - join us!
Core Values: Why American Companies are Moving Downtown
Hundreds of companies across the United States are moving to and investing in walkable downtown locations. As job migration shifts towards cities and as commercial real estate values climb in these places, a vanguard of American companies are building and expanding in walkable downtown neighborhoods.
Why are companies choosing these places? What are the competitive advantages they see in these locations? And what features do they look for when choosing a new location?
Core Values: Why American Companies are Moving Downtown examines the characteristics, motives, and preferences of companies that have either relocated, opened new offices, or expanded in walkable downtowns between 2010 and 2015. Smart Growth America partnered with global real estate advisors Cushman & Wakefield to identify nearly 500 companies that have made such a move in the past five years. Of those, we interviewed representatives from more than 40 companies to gain a better understanding of this emerging trend.
The research reveals an enormous diversity of businesses choosing to locate downtown. The companies included in our study represent over 170 specific industries and their investments have taken a variety of forms. Our study included relocations, consolidations, expansions, as well as the creation of new offices or companies.
These companies' new locations are dramatically more walkable than before. This trend is visible across the country, in big cities and small ones, in the middle of the country and the coasts, as well as in secondary markets within larger metropolitan areas. An online interactive map includes more information about where in the country these moves are happening.
We also explored the motivations for these companies' moves. Smart Growth America conducted interviews with senior-level employees at these companies to understand why they chose the location they did. In the course of our interviews six common themes emerged explaining why companies chose to locate downtown.
Cities, for their part, can learn from this. Understanding what companies look for and why should help local leaders understand how they can compete more effectively for these businesses. Smart Growth America is dedicated to helping communities across the United States create these kinds of places.
Contact us to learn more about these strategies, and how your town or city could better compete for world-class companies by using a smart growth approach.
Core Values: Map
Between 2010 and 2015, nearly 500 companies moved to or expanded in walkable downtown neighborhoods. The map below provides more details about where in the country these moves occurred.
Color key:
| | |
| --- | --- |
| | Previous location |
| | New location |
| | Company that expanded |