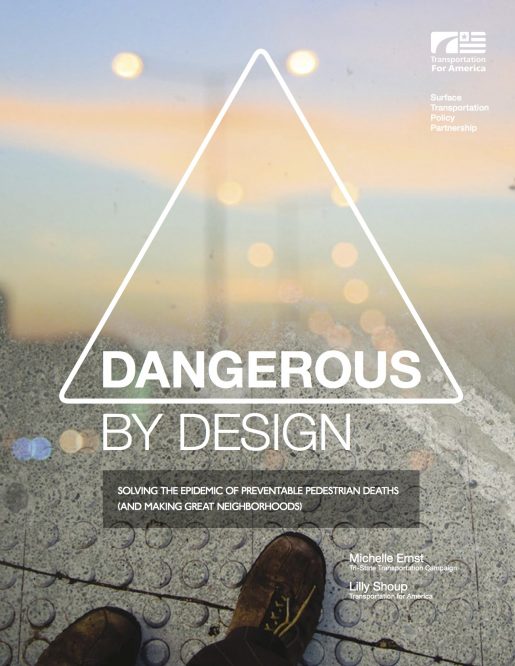 Authors
Publication Date
September 2009
Categories
Tags
Resource Type
More on Complete Streets
The National Complete Streets Coalition helps state and local agencies learn how to balance the needs of all users and develop and implement effective policies and procedures to routinely create networks of Complete Streets. Learn more about our Complete Streets Workshops ››
Dangerous by Design 2009
In the last 15 years, more than 76,000 Americans have been killed while crossing or walking along a street in their community. Children, the elderly and ethnic minorities are disproportionately represented in this figure, but people of all ages and all walks of life have been struck down in the simple act of walking. These deaths typically are labeled "accidents," and attributed to error on the part of motorist or pedestrian. In fact, however, an overwhelming proportion share a similar factor: They occurred along roadways that were dangerous by design, streets that were engineered for speeding cars and made little or no provision for people on foot, in wheelchairs or on a bicycle.
During this same period, there has been a growing recognition that walking and bicycling – what many now refer to as "active transportation" – are critical to increasing levels of healthy exercise and reducing obesity and heart disease. At the same time, it has become increasingly clear that these clean, human-powered modes of transportation are an essential part of efforts to limit the negative impacts of traffic congestion, oil dependency and climate change. In recent years, community after community has begun to retrofit poorly designed roads to become complete streets, adding sidewalks and bicycle lanes, reducing crossing distances and installing trees and crosswalks to make walking and biking safer and more inviting. The resulting safer streets have saved the lives of both pedestrians and motorists even as they promote health by leading many residents to become more physically active.
Dangerous by Design 2009 spotlights the issue of pedestrian safety and the factors that make walking dangerous.