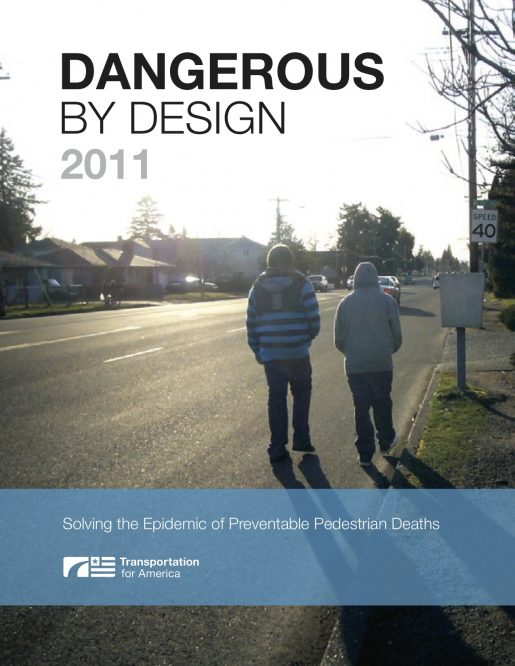 Authors
Publication Date
May 2011
Categories
Tags
Resource Type
More on Complete Streets
The National Complete Streets Coalition helps state and local agencies learn how to balance the needs of all users and develop and implement effective policies and procedures to routinely create networks of Complete Streets. Learn more about our Complete Streets Workshops ››
Dangerous by Design 2011
The decades-long neglect of pedestrian safety in the design and use of American streets is exacting a heavy toll on our lives. In the last decade, from 2000 through 2009, more than 47,700 pedestrians were killed in the United States, the equivalent of a jumbo jet full of passengers crashing roughly every month.
On top of that, more than 688,000 pedestrians were injured over the decade, a number equivalent to a pedestrian being struck by a car or truck every 7 minutes.
Despite the magnitude of these avoidable tragedies, little public attention – and even less in public resources – has been committed to reducing pedestrian deaths and injuries in the United States. On the contrary, transportation agencies typically prioritize speeding traffic over the safety of people on foot or other vulnerable road users.
Dangerous by Design 2011 spotlights the issue of pedestrian safety and the factors that make walking dangerous. Using ten years of pedestrian fatality data, as well as newly-released Census data on walking, we calculate a Pedestrian Danger Index (PDI) to rank the country's largest metropolitan areas according to their relative risk to walkers. Further, we mine the data for details on who is most likely to be killed, and what types of roads are most dangerous for pedestrians.