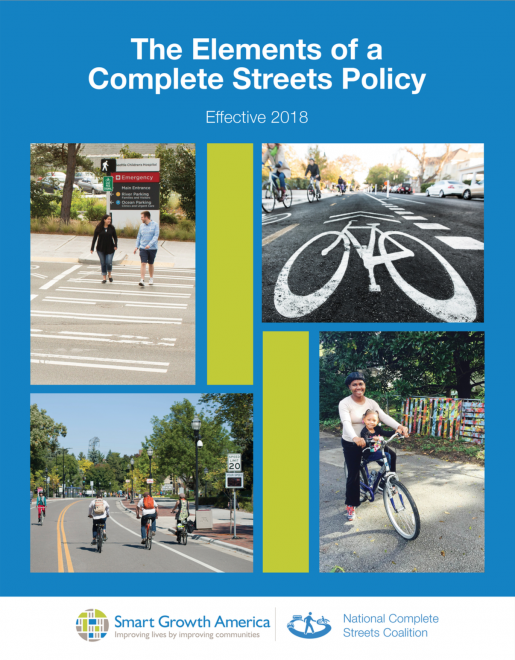 Authors
Categories
Tags
Resource Type
Elements of a Complete Streets Policy
The National Complete Streets Coalition (NCSC) identifies the elements of a comprehensive Complete Streets policy to help communities develop and implement policies and practices that ensure streets are safe for people of all ages and abilities, balance the needs of different modes, and support local land uses, economies, cultures, and natural environments.
Since its creation in the 2000s, the Complete Streets movement has evolved to focus far more on implementation and equity. These 10 policy elements, revised in 2018, are based on decades of collective expertise in transportation planning and design and were created in consultation with NCSC's steering committee members and a group of national stakeholders consisting of engineers, planners, researchers, and advocates.
The elements serve as a national model of best practices that can be implemented in nearly all types of Complete Streets policies at all levels of governance. For communities considering a Complete Streets policy, this resource serves as a model; for communities with an existing Complete Streets policy, this resource provides guidance on areas for improvements.
An ideal Complete Streets policy includes the following:
Establishes commitment and vision:


How and why does the community want to complete its streets? This specifies a clear statement of intent to create a complete, connected network and consider the needs of all users.

Prioritizes diverse users:


It prioritizes serving the most vulnerable users and the most underinvested and underserved communities, improving equity.

Applies to all projects and phases:


Instead of a limited set of projects, it applies to all new, retrofit/reconstruction, maintenance, and ongoing projects.

Allows only clear exceptions:


Any exceptions must be specific, with a clear procedure that requires high-level approval and public notice prior to exceptions being granted.

Mandates coordination


Requires private developers to comply, and interagency coordination between government departments and partner agencies.

Adopts excellent design guidance


Directs agencies to use the latest and best design criteria and guidelines, and sets a time frame for implementing this guidance.

Requires proactive land-use planning


Considers every project's greater context, as well as the surrounding community's current and expected land-use and transportation needs.

Measures progress


Establishes specific performance measures that match the goals of the broader vision, measurably improve disparities, and are regularly reported to the public.

Sets criteria for choosing projects


Creates or updates the criteria for choosing transportation projects so that Complete Streets projects are prioritized.

Creates a plan for implementation


A formal commitment to the Complete Streets approach is only the beginning. It must include specific steps for implementing the policy in ways that will make a measurable impact on what gets built and where.