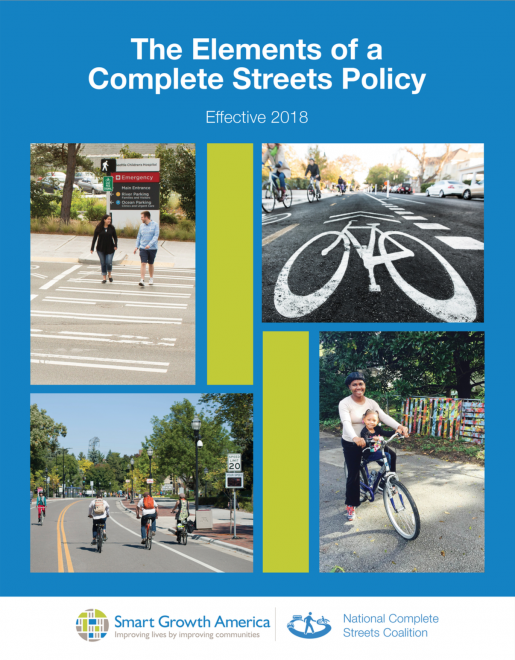 Authors
Categories
Tags
Resource Type
Elements of a Complete Streets Policy
The National Complete Streets Coalition (NCSC) previously identified 10 elements of a comprehensive Complete Streets policy to help communities develop and implement policies and practices that ensure streets are safe for people of all ages and abilities, balance the needs of different modes, and support local land uses, economies, cultures, and natural environments.
But since it first began over a decade ago, the Complete Streets movement has evolved to focus far more on implementation and equity. In response to these changes, the Coalition updated and revised the Complete Streets policy framework to require more accountability from jurisdictions and provisions that account for the needs of the most vulnerable users. The 10 revised policy elements are based on decades of collective expertise in transportation planning and design, created in consultation with NCSC's steering committee members and a group of national stakeholders consisting of engineers, planners, researchers, and advocates.
The elements serve as a national model of best practices that can be implemented in nearly all types of Complete Streets policies at all levels of governance. For communities considering a Complete Streets policy, this resource serves as a model; for communities with an existing Complete Streets policy, this resource provides guidance on areas for improvements.
An ideal Complete Streets policy includes the following:
Vision and intent: Includes an equitable vision for how and why the community wants to complete its streets. Specifies need to create complete, connected, network and specifies at least four modes, two of which must be biking or walking.
Diverse users: Benefits all users equitably, particularly vulnerable users and the most underinvested and underserved communities.
Commitment in all projects and phases: Applies to new, retrofit/reconstruction, maintenance, and ongoing projects.
Clear, accountable exceptions: Makes any exceptions specific and sets a clear procedure that requires high-level approval and public notice prior to exceptions being granted.
Jurisdiction: Requires interagency coordination between government departments and partner agencies on Complete Streets.
Design: Directs the use of the latest and best design criteria and guidelines and sets a time frame for their implementation.
Land use and context sensitivity: Considers the surrounding community's current and expected land use and transportation needs.
Performance measures: Establishes performance standards that are specific, equitable, and available to the public.
Project selection criteria: Provides specific criteria to encourage funding prioritization for Complete Streets implementation.
Implementation steps: Includes specific next steps for implementation of the policy.