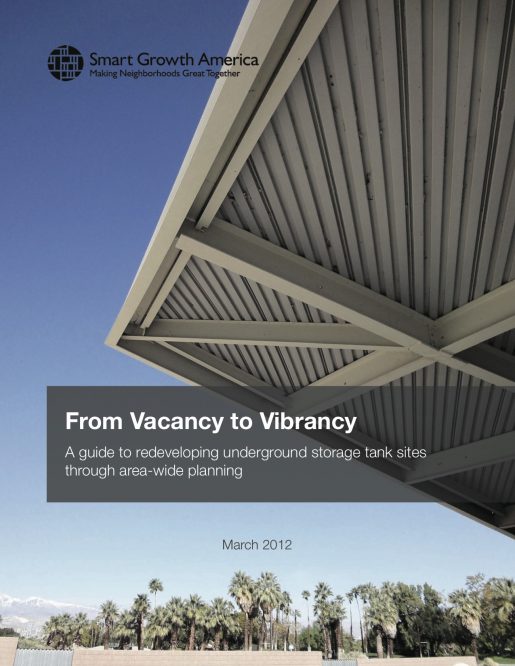 Authors
Publication Date
March 2012
Categories
Tags
Resource Type
Upcoming public events - join us!
From Vacancy to Vibrancy
In response to increasing demand for homes in close-in neighborhoods, many cities and towns are pursuing redevelopment of places that have struggled with blight and disinvestment for years. These redevelopment initiatives are frequently impeded by the presence of properties with known or suspected contamination issues, which have often remained vacant in spite of federal, state and local programs to support cleanup. Many of these lingering sites are abandoned gas stations, auto repair shops, and former small industrial sites known to or suspected to house underground storage tanks.
Smart Growth America is proud to present From Vacancy to Vibrancy, a tool to help communities and their leaders mobilize the resources they need to clean up and reuse these sites. This guide describes how multi-site planning can turn small sites, particularly those regulated as underground storage tank (UST) sites, into community assets. By addressing contaminated sites in the context of broader neighborhood market conditions, needs and goals, multi-site planning can engage the public, realize economies of scale, and make new resources available for site cleanup.
The opportunity in UST sites
UST sites are often both small and centrally located, and both these traits make them unique opportunities for revitalization. As demand rises for housing in neighborhoods close to town and in city centers – persisting in spite of larger challenges in the real estate market nationwide – UST sites are in a position to catalyze reinvestment and redevelopment initiatives.
The challenges of UST sites
The size and location of UST sites can also pose challenges to their redevelopment. Because of their small size, UST sites are often individually ineligible for environmental insurance and conventional financing options used to clean up other brownfields and are more expensive to clean up on a per-acre basis. Their size also means these sites can accommodate a limited range of redevelopment projects, making them a challenge to market to developers. Both of these challenges can be addressed, however, through multisite planning.
Multi-site planning as a tool for neighborhood revitalization
The concept of multi-site planning grew from efforts to bring the economic, social and health benefits of redevelopment to the fore, rebalancing the equation to increase the importance of UST sites. By looking at all of the UST and brownfields sites in a particular neighborhood, area-wide planning engages residents and lays the foundation for partnerships between governments, nonprofits and private developers.
Strategies for leaders
There are several things neighborhood, municipal and state leaders can do to begin using or supporting multi-site approaches to revitalization. This guide describes the context for multi-site planning, with basic information about state and federal brownfield program requirements and brownfield redevelopment financing strategies. It describes multi-site planning initiatives across the country, including several innovative ideas for state support of local efforts. A list of resources is included for further exploration.
Remediating contaminated land is the first step in creating stronger, more resilient neighborhoods – and that's something all leaders should be working for.