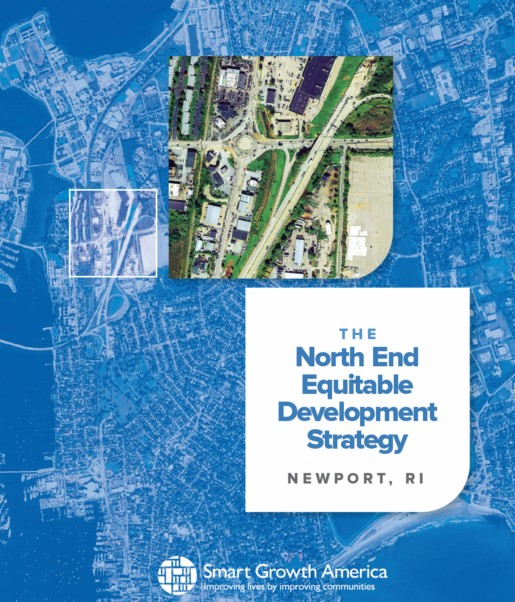 Authors
Publication Date
August 2022
Resource Type
Upcoming public events - join us!
North End Equitable Development Strategy (NEEDS)
The North End Equitable Development Strategy (NEEDS) serves as a roadmap to implement the 2021 North End Urban Plan in the North End of Newport, Rhode Island, according to the North End residents' priorities for equitable development and with their ongoing participation. The NEEDS evolved over months of collaboration with North End community leaders, who came together to form a Local Advocacy Group (LAG), which is increasingly active in local planning discussions. With the support of the Newport Health Equity Zone—a city-wide coalition mobilizing residents and resources in the North End neighborhood— and the Women's Resource Center, the LAG co-created this strategy with Smart Growth America to advance policy changes that will make their neighborhood a place where everyone can thrive.
This North End Equitable Development Strategy:
Clearly lays out the priorities of the residents;
Identifies key audiences—the people and organizations who can influence the future of the North End;
Defines "equitable development" and explains why it is the best route forward for the North End and the City of Newport;
Describes the strategies, tools, and resources that North End residents can advocate for and use to achieve their aims;
Outlines implementation steps that the City of Newport must take to make the strategic goals a reality; and
Proposes a way to track progress.
The NEEDS is intended to be used by organizations and individuals who are committed to making equitable economic development in Newport a reality, including all of the city's elected and appointed officials responsible for development policy and implementation, as well as other leaders and allies. While the NEEDS is specific to the North End of Newport, Rhode Island, the processes, lessons learned, and resources included in this report can be of use to anyone looking to develop and implement an equitable development strategy.
Read the North End Equitable Development Strategy here