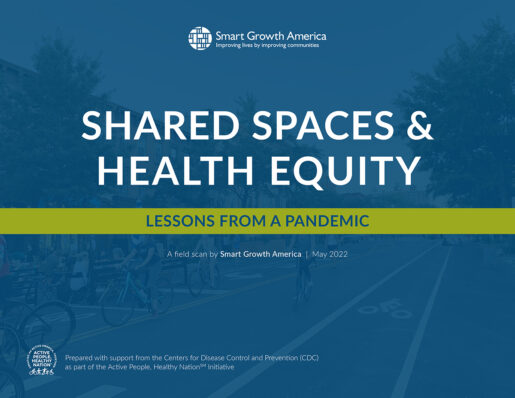 Authors
Publication Date
May 2022
Categories
Resource Type
Upcoming public events - join us!
Shared Spaces and Health Equity: Lessons from a Pandemic
Activity-friendly streets, public spaces, and active transportation options became critical components of our daily lives during the COVID-19 crisis, providing avenues for physical activity, accessing essential needs and being outdoors safely. But vulnerability during and the burden of the pandemic was not spread evenly across our communities. This field scan explores how decision-makers did (or did not) account for existing inequities in their emergency responses and identifies common barriers and lessons for the future.
The pandemic highlighted some of the ways we need to change our conventional approaches to make our communities resilient and our streets and public spaces safer for everyone. Shared Spaces and Health Equity gathers six lessons learned and a series of examples, based on an assessment of over 400 local policies and interventions around the country and interviews with key non-profit leaders:
Lesson 1: Recognize your discipline's limitations to measurably improve health equity—the challenges are interdisciplinary and your efforts must be as well.
Lesson 2: Deploy tactical urbanism and demonstration projects (light/quick/cheap) to test ideas quickly, engage the community, and build trust.
Lesson 3: Commit significant resources to ongoing community engagement in ways that build trust in the community's key audiences.
Lesson 4: Consider how different groups of people use and relate to streets and public spaces and then embed that awareness deeply into your plans and processes.
Lesson 5: Institutionalize more flexibility into regulations and policies governing public spaces to accommodate evolving community needs and priorities.
Lesson 6: Provide access to a diverse range of transportation options in rural areas and small towns, not just more urban areas.
This field scan was supported by the Centers for Disease Control and Prevention under cooperative agreement OT18-1802 supporting the Active People, Healthy NationSM Initiative, a national initiative led by the CDC to help 27 million Americans become more physically active by 2027. Learn more.