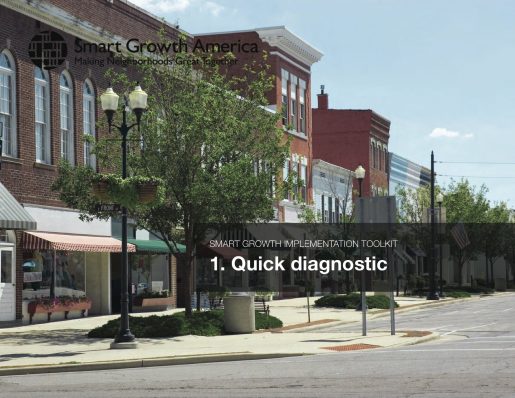 Authors
Publication Date
July 2015
Categories
Resource Type
Upcoming public events - join us!
Smart Growth Implementation Toolkit
The Smart Growth Implementation Toolkit is a set of practical tools to help communities use a smart growth approach to development. The toolkit is designed to help local leaders untangle the policies and procedures that get in the way of smarter growth and sustainable development.
The tools are designed for communities committed to (or are exploring) smart growth strategies, but which are struggling to implement such policies, build support for them, identify the most problematic policies or other issues that typically accompany changes in development practices.
The full toolkit includes seven components:
Quick Diagnostic
Smart Growth Policy Audit
Smart Growth Code and Zoning Audit
Smart Growth Project Scorecard
Incentives Matrix for Smart Growth Projects
Smart Growth Strategy Builder
Smart Growth Audit Summary
These tools provide a step-by-step guide for how to examine the policies, codes, zoning regulations and development requirements that can impact how a community grows. Each tool may be used independently or in combination with others. These tools are intended to be templates, and can and should be customized for your community's needs.