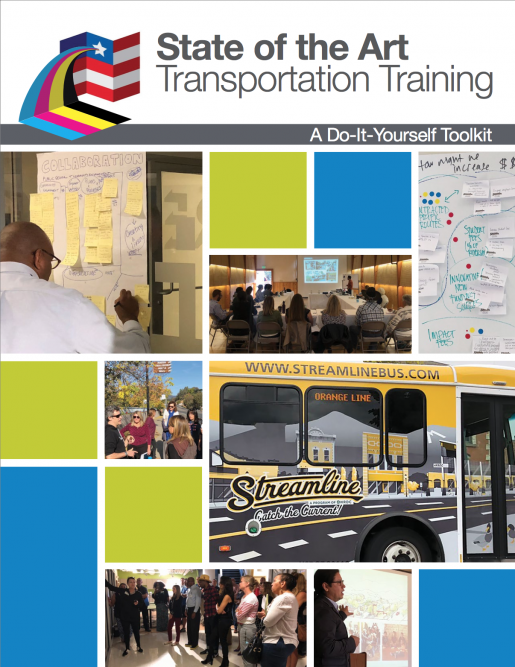 Authors
Publication Date
March 2019
Categories
Tags
Resource Type
Upcoming public events - join us!
State of the Art Transportation Training Do-It-Yourself Toolkit
This toolkit will walk you through the steps to design and implement a State of the Art (SOTA) Transportation Training to help address a transportation project in your community by utilizing creative placemaking strategies.
The purpose of the SOTA Transportation Training is to convene professionals from the transportation and arts sectors to find areas of overlapping mission, explain the benefits of incorporating artists into transportation project planning and design, and improve collaboration between sectors on a local level.
SOTA Transportation Training consist of trainings on transportation and arts and culture, case studies relevant to the local transportation project, site visits, brainstorming, meet-'n-greets, and the development of actionable projects over the course of two days.
SOTA Transportation Training can help communities gain a better sense of the role arts and culture can play in a transportation project, identify the local stakeholders and experts in transportation and arts and culture, provide an opportunity to strategize about a transportation project with a group of people who may not typically work together, and develop a series of actionable steps that will help address the project and future collaborations.
This toolkit consists of a checklist of items needed to set up the meeting, a guide to develop the invitation list and the meeting leads, agenda development recommendations and instructions, site visits set up, and brainstorming and project development prompts.
As each community is unique, we encourage you to use this toolkit to develop a training that works for you and addresses your community's unique transportation challenge. We encourage you to share stories from your experience using this SOTA Transportation Training Toolkit with us.
Should you need assistance or if you'd like Smart Growth America to help facilitate a SOTA Transportation Training in your community, please contact Ben Stone.