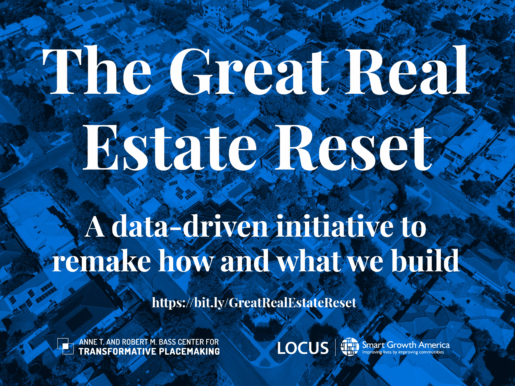 Authors
Publication Date
December 2020
Categories
Tags
Resource Type
Upcoming public events - join us!
The Great Real Estate Reset
Real estate plays a defining role in the American economy and in every American's life, but the industry is failing to keep up with changing demands and build resilient, affordable, diverse communities where everyone can prosper. The industry at large is risking not just another market crash but also becoming a central contributor to growing inequity, climate disruption, and the deterioration of American political and social cohesion.
It's time for a real estate reset.
LOCUS partnered with the Brookings Institution to release The Great Real Estate Reset, which consists in part of five briefs, written by experts at Brookings and LOCUS, that examine the state of the real estate industry with data-backed insights, unpacking a series of five trends that are converging to create a mismatch between what the real estate industry is building and what is sorely needed to build a prosperous economy where everyone gets a chance to succeed:
Separate and unequal:

Persistent residential segregation is sustaining racial and economic injustice in the US.

Modernizing family:

America's demographics are transforming, but our housing supply is not.

Risky (housing) business:

Distorted and destabilized housing markets are pushing households into climate-risky, low opportunity communities.

The office, reimagined:

The nature of office work is shifting, so must downtowns.

Retail revolution:

The new rules of retail call for small business empowerment.
These five briefs describe the major forces that have pushed the industry toward this moment, but the Reset as a whole is also about laying the groundwork for creating a new playbook in 2021 and beyond for cultivating better outcomes for more people and places. Our LOCUS coalition of responsible real estate developers and investors will be at the center of helping lead their industry toward more equitable smart growth development that can truly benefit everyone.

Send a tweet about the Great Real Estate Reset