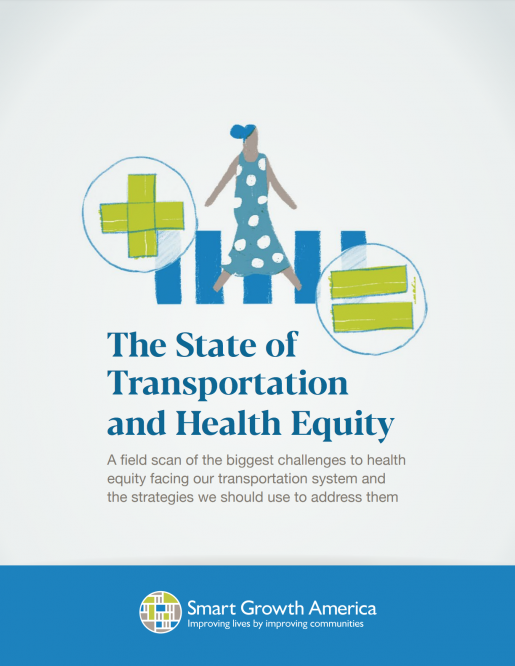 Authors
Publication Date
December 2019
Categories
Tags
Resource Type
Upcoming public events - join us!
The State of Transportation and Health Equity
The State of Transportation and Health Equity identifies the biggest challenges to health equity facing our transportation system and the best tools to address the problem. Developed through rigorous feedback from a huge panel of health and transportation experts from across the country, each of the six sections outlines challenges, corresponding strategies, as well as success stories from all different types of places.
To advance health equity through transportation, stakeholders must:
1. Reframe the transportation conversation. The current messaging, narratives, and language around creating an equitable transportation system are not working. Those who care about health equity are failing to motivate our policy makers or help them understand the implications of their actions. Advocates and professionals need to reframe transportation and transportation solutions around values that people care about, such as having the freedom to choose how to travel.
2. Allocate funding and resources equitably. At all levels of government, transportation funding and resources support projects that prioritize high-speed car travel over getting people where they need to go in a safe, convenient, accessible, and affordable way. Improvements must be made at the federal, state, and local levels to ensure that funding and resources advance a multimodal system that puts people first.
3. Improve the quality and diversity of transportation leadership. Poor decision-making and weak leadership at all levels of government have created a built environment that is not easy or affordable to fix. Our decision-makers need to better represent our communities, especially the most disenfranchised populations and must commit to advancing a people-centered transportation vision.
4. Prioritize historically underrepresented communities in transportation decision-making. Disenfranchised communities have held very little power in influencing the transportation decision-making process. Authentic, meaningful community engagement should be a collaborative, not extractive, process. It requires an intentional allocation of both time and resources and should focus on listening to the voices that have been excluded or isolated.
5. Work in unison to provide people-focused infrastructure. Historically, our government departments and agencies have operated in silos. At every level of government, transportation, health, housing, and planning agencies have occupied their own spheres of influence, with equity treated as an afterthought, if at all. Government agencies and departments must work in unison to provide people-centered infrastructure.
6. Invest in communities without displacement. The U.S. has a long history of displacing people of color in the name of "prosperity." The displacement happening today is no different. While transportation investments can improve health outcomes in communities, we need to ensure that those who live there (and suffer the most) can benefit from the improvements and aren't just displaced to another area with bad outcomes.
This field scan shows that we have the solutions, but creating an equitable transportation system will require stakeholders from across levels and disciplines to improve the system both from within and from outside.
Accessible version of the report available here.