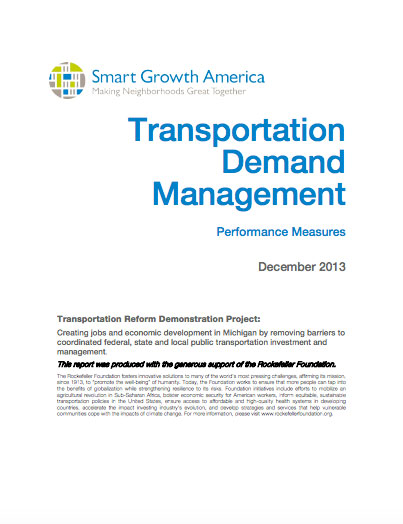 Authors
Publication Date
December 2013
Categories
Tags
Resource Type
DOT Innovation in Michigan
This report is one of several created as part of our DOT Innovation work in the state of Michigan. See the full series ››
Transportation Demand Management in Southeast Michigan
The Michigan Sense of Place Council, representing numerous state agencies under the direction of Governor Snyder, has partnered with Smart Growth America to provide technical advisory services to six communities of Michigan pursuing livable communities initiatives. Assistance was offered in two primary areas – community mobility management and strategic transportation demand management (TDM). The effort in the SEMCOG region focuses particularly upon TDM as a mitigation strategy during major capital construction.
TDM is a suite of strategies that reduces congestion by spreading out peak travel to different times of day and different modes other than driving alone. TDM programs can be administered at many levels – from a regional agency, municipality or individual employers – and works by providing a variety of competitive travel choices and incentives to change behavior.
The SEMCOG project has progressed in four stages:
Assessment of existing TDM programs, local resources, and major project status and
phasing,
Discussion of alternative approaches and strategies,
Development of strategic implementation plan,
Proposed performance measurement and tracking framework.
This memo outlines that fourth and final component. It identifies a number of recommended measures meaningful to the transportation demand management strategy as well as a recommended process for data collection.