The Scenic Route (version 2.0!) is our newly updated guide to arts and culture in transportation, providing a tour of the eight common approaches used in almost 50 exemplary projects across the country at the potent intersection of arts, culture, and transportation.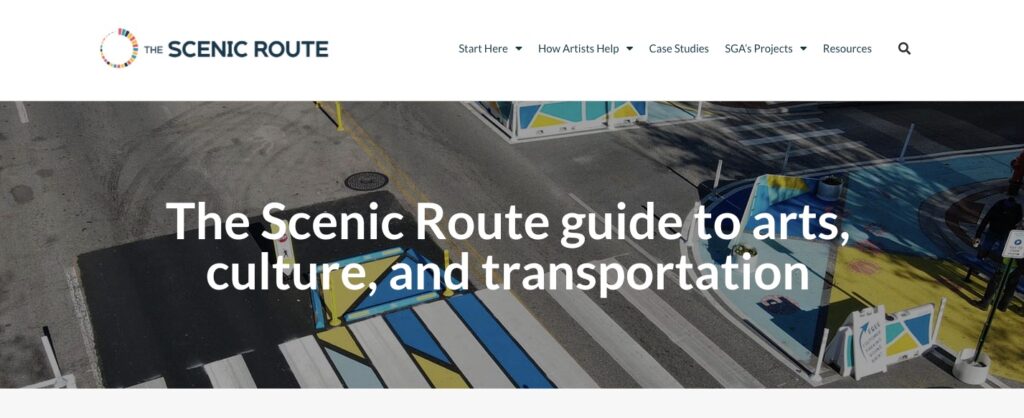 Join Smart Growth America, Transportation for America, and the National Endowment for the Arts on May 10th to hear from experts on why this guide matters and how you can use it in your community.
Register here
.
We created the first version of our Scenic Route guide back in 2016— just as we were also getting started with this work—to introduce creative placemaking to transportation planners, public works agencies, and local elected officials who are on the front lines of advancing transportation projects. After five-plus years of learning a ton through our own work with arts and culture, significant developments in the field, and the evolution of many of the stories we profiled in 2016, we're releasing a wholly re-conceived and updated Scenic Route guide to serve as a powerful reference that's both more approachable for beginners and hopefully more useful for arts and culture veterans.
What is creative placemaking?
Creative placemaking harnesses the power of arts and culture to allow for more genuine public engagement—particularly in low-income neighborhoods, communities of color and among immigrant populations—in the development of transportation projects. Done right, this can lead to both better processes and better products which better serve and reflect the needs of a community.
Get to know the new Scenic Route online guide
On the new website, not only can you learn about our summary of eight specific ways artists most often contribute to transportation projects, you can read nearly four dozen stories illustrating arts, culture, and transportation collaborations in action and search them by location, mode, or approach. We also have a section cataloguing Smart Growth America and Transportation for America's five-plus years of work with local agencies and artists.
This website goes a step beyond its first iteration by including additional resources that connect artists to communities, providing organizations in search of artists with educational information on different artistic practices, avenues to local arts agencies, and guidance on artist selection, contracting, and project management.
The Scenic Route is broken up into a few main sections
Visit the Scenic Route guide at transportation.art