Over 100 developers, planners, elected officials, and community advocates gathered in Boston last week at the 2018 LOCUS New England Leadership Summit to discuss innovations in smart growth and the future of development in New England. Massachusetts Secretary of Housing and Economic Development Jay Ash kicked off the summit with a keynote address, proclaiming that "all good development is local." Throughout the day, attendees and speakers gave life to this statement, sharing smart growth strategies and challenges from their communities.
Take a look at what attendees were talking about at #LOCUSBoston.
You know you're a #plannerd when you're staring at the @SmartGrowthUSA logo as a land use map and trying to ascertain if said map and land use pattern lend themselves to a vibrant, walkable community… @LOCUSDevelopers pic.twitter.com/bgeIZBkTdo

— Manisha Bewtra (@manishabewtra) October 24, 2018
Panel discussions throughout the day covered a wide range of topics, including best practices for smart growth in New England, transit oriented development, resiliency and Opportunity Zones. The diverse backgrounds of panelists, ranging from private real estate developers to elected officials and community advocates, ensured lively discussions and thoughtful questions from attendees.
Tony Green of @ThePinehills showing 83 homes in a 1-acre+ single family home subdivision, in red, and 83 homes in a compact development, circled in yellow to the left. A great illustration for how #smartgrowth supports land preservation, walkability, community connection. pic.twitter.com/Ddgo5JRtcq

— Manisha Bewtra (@manishabewtra) October 24, 2018
Ultimately housing development lives or dies at the local level says @MA_DHCD's Janelle Chan. Precisely why the Commonwealth NEEDS to pass #HousingChoice bill #LOCUSBoston

— Rose Corcoran (@RoseCorcoran9) October 24, 2018
Talking transit oriented development in @Gatewaycities with @Benkforman at @LOCUSDevelopers @SmartGrowthUSA conference at @BSAAIA check out @MassINC video on TOD https://t.co/JTnZ1zLtYX pic.twitter.com/nNykY4DAh1

— Aimee Ward Weeden (@AimeeKWard) October 24, 2018
@BostonPlans Dep. Director of Climate Rich McGuinness says public-private partnerships are the key to building for resiliency #locusboston ie, private ROW and public investment working together.

— LOCUS MA (@LOCUS_MA) October 24, 2018
Great presentation from Barnat Development; build.the right.product. Awesome slide here #LOCUSBoston pic.twitter.com/AXAZGe1nZR

— Elijah Plymesser (@EDPlymesser) October 24, 2018
At the Summit, LOCUS, along with Tracy Hadden Loh from George Washington University's Center for Real Estate and Urban Analysis, presented the top ten most investable Opportunity Zones for smart growth in Massachusetts. LOCUS will release a national ranking of all 8,762 Opportunity Zones by their smart growth potential later this year. Sign up to get your copy of the report here.
Announcing the Top 10 Opportunity Zones in Massachusetts for smart, triple-bottom-line development at #2018LOCUSNESummit; THREE MA communities tied for number one @ChristopherCoes @GWCREUA pic.twitter.com/r5QwfrRosU

— LOCUS Developers (@LOCUSDevelopers) October 24, 2018
@busysparrow nails it in her assessment of #OpportunityZones – they have the potential to expand walkable, transit-oriented development to more neighborhoods, but need local policy intervention to ensure equitable and inclusive outcomes. #LOCUSBoston pic.twitter.com/uD29WnmlB6

— Manisha Bewtra (@manishabewtra) October 24, 2018
Not only were there opportunities for learning, but also for finding new partners and jumpstarting new walkable developments. The Summit hosted the first ever New England Development and Investment Showcase, where towns from across the region, like Lowell, Massachusetts, shared challenging investment opportunities with real estate and economic development industry insiders.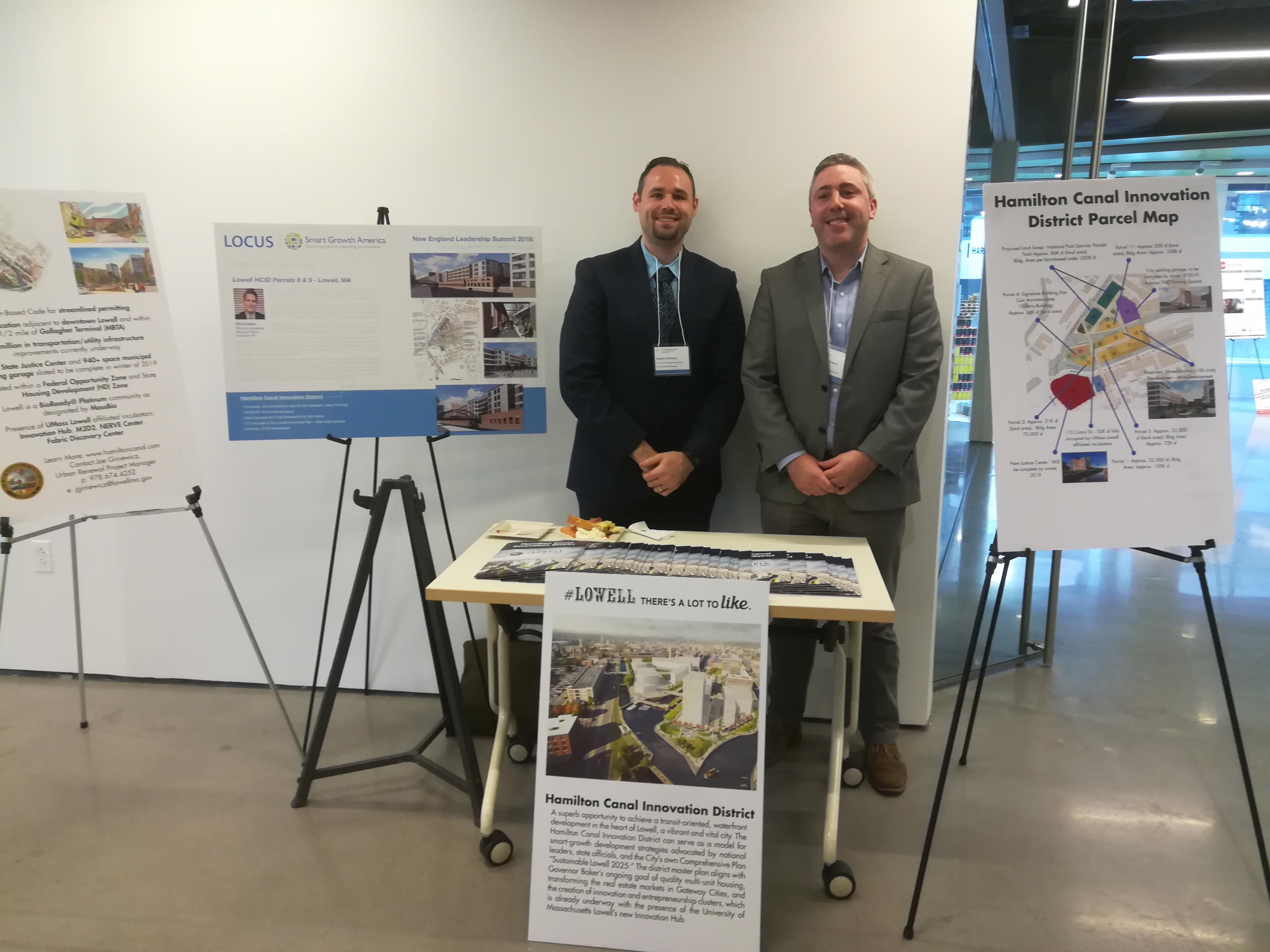 LOCUS and Smart Growth America also announced the winners of the 2018 LOCUS New England Leadership Awards for Project of the Year, Developer of the Year, and Partnership of the Year. Congratulations to the developers and community partners recognized for their commitment to creating thriving walkable places.
Thank you to everyone who attended the 2018 LOCUS New England Summit!